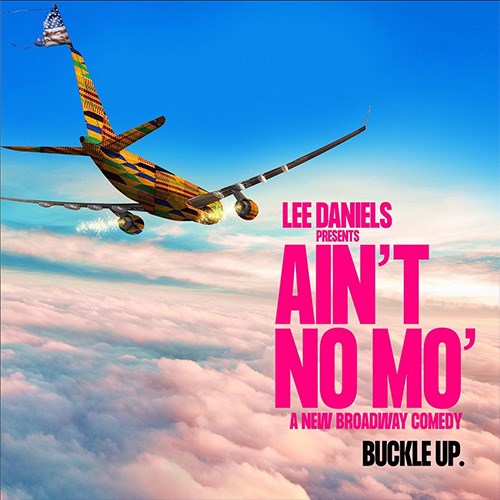 LEE DANIELS
TO PRESENT
"AIN'T NO MO'"
JORDAN E. COOPER'S
CRITICALLY-ACCLAIMED COMEDY
ON BROADWAY
DIRECTED BY
STEVIE WALKER-WEBB
STARRING
JORDAN E. COOPER
New York, NY (July 11, 2022) – Producers Academy Award® nominee Lee Daniels and Brian Anthony Moreland are thrilled to announce the hilarious comedy, Ain't No Mo' written by and starring Jordan E. Cooper, will premiere on Broadway at the Belasco Theatre (111 W. 44th St.). The production will begin previews on Thursday, November 3 ahead of an official opening on Thursday, December 1, 2022.
Having premiered to critical acclaim at The Public Theater, Ain't No Mo' dares to ask the incendiary question, "What if the U.S. government offered Black Americans one-way plane tickets to Africa?" The answer is the high-octane comedy about being Black in today's America from the mischievous mind of playwright Jordan E. Cooper ("The Ms. Pat Show"). Seamlessly blending sketch comedy, satire and avant garde theater, Ain't No Mo' will leave you crying with laughter—and thinking through the tears.
"Not since the original Dreamgirls, have I been so moved by a piece of theater. I knew it would take something extraordinary to finally lure me to Broadway, and Ain't No Mo' is it. Jordan E. Cooper is a revelation and I can't wait for a whole new audience to lay witness to what he has created. Broadway ain't gon' be the same!" said Producer     Lee Daniels.
The New York Times heralded Cooper as one of "a generation of Black playwrights whose fiercely political and formally inventive works are challenging audiences, critics, and the culture at large to think about race, and racism, in new ways."
The creative team includes director Stevie Walker-Webb making his Broadway debut, and the design team is three-time Tony Award® winner Scott Pask (scenic design), two-time Tony-nominated Emilio Sosa (costume design) and Adam Honoré (lighting design). Wagner Johnson Productions serve as General Management.
Additional casting for the Broadway production of Ain't No Mo' will be announced at a later date.
"Thrilling, bewildering, campy, shrewd, mortifying, scary, devastating and deep." - Jesse Green, The New York Times
# # # #
CREATIVE TEAM BIOGRAPHIES
Lee Daniels is an Academy Award® nominated filmmaker whose work is trademarked by authenticity and candor, providing audiences with a unique experience and raw character insight with each of his projects.
In 2001, Daniels founded Lee Daniels Entertainment, a full-service production company that is home to inclusive storytelling and serves as a platform for diverse and underrepresented voices to create authentic and original content. LDE made its feature film debut with Monster's Ball, making Daniels the first African American producer of an Academy Award-winning film. He is best known for his Academy Award-winning film Precious: Based on the novel Push by Sapphire, which was nominated for six Academy Awards, including nominations for Daniels in the categories of Achievement in Directing and Best Motion Picture of the Year. In 2013, he released the critically-acclaimed box office smash Lee Daniels' The Butler, that tells the story of Cecil Gaines (Forest Whitaker), an African American butler who served at the White House during seven presidential administrations between 1957 and 1986.
Daniels is currently in production on his next film, Deliverance, an exorcism thriller for Netflix, which he wrote, will direct and produce. The project stars Mo'Nique, Andra Day, Glenn Close, Aunjanue Ellis, Rob Morgan and Caleb McLaughlin. The film is inspired by the true story of a mother who believed her children became demonically possessed.
In February 2021, Daniels' latest feature, The United States vs. Billie Holiday, was released by Hulu. A drama based around the court case of famed singer Billie Holiday (Andra Day) after she was arrested at her apartment for the possession of narcotics, Daniels both directed and produced the film. Daniels' work with Andra on the film yielded her a Golden Globe Award® for Best Actress – Motion Picture Drama and a Best Actress Academy Award nomination.
On the small screen, Daniels created the hit television series "Empire" (FOX) where he wrote and directed the pilot and continued to serve as an executive producer on the series until its season six finale in April 2020. The ground-breaking drama, starring Terrence Howard and Taraji P. Henson, with Timbaland producing the show's original music, premiered in January 2015 and broke ratings records during its first season.
In May 2021, Daniels signed a new multi-year overall deal with 20th Television, extending his previous deal with the studio that began in 2014. He continues to create, develop, write, direct and supervise new projects under his Lee Daniels Entertainment banner. His current and recent projects include the critically acclaimed hit series "The Wonder Years", "The Ms. Pat Show" and upcoming the untitled Sammy Davis Jr. limited series for Hulu, to be co-written and directed by Daniels.
In addition to his successful film and television career, Daniels is also a passionate advocate and philanthropist. He sits on numerous boards including The Public Theater and Ghetto Film School, a non-profit which helps to educate, develop, and celebrate the next generation of great American storytellers. Daniels is also a longtime LGBTQIA activist, as well as a strong supporter of many charitable organizations.
Brian Anthony Moreland is a two-time Tony-nominated creative lead producer for Broadway, and recently profiled as Variety's 2020 "Top 10 Broadway to Watch."
With a passion for universal stories that bring new narratives into the mainstream form of entertainment, Moreland firmly believes in the ability of theatre to foster empathy, and enlighten while entertaining audiences.
His previous works include: Thoughts of a Colored Man, The Lifespan of a Fact with Cherry Jones, Daniel Radcliffe and Bobby Cannavale, The Sea Wall/ A Life with Jake Gyllenhaal and Tom Sturridge,The Sound Inside with Mary-Louise Parker for Broadway, Charles Randolph-Wright's Cuttin Up starring Blair Underwood, Joe Morton and Tisha Campbell and While We Breathe.
Upcoming projects for Broadway include: August Wilson's The Piano Lesson starring Samuel L. Jackson, Danielle Brooks and John David Washington, directed by LaTanya Richardson Jackson.
Moreland devotes his spare time to the Theatre Development Fund (TDF) and is active member of the Board of Governors at The Broadway League, where he is the Co-Chair of the Multicultural Task Force, Trustee of the Board for Broadway Cares Equity Fights Aids and a Trustee of the Board for The American Academy of Dramatic Arts.
Stevie Walker-Webb is an award-winning director, writer and cultural worker who believes in the transformational power of art. As a survivor of poverty and the associative violence that comes with growing up black and poor in America, he creates work that liberates and reframes the narratives of marginalized groups.  He is co-founder and Executive Director of Hundreds of Thousands, an arts and advocacy non-profit that makes visual the suffering and inhumane treatment of incarcerated mentally ill people and the policies that adversely impact their lives.  He received an Obie Award for directing for Ain't No Mo (The Public Theater). He is a recipient of the Princess Grace Award for theater, The Lily Award in honor of Lorraine Hansberry awarded by the Dramatists Guild of America, a 2050 Fellow at New York Theatre Workshop and a Wellspring Scholar. He's The Founding Artistic Director of the Jubilee Theatre in Waco, Texas, and has created art and Theatre in Madagascar, South Africa, Mexico, Mississippi and across America. His work has been produced by: The Public Theater, American Civil Liberties Union, The New Group, Cherry Lane, Zara Aina, Wooly Mammoth, Baltimore Center Stage, La Mama and Theatre of the Oppressed-NYC.  Along with his art and advocacy work, Stevie currently teaches and creates art at Harvard University and New York University's Tisch School for the arts. For more information about Stevie visit www.steviewalkerwebb.com
Jordan E. Cooper is a 27-year-old Obie Award-winning playwright and performer who was chosen to be one of OUT Magazine's Entertainers of the Year. His play  Ain't No Mo' was a New York Times Critic's Pick and in 2019, Cooper won a special citation Obie Award for Ain't No Mo'.  He was recently selected as a Whiting Award winner for Drama. Jordan was also featured on the final season of FX's groundbreaking series "Pose" as 'MC Tyrone'.. He recently created and executive produced his first television project "The Ms. Pat Show" which is hailed by critics as "One of the most radical sitcoms of the modern era". He is currently the youngest black showrunner in television history and is now also the youngest American playwright in Broadway history.
# # # #