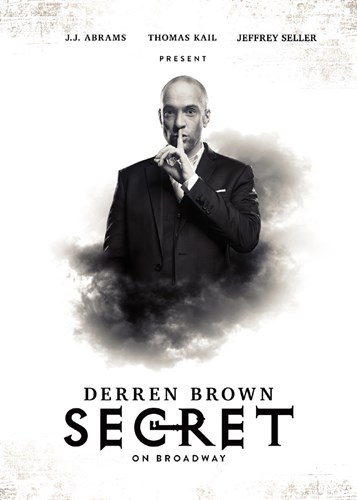 AFTER A SOLD-OUT RUN AT ATLANTIC THEATER COMPANY THE CRITICALLY-ACCLAIMED PRODUCTION OF
DERREN BROWN: SECRET
WILL OPEN ON BROADWAY THIS FALL FOR A STRICTLY LIMITED ENGAGEMENT
STARRING OLIVIER AWARD-WINNER
DERREN BROWN
WRITTEN BY
ANDY NYMAN, DERREN BROWN & ANDREW O'CONNOR
DIRECTED BY
ANDREW O'CONNOR AND ANDY NYMAN
June 13, 2019 – From stage to screen, two-time Olivier Award winner Derren Brown has mesmerized millions worldwide with his unique brand of mind reading, persuasion, and psychological illusion. Now, for the first time ever, this U.K. phenomenon and Netflix star brings his talents to Broadway.
Producers J.J. Abrams, Thomas Kail, and Jeffrey Seller announced today that after a sold-out, critically acclaimed run off-Broadway at the Atlantic Theater Company, Derren Brown: Secret returns with a spellbinding experience that dares us — in the most jaw-dropping way — to take a closer look at the stories and beliefs that guide our lives.
Written by Andy Nyman, Derren Brown, and Andrew O'Connor, and directed by Andrew O'Connor and Andy Nyman, Derren Brown: Secret will begin previews on Friday, September 6 at the Cort Theatre (138 West 48th Street), with the opening night set for Sunday, September 15. Derren Brown: Secret will play a strictly limited engagement through Saturday, January 4, 2020 only.
Derren Brown: Secret will feature scenic design by Takeshi Kata, lighting design by Ben Stanton, sound design by Jill BC Du Boff, projection design by Caite Hevner, and general management by Baseline Theatrical.
Derren Brown: Secret is not suitable for children under 12.
BIOGRAPHIES:
DERREN BROWN (Performer, Writer) Born in Croydon, UK, in 1971, Derren traces his interest in magic and psychological techniques to childhood, but it was only later, at Bristol University, where he reluctantly studied Law and German, that he started to delve more seriously into the stranger edges of human experience and what they might mean to us. After graduating, Derren forewent an international legal career and concentrated on developing his performance skills. He was able to pay the bills by working as a magician and hypnotist with a side line in portraiture. His big break came in 1999 when he was asked by the UK's Channel 4 to put a TV show together. The result, "Derren Brown: Mind Control," was shown in 2000, proving an immediate success and winning a coveted Rose d'Or. Since then, re-defining magic through must-see TV and stage events, Derren has exhilarated audiences world-wide with a never- equaled brand of mind-control, suggestion, showmanship and illusion. His name has become synonymous with the art of psychological manipulation in the UK, and he has gained a reputation as a performer prepared to constantly challenge and break down boundaries. Amongst a varied and notorious TV career, which includes a 2012 Best Entertainment BAFTA for "Derren Brown: The Experiments," and a BAFTA nomination for "The Heist" (2007), Derren has played Russian Roulette live, convinced middle-managers to commit armed robbery, led the nation in a séance, stuck viewers at home to their sofas, successfully predicted the National Lottery, motivated a shy man to land a packed passenger plane at 30,000 feet, hypnotised another to assassinate Stephen Fry and created a zombie apocalypse for an unwitting participant after dramatically ending the world. In "The Push" (streaming on Netflix), he exposed the psychological secrets of obedience and social compliance with terrifying results, again creating must-watch television and passionate media debate worldwide. Derren's most recent TV special, "Sacrifice," also steaming on Netflix, astonished audiences around the world as he attempted to persuade someone to make the ultimate sacrifice: lay down his life for a complete stranger. Other TV awards include an RTS Award for Best Entertainment Programme ("The Experiments") and a 2010 Broadcast Award for "Derren Brown: The Events." He has toured every year since 2003 with a series of live shows, which have won him two prestigious Olivier Awards – for Something Wicked This Way Comes (2006) and Svengali (2012). In 2018 he received his fifth nomination, for Underground. This means Derren has had the largest number of nominations and wins for one-person shows in the history of the Olivier Awards.  In 2017 Derren made an enthusiastically embraced stage debut Off-Broadway at the Atlantic Theater in New York with his show Secret, winning the 2018 Drama Desk award for Unique Theatrical Entertainment. His recent live show "Miracle" (which blows the roof off the dark world of evangelical faith-healing) is currently a popular choice on Netflix. In 2020, he will be touring the UK with Showman, his first new live show in five years. As an author, Derren has received much praise for his best-selling books, Tricks of the Mind, Confessions of a Conjuror, and more recently Happy, which have, collectively, sold nearly a million copies worldwide. Privately, Derren paints and photographs. His book Portraits offers a collection of his early paintings, which have been exhibited at the Rebecca Hossack Gallery, London. A book of his street photography, Meet the People with Love, has been released, again by Transworld. Examples of his accomplished work can be viewed on his website and Instagram page.
ANDY NYMAN (Co-writer, Co-director) is an award-winning actor, director and writer who has earned acclaim from both critics and audiences for his theatre, film and television work. He has collaborated with Derren for almost 20 years, having co-written much of Derren's television and theatre work. Andy also co-wrote and directed most of Derren's theatre shows including Something Wicked This Way Comes, which won the Best Entertainment Olivier Award. As an actor, his most recent stage work includes playing Tevye in Trevor Nunn's new West End revival of Fiddler on the Roof, Martin McDonagh's Hangmen in London's West End and Jamie Lloyd's revival of Stephen Sondheim's Assassins at the Menier Chocolate Factory. On television he was most recently seen playing Winston Churchill in the BBC drama "Peaky Blinders" and starred in the BBC drama "The Eichmann Show." His many film credits include The Brother's Bloom, the Liam Neeson thriller The Commuter, and the hugely popular Death at a Funeral. Later this year he will be seen in cinemas opposite Rene Zelwegger in the Judy Garland biopic Judy and next year in the Disney blockbuster Jungle Cruise.
Andy has also co-wrote and co-directed the cult favourite Ghost Stories, the film version of the hit play written by Andy and Jeremy Dyson. The movie stars Andy and Martin Freeman and was voted number 16 in the '25 best Horror Films of all time' in Empire magazine.
ANDREW O'CONNOR (Co-director, Co-writer) began his career as a magician, standup comedian and actor in theater and television. Notable roles include Bill Snibson in Me and My Girl and the title role in Barnum. In 1997 he retired from performing to concentrate on writing, producing and directing. For television, he was the co-founder of Objective Productions which he ran from 1997–2015, during which he created and produced dozens of television series including "Peep Show" and the Derren Brown series and specials, "Star Stories," "The Cube" and "Fresh Meat." His television shows have been nominated for 50 national and international awards and won 16 awards including 5 BAFTA awards. Theater directing credits include 42nd Street, The Odd Couple (female version NYT), The Nerd, Anything Goes, Derren Brown: Miracle, (Olivier award nomination) and Derren Brown: Secret which won the Drama Desk Award for Unique Theatrical Experience. Andrew was the co-producer on all of Derren Brown's stage shows that have been nominated for four, and awarded two, Olivier Awards. Film: Director/Producer/ co-writer: Magicians, which won best comedy at the Fort Lauderdale International Film Festival and was nominated for a US BAFTA for Best British Comedy Film. Director/Producer/co- writer: Jerked, which was chosen to premiere at the SXSW film festival. Producer: That Awkward Moment.