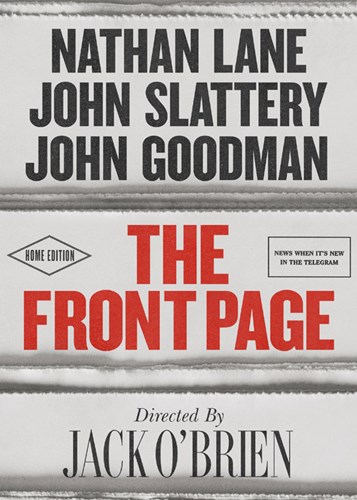 EXTRA! EXTRA!

COMPLETE CASTING ANNOUNCED FOR
"THE FRONT PAGE"
...AND IT'S A DOOZY!

NATHAN LANE, JOHN SLATTERY, JOHN GOODMAN,
JEFFERSON MAYS, AND SHERIE RENE SCOTT

WILL BE JOINED BY:

HOLLAND TAYLOR & ROBERT MORSE

New York, NY – Producer Scott Rudin has announced the staggering complete cast list for the upcoming production of The Front Page, Ben Hecht and Charles MacArthur's classic 1928 comedy set in the world of the Chicago newspaper business.

Joining previously announced stars Nathan Lane, John Slattery, John Goodman, Jefferson Mays, and Sherie Rene Scott will be Holland Taylor and Robert Morse, along with Dylan Baker, Patricia Conolly, Halley Feiffer, Dann Florek, John Magaro, Danny Mastrogiorgio, Christopher McDonald, David Pittu, Joey Slotnick, Lewis J. Stadlen, Micah Stock, and Clarke Thorell.

As previously announced, The Front Page will begin previews on Tuesday, September 20, 2016 with an official opening set for October 20. Directed by three-time Tony Award winner Jack O'Brien, the show will play a limited engagement through Sunday, February 5, 2017 at the Broadhurst Theatre (235 W. 44th Street). Tickets now on sale via telecharge.com / (212) 239-6200.

The press room of Chicago's Criminal Courts Building is buzzing with reporters covering the story of an escaped prisoner. When star reporter Hildy Johnson (Slattery) accidentally discovers the runaway convict, he and his editor Walter Burns (Lane) conspire to hide the man from the other reporters, while they chase the biggest scoop of their careers.

The Front Page premiered on August 14, 1928 at the Times Square Theatre, in a production staged by George S. Kaufman. The play was heralded for its rapid-fire dialogue written by former newspapermen Hecht and MacArthur, and was one of four stunning and unprecedented hits in a row in the early career of its producer, the legendary Jed Harris.

Often cited as the greatest play ever written about the newspaper business, The Front Page has also been a hit on screen. A 1931 film version starred Adolphe Menjou as Walter Burns and Pat O'Brien as Hildy Johnson. The 1940 film adaptation, His Girl Friday, starring Cary Grant as Walter Burns and Rosalind Russell as a now-female Hildy Johnson, is considered one of the classics of the screwball comedy genre, and in 1993 was selected by the Library of Congress for preservation in the National Film Registry.

The Front Page will feature set design by Douglas W. Schmidt, costume design by Ann Roth, lighting design by Brian MacDevitt and sound design by Scott Lehrer.

# # #

BIOGRAPHIES

NATHAN LANE (Walter Burns)appeared last season on Broadway in the smash hit revival of Terrence McNally's It's Only a Play and in the critically acclaimed Robert Falls production of The Iceman Cometh at the Brooklyn Academy of Music as 'Hickey.' Prior to that, he starred on Broadway in the Lincoln Center production of The Nance, for which he received Tony Award and Drama Desk Award nominations and won the Outer Critics Circle Award and the Drama League Distinguished Performance Award. He made his Broadway debut opposite George C. Scott in Present Laughter (Drama Desk nomination), followed by Merlin, The Wind in the Willows, Some Americans Abroad, On Borrowed Time, Guys and Dolls (Tony nomination, Drama Desk, Outer Critics Circle awards), Laughter on the 23rd Floor, Love! Valour! Compassion! (Drama Desk and Outer Critics Circle Awards), A Funny Thing Happened on the Way to the Forum (Tony, Drama Desk and Outer Critics Circle Awards), The Man Who Came to Dinner, The Producers (Tony, Drama Desk, Outer Critics Circle awards, Olivier Award), The Frogs, The Odd Couple, Butley, November, Waiting for Godot (Outer Critics Circle nomination), The Addams Family (Drama Desk and Outer Critics Circle nominations). Off-Broadway: 1992 Obie Award for Sustained Excellence in Performance; The Common Pursuit; The Film Society; The Lisbon Traviata (Drama Desk and Lucille Lortel Awards, Outer Critics Circle nomination); Lips Together, Teeth Apart; Love! Valour! Compassion! (Obie Award); Bad Habits; Dedication; Mizlansky/Zilinsky; Trumbo; Measure for Measure (St. Clair Bayfield Award); A Midsummer Night's Dream; The Merry Wives of Windsor; She Stoops to Conquer; In a Pig's Valise; Love; Do Re Mi. On television, he was last seen on FX's anthology series "American Crime Story: The People V. O.J. Simpson" and has had recurring roles on "The Good Wife" and "Modern Family," as well as many guest appearances (receiving six Primetime Emmy Award nominations, two Daytime Emmy Awards and a People's Choice Award). Lane will next be seen in Sidney Hall and has appeared in more than 35 films including The Birdcage (Golden Globe Award nomination, Screen Actors Guild and American Comedy awards), Ironweed, Frankie and Johnny, Mousehunt, Jeffrey, The Lion King, Stuart Little, Nicholas Nickleby (National Board of Review Ensemble Acting Award), The Producers (Golden Globe nomination), Swing Vote, Mirror Mirror, The English Teacher. In 2006, he received a star on the Hollywood Walk of Fame and in 2008 he was inducted into the American Theater Hall of Fame.

JOHN SLATTERY (Hildy Johnson)is an Emmy Award-nominated actor and veteran of TV, film, and stage. Slattery has received four Emmy nominations for 'Best Supporting Actor in a Drama Series' for his portrayal of 'Roger Sterling' in the critically-acclaimed AMC series "Mad Men." As a director, Slattery has directed five episodes of "Mad Men" and helmed his first feature, God's Pocket, in 2014, and several episodes of the Netflix series "LOVE." John recently completed Jonathan Taplitsky's "Churchill" where he played 'Eisenhower' opposite Brian Cox. He currently can be seen in HBO's "VEEP" and co-starred in the Oscar-winning feature film Spotlight, where he played 'Ben Bradley Jr.', with Mark Ruffalo, Michael Keaton, and Rachel McAdams. Additionally, the cast received the Screen Actors Guild Award for Outstanding Performance by a Cast in a Motion Picture and the Robert Altman Award at the Independent Spirit Awards. Slattery's previous films credits include Ant Man, The Adjustment Bureau, Iron Man 2, Bluebird, Flags of our Fathers, Charlie Wilson's War, Mona Lisa's Smile, The Station Agent, and Traffic. John Slattery is instantly recognizable from his numerous roles on television over the years, including "Wet Hot American Summer," for which he received a Critic's Choice Award nomination for best guest actor, "Documentary Now" with Fred Armisen and Bill Hader, "Arrested Development" and HBO's "Sex and the City" and "K Street." On stage, Slattery has appeared on Broadway in the Pulitzer Prize winning Rabbit Hole, for which he was nominated for a Drama League Award, the Broadway revival of Betrayal and opposite Nathan Lane in Neil Simon's Laughter on the 23rd Floor.

JOHN GOODMAN (Sheriff Hartman) made his West End debut last spring starring alongside Damian Lewis and Tom Sturridge in the revival of David Mamet's 1975 play American Buffalo at the Wyndham's Theatre. Additionally, Goodman has starred on Broadway in Waiting for Godot, for which he received rave reviews as 'Pozzo.' His other Broadway credits include Loose Ends in 1979 and Big River in 1985. He performed in a road production of The Robber Bridegroom and additional stage credits include several Off-Broadway plays, many dinner theatre and children's theatre productions. His regional theatre credits include Henry IV, Parts I and II, Antony and Cleopatra, As You Like It and A Christmas Carol. His most recent films include Bad Robot's thriller, 10 Cloverfield Lane, Jay Roach's Trumbo, which premiered at the 2015 Toronto Film Festival to rave reviews and was nominated by the Critics' Choice for Best Acting Ensemble and by The Screen Actors Guild for Outstanding Performance by a Cast in a Motion Picture. In 2013, he won the National Board of Review Spotlight Award for his work in Argo. Goodman was also seen in Flight, Trouble with the Curve, and the Weinstein Co.'s black-and-white silent feature The Artist which won the 2012 Academy Award for Best Picture. Further previous film credits include Paramount's remake of the 1974 The Gambler, Monument's Men, Inside Llewyn Davis, O Brother, Where Art Thou?, and The Big Lebowski. Among Goodman's many television accolades are a Golden Globe Award for Best Actor and seven Emmy Award nominations for his role in "Roseanne." He also received Emmy nominations for his starring roles in TNT's "Kingfish: A Story of Huey P. Long" and the CBS production of Tennessee Williams's "A Streetcar Named Desire." In 2007, Goodman won his second Emmy Award for "Studio 60 on the Sunset Strip." His other TV credits include Amazon's original series "Alpha House," the Starz miniseries "Dancing on the Edge," FX's "Damages," and HBO's "Treme." Goodman went to Southwest Missouri State intending to play football, but an injury led him to switch his major to drama. He never returned to football and graduated with a degree in Theatre.

JEFFERSON MAYS (Bensinger). Broadway: A Gentleman's Guide to Love and Murder, The Best Man, I Am My Own Wife, Pygmalion, Journey's End, Of Thee I Sing. Off-Broadway: Oslo, Blood and Gifts, Measure for Measure, Quills, Orestes. Regional: My Fair Lady, Quartermaine's Terms, The Importance of Being Earnest, She Stoops to Conquer, Tartuffe, Hamlet, Miss Julie, Private Lives. Film: Rebel In The Rye, Inherent Vice, Alfie, Kinsey, The Notorious Bettie Page, Cousin Bette. TV: "Law & Order: SVU," "The Knick," "The Americans," "Unbreakable Kimmy Schmidt," "The Good Wife," "Mildred Pierce," "Lie to Me," "Fringe," "Nurse Jackie," "The Closer." Awards: Tony, Drama Desk, Obie, Outer Critic's Circle, Helen Hayes, Elliot Norton, Lucille Lortel, Theatre World, Drama League, Jefferson, Helpmann.

SHERIE RENE SCOTT (Mollie Malloy).Most recently: co-author/actor in the critically acclaimed Second Stage production of Whorl Inside A Loop (dir. Dick Scanlan and Michael Mayer), co-author/actor Everyday Rapture (Roundabout Theater and Second Stage, Tony Award nominations for Best Actress and Best Book of a Musical, Drama Desk Award nominations for Best Musical, Actress and Book of a Musical, Lucille Lortel Award nominations for Leading Actress and Outstanding Musical, dir. Michael Mayer), Women On The Verge Of A Nervous Breakdown (Drama Desk nomination), John Guare's Landscape Of The Body at Signature Theater (Obie Award, Lucille Lortel Award, dir. Michael Greif), Dirty Rotten Scoundrels (dir. Jack O'Brien, Tony, Drama Desk, Outer Critics Circle Award Nominations), Disney's The Little Mermaid (Outer Critics Circle nomination), Elton John and Tim Rice's Aida (Derwent Award), The Last Five Years (Drama Desk nomination), Debbie Does Dallas, Randy Newman's Faust, Kander & Ebb's Over and Over (Helen Hayes Award nomination). Ms. Scott founded, owned and operated the multiple Grammy Award-winning Sh-K-Boom/Ghostlight Records from 2000-2015, honored with a Drama Desk Award for contributions to musical theater. She authored the critically acclaimed Piece Of Meat performed with Todd Almond and was a producer of the film The Last Five Years. Ms. Scott is a Dramatists Guild member and advisory board member of The Neighborhood Playhouse School of Theater.

HOLLAND TAYLOR (Mrs. Grant)has a burgeoning career in film, television and theater stemming over five decades. Her notable television roles include 'Ruth Dunbar' in " Bosom Buddies," 'Margaret Powers' on Norman Lear's "The Powers That Be," 'Judge Roberta Kittleson' on "The Practice" and 'Evelyn Harper' in "Two and a Half Men." She is also an author, having written the play Ann, based on the inspiring life and character of Ann Richards. This solo play has had runs in Austin, Galveston, San Antonio, and notably in Chicago at the old Shubert, at the Kennedy Center, and for her own performance in Ann at Lincoln Center's Beaumont theatre, Holland was nominated for a Tony Award. Her New York stage performances include 'Bess' in Breakfast with Les and Bess, the original productions of Butley, opposite Alan Bates, and A.R. Gurney's The Cocktail Hour. In Los Angeles, she has performed in Kindertransport, and played opposite Christopher Lloyd in Yasmina Reza's The Unexpected Man at the Geffen Playhouse. She has worked extensively in film and television, appearing in Romancing the Stone, Jewel of the Nile, To Die For, Next Stop Wonderland, One Fine Day, George of the Jungle, The Truman Show, HappyAccidents, Spy Kids (2 & 3), Keeping the Faith, Legally Blonde, and Baby Mama, with Tina Fey and Amy Poehler. She has just filmed Kepler's Dream, a movie for young audiences. Holland has been nominated for seven Emmy Awards, winning Best Supporting Actress in a Drama for the sexually popular 'Judge Roberta Kittleson' on "The Practice." She has performed several narrations for the Los Angeles Philharmonic with Essa-Pekka Salonen and John Adams, and narrated the Harry Potter Suite for John Williams at the Chicago Symphony Orchestra. Holland was a dedicated student of Stella Adler, and has given talks about the work and cultural contribution of this great teacher. Proud to be a Philadelphia native, she went to Westtown Friends School, received a B.A. at Bennington College, and in 2005 received an M.A. from the University of Santa Monica.

ROBERT MORSE(Mr. Pincus)is one of only four actors in the history of the Tony Awards to have received both of its top honors – Best Actor in a Play and Best Actor in a Musical – a distinction he shares only with Rex Harrison, Christopher Plummer and Zero Mostel. His musical award came in 1962 with his unforgettable performance as 'J. Pierrepont Finch' in the Pulitzer Prize-winning Frank Loesser/Abe Burrows/Bob Fosse musical How to Succeed in Business Without Really Trying and his dramatic nod came in 1990 with his triumphant portrayal of 'Truman Capote' in the tour de force one man show, Tru. The PBS presentation of Tru later earned him an Emmy Award as Outstanding Lead Actor. Mr. Morse made one of Broadway's most exciting and acclaimed debuts as 'Barnaby Tucker' in the original production of Thornton Wilder's The Matchmaker, directed by Tyrone Guthrie and starring the legendary Ruth Gordon. He repeated that performance in the film version starring Shirley Booth, Anthony Perkins and Shirley MacLaine. Those early years also brought him two Tony nominations, for his outstanding performances as the neophyte Broadway producer in Say Darling and as Richard in Take Me Along with Jackie Gleason, Walter Pidgeon and Eileen Herlie. His astounding success in How to Succeed… on Broadway brought him to Hollywood to recreate his unforgettable performance in the film version. This led to starring roles in Tony Richardson's film The Loved One and in A Guide for the Married Man, Where Were You When the Lights Went Out? and The Emporer's New Clothes with Sid Caesar as well as countless television appearances. Broadway soon beckoned him back for the David Merrick production of Sugar, a musical version of the classic film comedy Some Like It Hot. In Sugar, Mr. Morse donned a dress to play Jerry/Daphne under Gower Champion's direction, earning him the fourth of his five Tony nominations. This was followed by his starring role in So Long, 174th Street and the honor of being the only American to star at The Old Vic Theatre as 'Sidney Black' in the London premiere of Light Up the Sky. Subsequent stage credits also include Sugar Babies with Carol Channing, Where's Charley? with Edie Adams, Babes in Toyland at California Music Theatre, DuBarry Was a Lady with Faith Prince for the Encores! Performance series and the original 'Cap'n Andy' in Hal Prince's acclaimed production of Show Boat, among many others. In 1998 he appeared with Tony Roberts and Julie Andrews in the star studded Divas of Broadway at Carnegie Hall, which was also taped as part of the PBS "Great Performances" series.Robert Morse spent seven seasons on the smash hit "Mad Men" for which he received four Emmy Award nominations.

DYLAN BAKER (McCue). Broadway: The Audience, God of Carnage, November, Mauritius, La Bete (Tony and Drama Desk Award nominations), Eastern Standard (Theatre World Award). Off-Broadway: Peer Gynt, Sea of Tranquility, Homebody/Kabul, What the Butler Saw, That Championship Season, Pride's Crossing, Wolfman, The Common Pursuit, To Whom It May Concern, Not About Heroes (Obie Award), Tartuffe, Much Ado About Nothing and The Two Gentlemen of Verona (NYSF). Film: Miss Sloane, Anchorman 2, Selma, Franny, The Humbling, 2 Days in New York, Secretariat, Revolutionary Road, Trick 'R Treat, Across the Universe, The Hunting Party, Fido, Spider-Man 2 and 3, Hide & Seek, Head of State, Road to Perdition, Changing Lanes, Along Came a Spider, Thirteen Days, Happiness (Indy Spirit Award nomination), Disclosure, Delirious, Planes Trains & Automobiles, The Long Walk Home, The Cell, Requiem for a Dream. TV: HBO's "Confirmation," "Blindspot," "The Americans," "I'm Dying Up Here," "The Mentalist," "Chicago Fire," "Chicago PD," "Political Animals," "Damages," "The Good Wife" (Three Emmy Award Nominations), "Turks and Caicos," "Kings," "Drive," "The Book of Daniel," "The Pitts!," "The Laramie Project," "From Earth To The Moon," "Feds," "Murder One." Feature Film Directorial Debut: 23 Blast.

PATRICIA CONOLLY (Jennie)Patricia'sextensive Broadway credits include: Is He Dead?, Enchanted April, Waiting in the Wings, The Sound of Music, The Circle, Judgment at Nuremberg, A Small Family Business, and four seasons with the APA/Phoenix Company at the Lyceum Theatre. She has also worked at Lincoln Center (The Coast of Utopia, A Streetcar Named Desire), Manhattan Theatre Club (House and Garden, Woman in Mind), Roundabout Theatre Company (Misalliance, Hedda Gabler), Atlantic Theatre Company (Gabriel), The Irish Repertory Company (Beyond the Horizon, and The Belle of Belfast), and The New Group (Rasheeda Speaking). She has worked at The Stratford Festival Theatre in Canada (where her roles included Viola, Regan, and Phaedra), in England at the Chichester Festival Theatre (director Sir Laurence Olivier), for the RSC (directors Peter Hall and Peter Brook), and in the West End (with Dame Maggie Smith), and in Australia, where she grew up, for the Sydney and Melbourne Theatre Companies. She has worked in many regional centers in the U.S. including The Guthrie Theatre, the Mark Taper Forum, The Shakespeare Theatre in DC, Westport Country Playhouse, Hartford Stage, and the Williamstown Theatre Festival.

HALLEY FEIFFER (Peggy Grant).Broadway: The House of Blue Leaves (Theater World Award). Off-Broadway includes: The Substance of Fire (Second Stage), Women or Nothing (Atlantic), Medieval Play (Signature), Tigers Be Still (Roundabout, Drama League nomination), Still Life (MCC). Regional: Williamstown Theatre Festival, Huntington Theatre, Vineyard Playhouse. TV appearances include HBO's "Flight of the Conchords," "Bored To Death" and "Mildred Pierce." Film includes The Squid and the Whale, Margot at the Wedding, Gentlemen Broncos, Appropriate Behavior and He's Way More Famous Than You, which she also co-wrote. Halley's work as a playwright includes I'm Gonna Pray For You So Hard (Atlantic, Outer Critics Circle Award nomination, John Gassner Playwriting Award), A Funny Thing Happened On The Way To The Gynecologic Oncology Unit At Memorial Sloan Kettering Cancer Center of New York City (MCC) and How to Make Friends and then Kill Them (Rattlestick Playwrights Theater). She writes for the upcoming Starz series "The One Percent," the upcoming Showtime series "Purity" and is developing two original television projects with Scott Rudin Productions. She teaches playwriting at NYU.

DANN FLOREK (The Mayor )played the role of Captain Cragen on the first three seasons of "Law & Order" and then continued the role for 15 years on "Law and Order: SVU." Raised in Flat Rock, Michigan, Florek entered Eastern Michigan University as a math and physics major but left with a newfound interest in drama. Florek went on to join the prestigious Acting Company at the Juilliard School in New York City. His professional theater work includes A Midsummer Night's Dream, Love's Labours Lost, Strange Snow, The Philanderer at Yale Rep with Christopher Walken, and Death of a Salesman. Later, he headed west to San Diego, where he participated in many La Jolla Playhouse and Old Globe Theatre productions, most notably as 'The Duke' in Big River and as 'Teach' in The Old Globes award-winning production of American Buffalo. Florek gained attention for his portrayal of direct-marketing whiz 'Dave Meyer' on the Emmy Award-winning "L.A. Law," and joined his fellow cast members in the NBC reunion movie L.A. Law: The Movie. Florek's additional television credits include guest-starring roles on "Under The Dome," NBC's "Wings" and "The Pretender," as well as "The Practice," "NYPD Blue," "Roseanne," "Ellen," "Sabrina the Teenage Witch," "Smart Guy" and "The Secret Diary of Desmond Pfeiffer." Florek also appeared in the telefilms "The Pentagon Wars" and the Emmy Award-winning "From the Earth to the Moon." Florek has appeared in such feature films as Paul Mazursky's Moon Over Parador, Blake Edward's Sunset, Alan Parker's Angel Heart, Alan Alda's Sweet Liberty, The Flintstones,The Flood and Beautiful Joe.

JOHN MAGARO (Earl Williams). John currently wrapped filming Woody Allen's series for Amazon where he stars as the young male lead, opposite Mily Cyrus, Elaine May and Woody himself. In film, Magaro is looking forward to the upcoming release of Netflix's War Machine. Most recently, Magaro was seen in Paramount's The Big Short, written and directed by Adam McKay, Craig Gillespie's The Finest Hour opposite Chris Pine, Casey Affleck and Ben Foster, Carol, Unbroken, directed by Angelina Jolie, and Not Fade Away, with James Gandolfini, Jack Huston, and Bella Heathcote, written and directed by David Chase, for which he received a Hollywood Spotlight Award for his performance in the film from the Hollywood Film Awards. Additional film credits include Liberal Arts, Down the Shore, My Soul to Take, The Box, Assassination of a High School President, The Life Before Her Eyes, and The Brave One. Other television credits include a recurring role on Netflix's "Orange is the New Black," HBO's "Taking Chance" opposite Kevin Bacon, and guest star turns on "The Good Wife," "Law & Order: SVU," "Person of Interest," "Body of Proof," "Law & Order," and "Conviction." Theatre credits include: Tigers Be Still, written by Kimberly Rosenstock and directed by Sam Gold for the Roundabout Theatre Company and Rod McLauchlan's Good Television, directed by Bob Krakower, for the Atlantic Theater Company.

DANNY MASTROGIORGIO (Diamond Louis)most recently appeared on Broadway as 'Tom Moody' in the critically acclaimed Golden Boy, and also in the hit shows Lucky Guy as 'Bob Drury' and Rocky - the Musical as 'Paulie.' Other Broadway credits include Contact; Wait Until Dark, and A Steady Rain. His extensive Off-Broadway work includes 'Stephano' in last summer's The Tempest (Delacorte), Burning (New Group), Stunning (LCT3), The Hallway Trilogy (Rattlestick), Wintertime (Second Stage) Sailor's Song (The Labyrinth) and more. Recent work for Television includes the upcoming Woody Allen Amazon project, recurring roles on "Billions" and "Gotham," and David Simon's HBO min-series "Show Me a Hero." Previous TV includes "Elementary," "Prime Suspect," "Blue Bloods," "White Collar," "The Sopranos" all three "Law & Orders," "Book of Daniel" (series regular) and more. Recent films include The Cobbler, God's Pocket, The Mend. Also, The Producers the Musical, Fighting, Enchanted, Blackbird and others.

CHRISTOPHER McDONALD (Murphy).A renowned character actor Christopher recently wrapped Emanuele Della Valle's debut feature film Wetlands, opposite Adewale Akinnuoye-Agbaje. McDonald first caught Hollywood's attention when he played T-Bird, 'Goose McKenzie' in Grease 2. Beloved for his comedic roles such as 'Shooter McGavin' in Happy Gilmore, McDonald has received critical acclaim for his memorable performances in classic films Thelma and Louise, Quiz Show, Requiem for a Dream, and The Iron Giant, among others. He has enjoyed an illustrious career in television, most recently seen as 'Judge Schakowsky' on CBS's critically acclaimed series, "The Good Wife." Other notable TV credits include HBO's "Boardwalk Empire" as Harry Daugherty, David E. Kelley's "Harry's Law," starring Kathy Bates, "Texas Rising," "Happy Endings," "Family Law," Veronica's Closet," "North Shore," "Cracking Up," "The Sopranos," "Fat Actress," "The Bronx is Burning," "61," "SGU Stargate Universe," "Numb3rs," "Star Trek: The Next Generation," "Law & Order," and "Into Thin Air," among others. His voice work includes a recurring role in Disney Channel's "Kim Possible" and Cartoon Network's "Beware the Batman." His additional film credits include The Boys Next Door, Outrageous Fortune, Chances Are, Dutch, Wild Orchids 2, Grumpy Old Men, Fatal Instinct, Terminal Velocity, Cover Story, Rich Man's Wife, Leave it to Beaver, Flubber, The Perfect Storm, Spy Kids: 2, Grind, Takedown, Rumor Has It, Kickin' It Old Skool, Mad Money, Superhero Movie, Fanboys, House Bunny, among others. His love of theater led him to return to New York in 2006 to star on Broadway as Billy Flynn in Chicago. He also took the stage in productions of Nightclub Cantata, Hay Fever, Bouncers, and The Los Angeles Theatre Center's productions of Hamlet, Othello and The Taming of the Shrew. He is also the recipient of a Drama-Logue Award for Best Actor (Final Touches). In 2013, he starred in Nora Ephron's hit production of The Lucky Guy on Broadway opposite Tom Hanks. A classically-trained stage actor, he studied at London's Royal Academy of Dramatic Art and the Stella Adler Acting Conservatory in New York.

DAVID PITTU (Schwartz)is an award-winning actor whose honors include Tony Award nominations for his work in LoveMusik (2007) and Is He Dead? (2008). He most recently starred in the Los Angeles production of The Mystery of Love and Sex at the Mark Taper Forum, directed by Robert Egan. He created and starred in the acclaimed musical parody What's That Smell: The Music of Jacob Sterling (Outer Critics Circel Award nominations: Best New Off-Broadway Musical and Actor in a Musical). Other theater highlights: The Heir Apparent (Classic Stage Company) the Encores! productions of It's a Bird It's a Plane It's Superman, Bells Are Ringing and Of Thee I Sing, Equivocation (Manhattan Theatre Club, Lucille Lortel Award and Outer Crictics nominations), The Coast of Utopia (Lincoln Center Theatre), Twelfth Night (Delacorte, St Clare Bayfield Award), Stuff Happens (The Public Theater),Celebration & The Room (Atlantic Theatre Company, Lortel and Drama Desk Award nominations), Never Gonna Dance, Company (Kennedy Center Sondheim Celebration) and the national tour of Jason Robert Brown's Parade, directed by Hal Prince (National Broadway Award, Best Actor in a Musical). Film and television credits include "House of Cards,""Mercy Street," "The Blacklist," The Blue Angel, "The Following," "The Knick," True Story, Men in Black III, "Damages," "Law & Order: SVU," "Rescue Me," "Fringe," "Sex and the City." A prolific audiobook narrator, credits include his award-winning solo performance of Donna Tartt's Pulitzer Prize winner The Goldfinch and Jack Viertel's recent release The Secret History of the American Musical. He received a Daryl Roth Creative Spirit Award in 2010.

JOEY SLOTNICK (Wilson)is probably most recognized for his series regular roles on "Boston Public" and "The Single Guy." Most recently he has had recurring roles on "The Good Wife" and "Nip/Tuck." He has guest starred on numerous television shows, including "Unforgettable," "Growing Up Fisher," "Psych," "Boston Legal," "The Office," "Medium," "Curb Your Enthusiasm," and "Entourage." In feature film, Slotnick portrayed computer industry pioneer Steve Wozniak in The Pirates of Silicone Valley. His most recent work includes Tom McCarthy's The Cobbler, opposite Adam Sandler, Humor Me, The Secret Life of Walter Mitty, Too Big To Fail, Brief Interviews with Hideous Men, Elevator, and The Dictator with Sasha Baron Cohen. Notable work in theater includes the leading role in The Atlantic Theatre Company's Dying For It, Chapter Two at the Bucks County Playhouse, directed by Marsha Mason, and in Animal Crackers at the Williamstown Theatre Festival. Slotnick made his Broadway debut in The Big Knife with Bobby Cannavale, for the Roundabout Theatre Company. Joey is an ensemble member of Chicago's Tony Award-winning Lookingglass Theatre Company, where he has performed in multiple productions. Joey has originated roles at prestigious theaters, the Goodman and Steppenwolf. In New York theatre, credits include 10 X 25 at The Atlantic, The New York Idea directed by Mark Brokaw, Ethan Coen's Offices, directed by Neil Pepe, and Coen's world premiere play Almost An Evening, off-Broadway at The Theatres at 45 Bleecker Street, following a sold-out extended run at The Atlantic. Other New York credits include Romance (Bay Street), The Cartells (Comix), and Nicky Silver's The Altruists (The Vineyard). Joey was recently in his third Ethan Coen world premiere play Happy Hour, for The Atlantic Theatre Company.

LEWIS J. STADLEN (Endicott)was the recipient of the Irish Times Award for his performance at Dublin's Gate Theatre production of Arthur Miller's The Price. He has starred on Broadway in Fish in the Dark, The Nance, The Producers, 45 Seconds from Broadway, The Man Who Came to Dinner (Drama Desk Award nomination), Laughter on the 23rd Floor, the 1996 production of A Funny Thing Happened on the Way to the Forum (Tony Award nomination), the female version of The Odd Couple, the 1974 production of Candide (Tony Award nomination), The Sunshine Boys, and Minnie's Boys (Drama Desk, Outer Critics Circle, and Theatre World Awards). In addition, he has starred in the national tours of The Producers, Guys and Dolls, Laughter on the 23rd Floor, Oklahoma!, The Time of Your Life, and Fiddler on the Roof. His film and television credits include In & Out, To Be or Not to Be, Windy City, The Verdict, Serpico, Portnoy's Complaint, "Smash," "Damages," and "The Sopranos."

MICAH STOCK (Woodenshoes Eichorn)was recently nominated for a Tony Award for his Broadway debut in the Jack O'Brien-directed hit revival of Terrence McNally's It's Only A Play, starring opposite Matthew Broderick, Nathan Lane, F. Murray Abraham, Stockard Channing, Rupert Grint, and Megan Mullally. Previously, he starred Off-Broadway in the world premiere of McNally's And Away We Go at The Pearl Theatre Company directed by Jack Cummings III. Regional work includes stints at Actors Theatre of Louisville's Humana Festival (dir. Kip Fagan), Long Wharf Theatre (dir. Eric Ting), and Williamstown Theatre Festival. He has developed new work by the likes of Annie Baker, Erin Courtney, Greg Kotis, Denis O'Hare and Lisa Peterson, Diana Stahl, Justin Kuritzkes and Max Posner at theaters including The Public, New York Theatre Workshop, The Atlantic Theatre, Rattlestick Playwrights Theatre, Clubbed Thumb, The LARK, Ars Nova, Rising Phoenix Repertory and the Sundance Institute Theatre Lab in Utah. TV credits include "Pan Am," "Law & Order: SVU," and a recurring role on NBC's "Deception." He had a supporting role in the SXSW and PiFan-selected award-winning indie King Kelly directed by Andrew Neel. Micah received his BFA in Acting from the SUNY Purchase Conservatory of Theatre Arts and Film.

CLARKE THORELL (Kruger)recently starred in Cloud Nine at the Atlantic Theatre Company. Broadway: Annie, Hairspray , Titanic, Sinatra: His Way, Mamma Mia!, The Who's Tommy. Other theatre credits include Satellites (The Public Theater), Twelfth Night (Jack O'Brien, dir.), Floyd Collins. TV/Film: "House of Cards," "The Good Wife," "The Knick," "30 Rock" (Meet The Woggels), "Boardwalk Empire," "Law & Order," "The Sopranos" and Men in Black III.