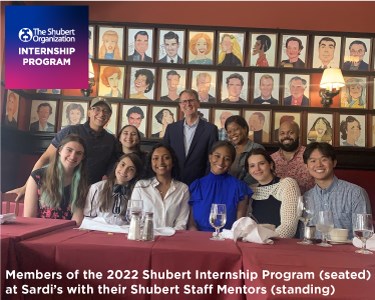 Applications Now Open for the 2023 Shubert Organization Internship Program
Shubert's overall commitment to help achieve greater diversity, equity, and inclusion in the Broadway industry includes the development of education programs and pathway training for Black, Indigenous and People of Color (BIPOC) and historically marginalized students who are looking for careers in non-performance areas of theatre.
The Shubert Organization Internship Program provides a general knowledge base of theatre administration and operations and offers hands-on project involvement as the organization prepares for the 2023-2024 theatre season.
Each paid internship will focus on a specific project(s) in their departments over a six-week period, with 20 hours per week of work, weekly MTA metrocards, development opportunities, tours of Shubert's theatres, and access to Broadway shows and events.