Shubert Internship Program
An Introduction to Theatre Careers Beyond the Curtain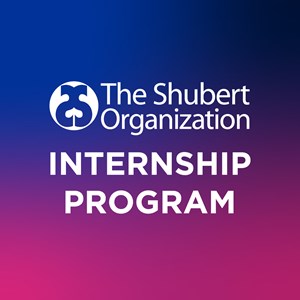 The Shubert Organization is America's oldest professional theatre company and the largest theatre owner on Broadway. Shubert currently owns and operates 17 Broadway theatres, six off-Broadway venues, and the Forrest Theatre in Philadelphia.
In addition, Shubert's innovative ticketing solutions offer unparalleled distribution and marketing to the theatre industry and beyond. Its consumer-facing brands—Telecharge for retail ticket sales and Broadway Inbound for group sales and the travel industry—sell millions of tickets each year.
Part of Shubert's overall commitment to help achieve greater diversity, equity and inclusion in the Broadway industry is to develop education programs and pathway training for Black, Indigenous and People of Color (BIPOC) and historically marginalized students who are looking for careers in non-performance areas of theatre.
With a focus on the industry from the theatre owner's perspective, The Shubert Organization Internship Program will provide a general knowledge base of theatre administration and operations and offer hands-on project involvement as the organization prepares for the 2022-2023 theatre season. Supervision and guidance will be provided by Shubert management and staff.  Each student will be assigned a specific project to complete with real time goals and objectives. Morning check in meetings with managers will evaluate progress and offer feedback and further instruction.  Weekly inter-department intern lunches with the coordinators and senior staff will provide community building and expanded learning about career opportunities in theatre management, marketing, sales and operations.
The internship will also introduce students to the scores of professional careers available in the theatre industry beyond the world of performance and guide them to their natural skill set as they contemplate careers in theatre.
Available Internships:
Broadway/Off-Broadway




Theatre Management

Theatre Operations

Engineering Operations

Theatre Finance

Broadway Inbound
Program Highlights:
Six week program

Paid wage $18/hr

20 hours per week (work schedule TBD by department)

Lunch provided at weekly intern lunches

Weekly MTA Metrocard

Focused Internship projects

Tours of Shubert's theatres

Access to Broadway shows




and events

Program Details:
Though the Internship Program aims to provide access for students in underrepresented communities, it is open to all races, ethnicities, and identities. (New hires must show proof of Covid-19 vaccination, including booster, subject to reasonable accommodation where required by law.)
You can also download a PDF application here. To return your downloaded application, email internship@shubertorg.com.  Deadline to apply is Wednesday, May 25, 2022.