Artistic Circle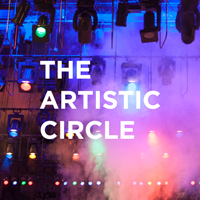 As part of its commitment to Diversity, Equity, and Inclusion, The Shubert Organization has launched The Artistic Circle, an initiative to provide assistance to BIPOC commercial theatre producers who are in the early-to-mid stage of their careers and have a project currently in development.

The level of support for producers who are selected is determined by the needs of each project. Artistic Circle projects are already in process, geared toward the commercial theatre industry (Broadway and Off-Broadway), and have a clear development plan and timeline.
Support from Shubert may include:

· Space for readings and workshops
· Roundtables and networking events
· Video and technological expertise
· Access to office space
· Connections to industry contacts and mentors
· Financial assistance

Following an open call for submissions, The Shubert Organization's Artistic Circle is thrilled to announce the first five producers chosen to participate in its Core Program: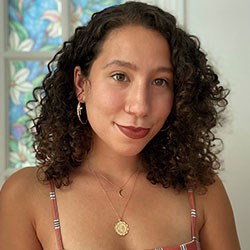 VICTORIA DETRES

Victoria is a Puerto Rican and Albanian producer born and raised in New York City. She is passionate about building a platform for contemporary theatre's innovative voices; particularly those of the global majority. Victoria, while highlighting these voices, also aims to dismantle the structures that do not allow for access, and restructure for equity and accessibility. Victoria is a graduate from the New York Theatre Workshop 2050 Producing Fellowship for the 2018-2019 season and TPOC's Producing 101 Course. Victoria currently works as the Associate Producer at Broadway & Beyond Theatricals and is a recipient of the "The Stacey Mindich 'Go Work in Theater' Award", Lilly Awards 2021. Additional credits include The Kite Runner (The Hayes Theatre, Associate Producer), SOCIETY Theatre Collective's productions of Mona Mansour's Beginning Days of True Jubilation and Emily Zemba's The Strangers Came Today (The New Ohio, Line Producer), BRICKS (Weeksville Heritage Center, Lead Producer) and Broken Box Mime Theatre's BKBX Kids!Asks Why and Take Shape (Producer for Audience Design).

Through this initiative Victoria will be developing the musical WORK, book and lyrics by Parade Stone, music by Sequoia Sellinger. When Sydney, a sales associate at an upscale grocery store with abandoned aspirations of being a politician, receives a job offer in politics, she finds herself at a crossroads. Should she stay at her unfulfilling survival job until she finds a new passion, or can she reignite her now-disillusioned passion for politics? Work is a new musical about a woman's journey from pursuing her passion for politics to leaving the field all together in favor of a more ethical path. The trouble is she has no idea what ethical looks like under late stage capitalism.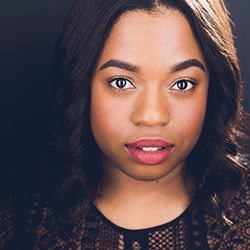 LAWRYN LACROIX

Lawryn LaCroix is a New York City & London based actor/producer. She received her M.A. in Creative Producing at the Mountview Academy run by Dame Judi Dench and Stephen Jameson and her BFA from Marymount Manhattan College. Lawryn's background in producing is both domestic and international. Touring shows from New York City (BAM) to Edinburgh (Edinburgh Fringe Festival) to London (Arcola Theatre and more).
Lawryn started her production company, Pinkhouse Productions, in 2018 as a vehicle for theatre and film. Pinkhouse is an interdisciplinary production company dedicated to original and inspiring female and ethnic work. Pinkhouse has both a New York and Los Angeles presence in theatrical and film circles. Pinkhouse has worked with Tony, Emmy, and Golden Globe winners on original productions, including the recent production of Sinners in London at the Playground Theatre, directed by Golden Globe winner Brain Cox (HBO's Secession). Led by an all-female team, Pinkhouse strives to empower in the arts and provide the means by which they can assert their individual voices.

Lawryn's project, Gummies, tells the story of a group of multi-racial New Jersey sisters-in-law, bonded together by holding each other's secrets. Told in a series of vignettes that spiral out from a drunken night where they accidentally eat an entire roll of THC gummy tape, the piece mixes humor and pathos to explore the experiences of motherhood that often go left unsaid. Being a mother sometimes ruins your life, destroys your health, and makes you go insane. I know this from the women closest to me in my life, but it is hardly ever discussed publicly. I want to change that.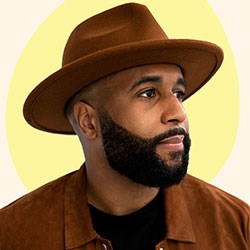 BRYAN JOSEPH LEE
Bryan Joseph Lee (he/him) is the founder of CNTR ARTS, a creative agency and strategic consulting firm that centers artists, activists, and communities of color. As a creative producer, arts marketer, and civic organizer, he has over twelve years of arts management experience and a decades-long career building creative communities at a local, national, and international level.
Most recently, Bryan served as Director of Public Forum at The Public Theater in New York City, where he investigated civic organizing and cultural changemaking at one of the nation's leading off-Broadway theater companies. As an artistic curator, his work centers the experiences of Queer, Trans, and BIPOC communities on stage and in our world. Bryan has also independently produced and programmed several Black and Queer artists at venues like La Mama Theater Company, Musical Theater Factory, and The Shed.
Bryan has guided numerous audience engagement initiatives around the world, including recent projects in Salem, Oregon; Alexandria, Egypt; and Perth, Australia. He is a frequent speaker on the topics of building relevance and resilience for arts organizations, and has delivered keynote speeches at the PAC Australia Conference in Sydney, and the Creu Cymru Annual Conference in Wales.
Bryan is a 2018 Fellow of the DeVos Institute of Arts Management at The University of Maryland, and was named a 2016 Rising Leader of Color by Theater Communications Group (TCG). He holds a degree in Latin American Studies from Dartmouth College.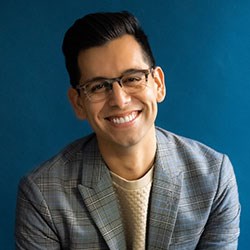 SAMMY LOPEZ
Sammy Lopez (he/him) is a curious theatre-maker dedicated to uplifting historically excluded voices & stories through the arts. He is a co-founder and producer with P3 Productions, currently developing GUN & POWDER (World Premiere: Signature Theatre 2020), HOW TO DANCE IN OHIO (World Premiere: Syracuse Stage 2022), MIDSUMMER (In Development), BRADICAL (In Development), and two additional projects in development with award-winning artists John Leguizamo and Shakina Nayfack. He launched the company with his partners, Ben Holtzman and Fiona Howe Rudin. Broadway, Off-Broadway, Touring, and West End co-producing credits include The Old Vic's A CHRISTMAS CAROL, BE MORE CHILL, THE KITE RUNNER, A STRANGE LOOP (Tony Award with A Choir Full Productions), ORLANDO and he was the associate producer of BANDSTAND. At Marathon Digital, he is the Special Projects Manager, representing Broadway productions, regional theatres, and other live entertainment clients. In addition, he is the first resident director of NY Children's Theatre developing new theatre experiences for families and young audiences. During the pandemic, Sammy co-founded The Industry Standard Group (TISG) and Second Act Theatrical Capital (2ATC), a decentralized leadership cohort of BIPOC producers strategically formed to promote work reflecting diversity and increase the presence of BIPOC investors and producers in the commercial producing arts and entertainment field. He is the 2022 program mentor for Theatre Producers Of Color (TPOC) and teaches with The Business of Broadway. Currently, he is a recipient of The Shubert Organization's Artistic Circle and a Broadway League Fellow. Sammy is a proud graduate of Syracuse University's School of Drama, L.A. County High School for the Arts, and serves on the board of the New 42, TYA/USA, and CO/LAB Theater Group.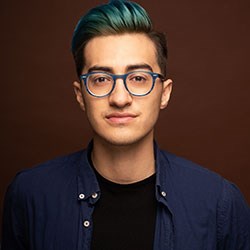 DANNY MARIN
Danny Marin (They/He) is an award-winning queer, latine New York City based artist. They are the Executive Director of Con Limón Productions which strives to create a more equitable industry not only on the stage, but behind the table. They are a co-producer of Jay Armstrong Johnson's annual Halloween extravaganza I Put A Spell On You: The Return of the Sanderson Sisters which released its visual album benefiting Broadway Cares/Equity Fights AIDS in the Fall of 2020 for the Covid-19 Relief Fund. Danny previously produced Twohander starring Sherie Rene Scott & Norbert Leo Butz at Feinstein's/ 54 Below and Seasons 1 & 2 of the bi-monthly hit An Evening With Series at Green Room 42. They were also a producer for the development of new musicals Siren, Burning Man: The Musical, Hocket, and Wake You Up.
When they're not producing they can be seen on stage and film including HBO's Mrs. Fletcher as James and Season 11 of The Real Housewives of NY. Their solo cabaret debut Nicest B**ch You Know at Feinstein's/ 54 Below earned them a 2017 BroadwayWorld Cabaret Award nomination for Best Solo Show! Their sophomore show Mediocre At Best at Green Room 42 also earned them two 2019 BroadwayWorld Cabaret Award nominations including Best Show and Best Musical Director.
Danny is working on Siren, book, lyrics and music by Dillon Feldman; additional orchestrations by Stephanie Leotsakos. In this new musical three sirens are the last vestiges of a community on the verge of extinction, when they make the choice to kill a girl from a nearby village to add to their ranks. They are unaware, however, that she carries a dark past and a grudge with her. What does it mean to be a human--to be alive? How do you challenge communities' long held biases? Siren tackles this with a magical lens and a haunting, modern soundscape. General Management, Evan Bernardin Productions.