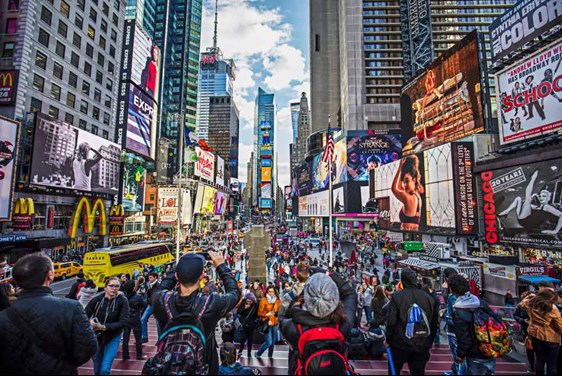 Why Groups Matter
BROADWAY BRIEFING
Thursday - October 4, 2018
We've all seen the groups of students crowding Times Square with their matching backpacks, snapping selfies left and right, and thought, "MOVE OVER!" And then we've thought, "I hope they are coming to see my show!" 

The good news is they probably will be attending a show while they are visiting, and Broadway's group sales agents make that happen. Group sales agencies work with tons of tour operators that specialize in student travel. Most of those sell tours focused on theatre and performing arts, but even non-theatre NYC tours always want to add a show to their itinerary.

As tour operators work to customize a student trip, they rely on the knowledge base of group sales agents to make sure that each group is booking the right show(s) for its students. At Broadway Inbound, there are always a lot of questions:
Is there adult content in the show? A parent choosing a show for a child to see is one thing, but a teacher choosing on behalf of a varied group of students and parents is another thing.
Where are our seats, and will we be seated together? Think about the logistics of a group of 80 students with a handful of chaperones, and what could happen if some of the students are seated separately. The more information provided to group buyers in advance, the easier it is for the group. 
What happens if there is bad weather and our trip is canceled? More shows have started to offer winter weather guarantee policies, which is a great incentive to book that show. If there is a blizzard in Cleveland and the school board cancels the trip to NYC, they are protected.
These are the types of questions we hear over and over again. So when trying to attract more student group business to your show, consult with your group sales agent to make your show student group friendly. It's the key to developing the next generation of adult ticket buyers and audience members, and you just never know which young mind your show will inspire! 

For more information on Broadway Inbound, visit www.broadwayinbound.com.

Broadway Briefing brings you a daily, curated roundup of top news headlines, box office reports, opening and closing announcements, and much more at a glance. There's even a daily planner so that you know which readings, concerts, and productions are playing around town. Get Broadway Briefing in the morning...and set the stage for a successful day.

www.broadwaybriefing.com