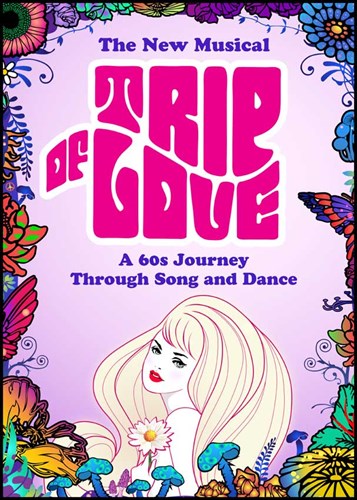 "Trip of Love" welcomes Rock 'N' Roll Hall of Famer DARLENE LOVE, beginning August 5 at Stage 42
It's a summer of Love x 2 when Trip of Love, New York's high-voltage 1960's pop music spectacular, proudly welcomes the legendary Darlene Love (Broadway's Hairspray, Carrie, Leader of the Pack) to the company. Starting Thursday, July 28, the iconic vocalist, who topped the charts with hits including "He's a Rebel" and "Christmas Baby Please Come Home," will join the company for a nine-week engagement singing 1960's classics including "Lover's Concerto," "The Windmill of Your Mind," "Up Up and Away," "Moon River," and "The Way of Love."

"What a fun show! When I saw the show, the audience was waving their arms and singing along. They had a grand time," says Darlene Love. "I remember all those classic songs. The lyrics are meaningful and help tell the story. I did sing on a number of them. They are not from records that I made, but I am really looking forward to putting my own signature on 'Moon River,' 'Both Sides Now' and so many others."

"We couldn't be more excited to welcome the one-and-only Darlene Love to our company," says Trip of Love creator/director/choreographer James Walski, "Her name and one-of-a-kind voice are synonymous with the sound of 1960s music. The cast is overjoyed to share the stage with Darlene. Audiences are in for a real treat. You won't want to miss this."

Over a fifty-plus year career, Darlene Love has collaborated with legends like Frank Sinatra, Marvin Gaye, and Elvis Presley (to name a few). She performed her #1 holiday classic "Baby Please Come Home" on David Letterman's Christmas special annually for 29 years. Films include the Oscar-winning Twenty Feet from Stardom and the Lethal Weapon series, Broadway: Hairspray; Grease; Carrie; Leader of the Pack. She is a member of the Rock and Roll Hall of Fame, and is one of Rolling Stone's greatest singers in history. Her most recent album, "Introducing Darlene Love," was released in 2015.

Love joins the star of the hit Lifetime Television series "Dance Moms," Nia Sioux, who recently began performances in Trip of Love. Sioux, performs specialty dance solos including"These Boots Are Made for Walkin'", "Moon River," and "Wipe Out" now through August 21.

High-voltage dance numbers. Powerhouse vocals. It was a time when we were born to be wild, boots were made for walking and we were all looking for somebody to love. The 60's are alive now at the high octane sexy musical spectacular, Trip of Love where the worlds of "Mad Men," and "American Bandstand" collide with "Dancing with the Stars," Woodstock and "Soul Train." Celebrate classic pop hits from such greats as The Beatles, Tom Jones, The Beach Boys, Leslie Gore, Jefferson Airplane, Petula Clark, Bob Dylan, The 5th Dimension, The Vandellas, Nancy Sinatra and more. With a cast a two dozen scorching hot young men and women, Trip of Love takes audiences on a musical journey through a history of rock and roll with such hits as "In-A-Gadda-Da-Vida," "Downtown," "Venus," "California Dreamin," "You Don't Own Me" and "Wipe Out."

Created, directed and choreographed by James Walski (Saturday Night Fever, Starlight Express), Trip of Love currently stars Joey Calveri (Broadway's Rock of Ages), David Elder (Curtains, 42nd Street), Kelly Felthous (Flashdance, Nat'l Tour), Bahiyah Hibah (Broadway's The Color Purple, The Little Mermaid, Rock of Ages, Memphis), Austin Miller ("Grease: You're The One That I Want"), and Tara Palsha Moats (Vegas! The Show, Las Vegas), with Yesenia Ayala, Sissy Bell, Bo Broadwell, Ian Campayano, Daniel Lynn Evans, Ashley Blair Fitzgerald, Steve Geary, Jennifer Gruener, Autumn Guzzardi, Brandon Leffler, Robin Masella, Connor McRory, Connor Schwantes, Nia Sioux, Kirstin Tucker and Colt Adam Weiss.

Trip of Love features a spectacular, psychedelic design by Tony Award winning scenic designer Robin Wagner (The Producers, Dreamgirls) andJames Walski, and Tony Award winning costume designer Gregg Barnes (Aladdin, Kinky Boots). The lighting design is by Tamotsu Harada; sound design by Peter Fitzgerald/Domonic Sack; hair design by John Marquette and projection design by Daniel Brodie. Trip of Love is produced by Makoto Deguchi (Blue Man Group: Tubes).

Trip of Love plays at Stage 42 (422 W. 42nd Street). Performances are Tuesdays at 7pm, Wednesdays at 2pm and 8pm, Thursdays at 8pm, Fridays at 8pm, Saturdays at 2pm and 8pm, and Sundays at 3pm.

MORE ABOUT
DARLENE LOVE

Through the years, Darlene Love continues to captivate audiences worldwide with her warm, gracious stage presence and superb performances. This has been a banner season for Darlene. Her new CD, released via Sony/Columbia/ Wicked Cool Records has been greeted with sensational critical reaction and numerous TV presentations. Produced by fellow musician and long time friend Steven Van Zandt, it includes selections written for Darlene by Bruce Springsteen, Elvis Costello, Jimmy Webb and many others including two notable songs by Stevie himself.

At the Academy Awards, Darlene sang her powerful acceptance speech on behalf of all of the performers in the winning film Twenty Feet from Stardom. As she raised the Oscar, the entire house stood with a cheering ovation lead by the wildly applauding Bill Murray. It was another special moment in a great career. A Grammy Award soon followed for the soundtrack of the film.

Since the early sixties, as part of Phil Spector's Wall of Sound Hit Factory, this great lady has done it all...from major motion pictures like the highly successful Lethal Weapon series to Broadway hits like Hairspray and Grease. She even starred as herself in Leader Of The Pack, credited as Broadway's first 'jukebox musical.'

Darlene has appeared on numerous television programs, running the gamut from her weekly appearances on ABC's "Shindig" to a recent guest spots with Whoopi Goldberg on ABC's "The View," and with Stephen Colbert on both CBS' "Late Show" and "Comedy Central's "The Colbert Report," among many others.

An autobiographical film of the pop diva is currently on the drawing board with a development deal from Oprah Winfrey based on the book "My Name is Love"... written by Darlene.

In the early years, Darlene's background vocals as lead singer for The Blossoms behind The Righteous Brothers, Dionne Warwick, Marvin Gaye, Frank Sinatra and Elvis Presley (to name but a few) set the stage for her emergence as a star in her own right.

Her Billboard hits include: "He's A Rebel," "The Boy I'm Gonna Marry," "Wait 'Til My Bobby Gets Home," "He's Sure the Boy I Love" and the #1 holiday classic "Christmas Baby Please Come Home," a song that she performed annually with Paul Shaffer and the CBS Symphony Orchestra on "The Late Show With David Letterman" for some 29 years before David retired last December.

Darlene Love received her industry's highest honor when Bette Midler, a great fan of her work, inducted Darlene into the Rock and Roll Hall of Fame. During the celebration, the two ladies enjoyed performing "He's A Rebel" together. As part of the festivities, Darlene also sang "He's A Fine, Fine Boy" backed by another distinguished fan, Bruce Springsteen.

Rolling Stone Magazine has proclaimed Darlene Love to be "one of the greatest singers of all time" and that certainly rings true, but perhaps Paul Shaffer says it even more concisely: "Darlene Love is Rock N' Roll!"