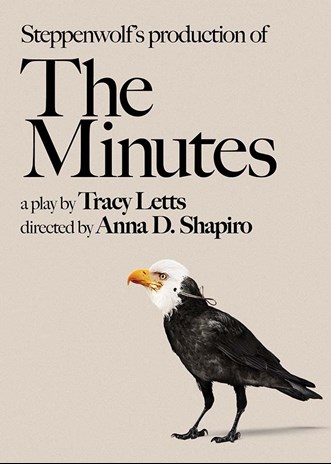 Tony & Pulitzer Prize Winner
TRACY LETTS

Reunites with Tony Award-winning Director
ANNA D. SHAPIRO

For the Steppenwolf production of Letts' play
THE MINUTES
Starring
IAN BARFORD, BLAIR BROWN, K. TODD FREEMAN, ARMIE HAMMER, TRACY LETTS, DANNY McCARTHY, JESSIE MUELLER, SALLY MURPHY, AUSTIN PENDLETON and JEFF STILL

FOLLOWING THE CRITICALLY ACCLAIMED CHICAGO PREMIERE

 (New York, NY) – Tony & Pulitzer Prize winning playwright & actor Tracy Letts (August: Osage County, Edward Albee's Who's Afraid of Virginia Woolf?, Arthur Miller's All My Sons, Linda Vista) will return to Broadway with Steppenwolf's production of his new play THE MINUTES, in which he will also star. Letts will reunite on Broadway with Tony Award-winning director Anna D. Shapiro (August: Osage County, Fish in the Dark, This Is Our Youth) following the play's premiere at Steppenwolf Theatre Company in 2017. Starring alongside Letts are Ian Barford (Linda Vista, August: Osage County), Tony Award winner Blair Brown (The Parisian Woman, Copenhagen), Cliff Chamberlain (Superior Donuts, Homeland), Tony Award nominee K. Todd Freeman (Airline Highway, One Flew Over the Cuckoo's Nest), Golden Globe nominee Armie Hammer (Call Me By Your Name, Straight White Men), Danny McCarthy (To Kill a Mockingbird, The Iceman Cometh), Tony Award winner Jessie Mueller (Waitress, Beautiful), Sally Murphy (Linda Vista, August: Osage County), Tony Award nominee Austin Pendleton (Choir Boy, The Diary of Anne Frank), Jeff Still (To Kill a Mockingbird, Oslo).

Performances begin Tuesday, February 25, 2020 at the Cort Theatre (138 W 48th St) on Broadway, and officially opens on Sunday, March 15, 2020. This is a 16-week limited engagement through Sunday, June 14, 2020.

With The Minutes, Pulitzer Prize-winning playwright Tracy Letts and Tony-winning director Anna D. Shapiro return to Broadway together for the first time since their Tony-winning sensation August: Osage County. The record-breaking hit production from Steppenwolf Theatre Company takes a look at the inner-workings of a city council meeting in the small town of Big Cherry—and the hypocrisy, greed, and ambition that follow. "Nothing in this explosive 90-minute play is as it seems...A real-life heart-in-the-mouth experience," declares Chicago Tribune. This powerful, resonant, and funny portrayal of democracy in action proves that everything you know can change—it's just a matter of minutes. After all, the smallest towns keep the biggest secrets.

The producing team includes Jeffrey Richards, Rebecca Gold, Carl Moellenberg, Spencer Ross, Steve Traxler and Jacob Soroken Porter. Mr. Richards is represented as lead producer on Broadway this season with Ms. Gold on The Great Society and The Sound Inside, and as a co-producer with Mr. Traxler on Beetlejuice.

Ian Barford, Cliff Chamberlain, K. Todd Freeman, Tracy Letts, Sally Murphy, Austin Pendleton and Anna D. Shapiro are members of the Steppenwolf Theatre Company ensemble.

The creative team will be announced at a later date.

BIOS:

TRACY LETTS (Playwright) is a multifaceted award-winning actor and playwright. Letts received the 2008 Pulitzer Prize for Drama for his play August: Osage County and a Tony Award for his portrayal of George in the revival of Who's Afraid of Virginia Woolf? He has written the screenplays of three films adapted from his own plays: Bug and Killer Joe, both directed by William Friedkin, and August: Osage County, directed by John Wells. Letts recently penned the screenplay for the film adaptation of A.J. Finn's best-seller, The Woman in the Window, which will be released in theaters on May 15, 2020. Letts will next be seen in James Mangold's racing drama Ford v Ferrari, which premiered at the Toronto International Film Festival and will be released on November 15th in theaters. In the film, Letts stars as Henry Ford II, (grandson of the founder of Ford Motor Company) who is overseeing the mission at Ford to build an automobile from scratch that can defeat Ferrari at the Le Mans race in France. He will also join Ana de Armas and Ben Affleck this November in the New Regency Thriller Deep Water. As a playwright, Tracy's play The Minutes will make its Broadway premiere next February. With the announcement of The Minutes, Letts will have two plays set for Broadway engagements this season. His play Linda Vista is currently in a limited eight week run at Broadway's Hayes Theater. Linda Vista is a brutally comedic play about a 50-year-old divorcee in the throes of a mid-life spiral who starts on a path toward self-discovery—navigating blind dates, old friends, and new love. Also this January, Steppenwolf Theater in Chicago will feature a new production of his 1996 drama Bug starring Carrie Coon. The production will run from January 23rd through March 20th. In 2017, Letts appeared in Steven Spielberg's The Post alongside Tom Hanks and Meryl Streep. The film was selected as the Best Film of 2017 by the National Board of Review and nominated for an Oscar for Best Picture and for a Critics' Choice Award in the category of Best Acting Ensemble. Also in 2017, Letts received critical acclaim for his performance opposite Saoirse Ronan in Greta Gerwig's Lady Bird. Lady Bird was selected as one of the Top Ten Films of 2017 by the National Board of Review, nominated for a Screen Actors Guild Award in the category of Best Ensemble and an Oscar in the category of Best Film. Additional film credits include The Lovers with Debra Winger which was nominated for a 2018 Film Independent Spirit Award for Best Screenplay; Antoni Campos' biographical drama Christine, Indignation, James Schamus' directorial debut and the Oscar nominated film The Big Short directed by Adam McKay. On the small screen, Letts starred in the second season of HBO's "Divorce" alongside Sarah Jessica Parker, Thomas Haden Church, Molly Shannon and Talia Balsam. In 2013 and 2014, Letts played CIA Director Andrew Lockhart on Showtime's "Homeland." The cast was nominated for a SAG Award in the category of Best Drama Ensemble in 2013. Tracy resides in Chicago with his wife, Carrie Coon and is an active member of the Steppenwolf Theatre Company.

ANNA D. SHAPIRO (Director) is a Tony Award-winning director and Artistic Director of Chicago's Steppenwolf Theatre Company. She joined the Steppenwolf ensemble in 2005 and was awarded the 2008 Tony Award for Best Direction of a Play for August: Osage County (Steppenwolf, Broadway, London). She was nominated in 2011 in the same category for The Motherf**ker with the Hat (Public Theater, Labyrinth Theater). Other Steppenwolf directing credits include the world premiere production of The Minutes (slated to open on Broadway in 2020); Mary Page Marlowe, Visiting Edna, Three Sisters, A Parallelogram, Up, The Crucible, The Unmentionables (also at Yale Repertory Theatre), The Pain and the Itch (also in New York), I Never Sang for My Father, Man from Nebraska, Purple Heart (also in Galway, Ireland), The Drawer Boy, Side Man (also in Ireland, Australia and Vail, Colorado), Three Days of Rain, The Infidel and This Is Our Youth (which transferred to Broadway). Additional Broadway credits include Of Mice and Men (with James Franco) and Fish in the Dark (with Larry David), and Off-Broadway Domesticated (Lincoln Center Theater). She is directing the new Broadway musical The Devil Wears Prada with music by Sir Elton John, lyrics by Shaina Taub and book by Paul Rudnick. Shapiro is a graduate of the Yale School of Drama and Columbia. She is a professor in Northwestern University's Department of Theatre.
STEPPENWOLF THEATRE COMPANY is the nation's premier ensemble theatre. Formed in 1976 by high school friends and then unknown actors—Gary Sinise, Jeff Perry and Terry Kinney—the ensemble has grown to more than 50 members who are among the top actors, directors and playwrights in American theater. Thrilling, provocative and courageous productions from Balm in Gilead and August: Osage County to MS. BLAKK FOR PRESIDENT—and accolades that include the National Medal of Arts and 12 Tony® Awards—have made the theater legendary. Steppenwolf produces a seven-play season; a two-play Steppenwolf for Young Adults season; and LookOut, a multi-genre performances series in its three accessible theatre spaces located in the heart of Lincoln Park. Education initiatives include the nationally recognized work of Steppenwolf for Young Adults, which engages 20,000 teens and teachers annually from Chicago's diverse communities; the esteemed School at Steppenwolf; and Professional Leadership Programs for arts administration training. While firmly grounded in the Chicago community, nearly 50 original Steppenwolf productions have enjoyed success both nationally and internationally, including Broadway, Off-Broadway, London, Sydney, Galway and Dublin. Front Bar: Coffee & Drinks, an inviting cafe & bar, is connected to Steppenwolf's main lobby where audiences and artists enjoy drinks, food and conversation day and night. Anna D. Shapiro is the Artistic Director and David Schmitz is the Executive Director. Eric Lefkofsky is Chair of Steppenwolf's Board of Trustees.