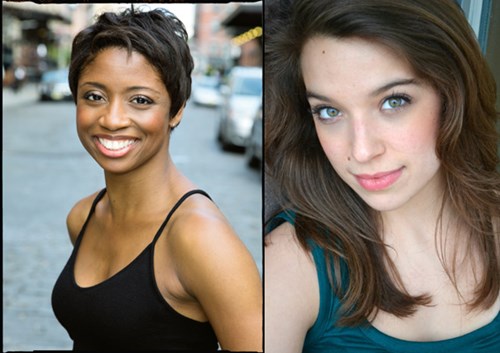 Tony Award Nominee Montego Glover Assumes the Role of Fantine Beginning Tuesday, September 1 in Cameron Mackintosh's New Production of Les Miserables


Tony Award-nominee Montego Glover (Memphis) will assume the role of Fantine beginning Tuesday, September 1 in Cameron Mackintosh's acclaimed new Broadway production of Claude-Michel Schönberg & Alain Boublil's LES MISÉRABLES,now in its second year at the Imperial Theatre (249 West 45th Street). She succeeds Erika Henningsen in the role.  Glover, who also received the Drama Desk and Outer Critics' Circle Awards for her acclaimed performance in Memphis, most recently co-starred on Broadway in the musical It Shoulda Been You.   Also on September 1, Alex Finke makes her Broadway debut in the role of Cosette, succeeding Samantha Hill. 
Glover and Finke join previously announced Alfie Boe, the internationally-acclaimed performer who takes over the role on Jean Valjean at the same performance.  Tony Award nominee Ramin Karimloo will give his final performance as Valjean on Sunday, August 30. Boe is beloved to millions of LES MIZ fans for his legendary performance in the London 25th Anniversary Concert at the O2 Arena.  He made his Broadway debut as Rodolfo in Baz Luhrmann's acclaimed production La Boheme, for which he and his co-stars received a special Tony Award in 2003 for their performances. 
Montego Glover (Fantine).  Tony Award Nominee, Drama Desk Award Winner, Outer Critics Circle Award Winner, and Drama League Award Nominee for her performance in Memphis. Broadway: It Shoulda Been You, The Color Purple. Other theatre: IRNE Award (Aida), Helen Hayes Nomination (Once on This Island), Craig Noel Award Nomination (The Royale). TV/Film:  Alone, Black Box, The Following, Hostages, Smash, The Good Wife, White Collar, Golden Boy, Law & Order, Made In Jersey.
Alex Finke (Cosette) originated the role of Hope Harcourt on the first national tour of Anything Goes, directed by Kathleen Marshall. She played Kit in the regional premiere of the re-worked The Unsinkable Molly Brown at the Denver Center. In New York, she has been seen in a number of readings and workshops, working with directors including Casey Nicholaw and Michael Mayer.  Regionally Alex has performed roles at Pittsburgh CLO and Music Theatre Wichita.
Now in its second year on Broadway, this newly-reimagined production of LES MISÉRABLES opened on Broadway March 23, 2014 to critical acclaim.  The Associated Press raved, "A glorious LES MISÉRABLES!  This terrific new production is beautifully sung and acted."  NY 1 said, "LES MISÉRABLES is born again.  This is as close to perfection as we'll ever get in the theater." And The Huffington Post proclaimed, "This is a LES MISÉRABLES for the 21st century!  It stirs the audience and rocks the rafters."   The new Broadway production of LES MISÉRABLES is now exclusively the only place in North America where the shown can be seen.
Based on Victor Hugo's classic novel, LES MISÉRABLES is an epic and uplifting story about the survival of the human spirit.  The magnificent score includes the classic songs "I Dreamed a Dream," "On My Own," "Stars," "Bring Him Home," "Do You Hear the People Sing?," "One Day More," "Empty Chairs at Empty Tables," "Master Of The House" and many more.
Cameron Mackintosh's production of LES MISÉRABLES is written by Alain Boublil and Claude-Michel Schönberg and is based on the novel by Victor Hugo. It has music by Claude-Michel Schönberg, lyrics by Herbert Kretzmer and original French text by Alain Boublil and Jean-Marc Natel, original adaption by Trevor Nunn and John Caird and additional material by James Fenton. The original LES MISÉRABLES orchestrations are by John Cameron with new orchestrations by Christopher Jahnke, Stephen Metcalfe and Stephen Brooker. 
The new production is directed by Laurence Connor and James Powell, with set and image design by Matt Kinley inspired by the paintings of Victor Hugo, costumes by Andreane Neofitou and Christine Rowland, lighting by Paule Constable, sound by Mick Potter and projections realized by Fifty-Nine Productions.  Musical staging is by Michael Ashcroft and Geoffrey Garratt.  Musical supervision is by Stephen Brooker and musical direction by James Lowe.
While the original London production of LES MISÉRABLES prepares to celebrate its record-breaking 30th Anniversary on October 8th of this year, the new version of the show is making history playing to packed houses on Broadway, and in Australia, Japan, South Korea and Spain.  In 2015, all four of Mackintosh's 'mega-hits' were back in London's West End:  the original productions of Les Misérables and The Phantom of the Opera, the smash hit new production of Miss Saigon, now in its second year, and the limited return engagement of Cats.
The original New York production of LES MISÉRABLES premiered first at the Broadway Theatre on March 12, 1987, later moving to the Imperial on October 17, 1990, where it played until May 18, 2003, for a total Broadway run of 6680 performances.   LES MISÉRABLES is the 5th longest-running Broadway production of all time.
Seen by 70 million people worldwide in 43 countries and in 22 languages, LES MISÉRABLES is undisputedly one of the world's most popular musicals ever written, with new productions continually opening around the globe.  The worldwide gross for LES MISÉRABLES is $2.5 billion. The 2012 Universal film version of LES MISÉRABLES co-produced by Cameron Mackintosh and Working Title Films, is one of the most successful musical films ever, grossing more than $450 million.  The film received the Golden Globe Award as Best Picture (Musical/Comedy) and received eight Academy Award nominations, including Best Picture, and won three Academy Awards.  The film's soundtrack debuted at #1 on Billboard's Album chart and has sold over 2 million copies worldwide.  
There have been 47 cast recordings of LES MISÉRABLES, including the multi-platinum London cast recording, the Grammy Award-winning Broadway cast and complete symphonic albums and live recording of the New 25th Anniversary Production.
The cast of LES MISÉRABLES also features acclaimed British actor Earl Carpenter as Javert,  Tony Award and Olivier Award nominee Gavin Lee as Thenardier, Rachel Izen as Madame Thenardier, Brennyn Lark as Eponine, Chris McCarrell as Marius and Wallace Smith as Enjolras.