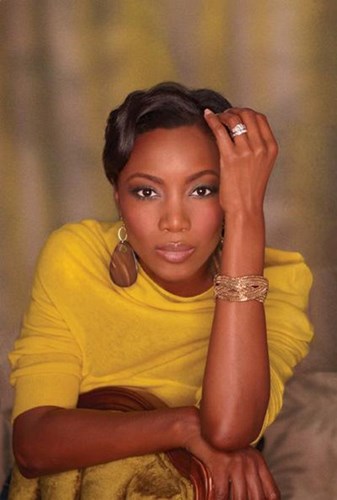 Tony and Grammy Award Winner
HEATHER HEADLEY
Joins Cynthia Erivo, Danielle Brooks and the company of
THE COLOR PURPLE
On Tuesday, May 10
As Shug Avery
Academy Award and Grammy Award Winner
JENNIFER HUDSON Completes Her Run on Sunday, May 8
April 7, 2016 – Beginning performances Tuesday, May 10, Tony and Grammy Award winner HEATHER HEADLEY will assume the role of Shug Avery in John Doyle's critically acclaimed production of the Broadway musical, THE COLOR PURPLE. This is Ms. Headley's first appearance on Broadway since winning the 2000 Tony Award for Outstanding Actress in a Musical for her performance in Aida.

Grammy and Academy Award winner JENNIFER HUDSON, who made her critically-acclaimed Broadway debut in the role of Shug Avery, will complete her six month run on Sunday, May 8 and will give her final performance that afternoon.

"These last six months have been nothing short of a dream come true. I have found an extended family in the cast of THE COLOR PURPLE that will go far beyond my commitment on-stage," said Jennifer Hudson. "I owe so much to the Broadway community and our audiences. My heart is full as I say to Broadway, 'until we meet again.'"

"I was privileged to see John Doyle's production of THE COLOR PURPLE and was completely moved and bowled over by his beautiful work and this brilliant company," said Ms. Headley. "I am humbled to be joining this immensely talented group of actors. I can't think of a better way to return to the Broadway stage than in this extraordinary show, helping to tell Alice Walker's story."

HEATHER HEADLEY made her Broadway debut in the role of Nala in the original Broadway cast of Elton John and Tim Rice's Tony-winning musical, The Lion King. While still in The Lion King, Heather was asked to audition for the title role in the writing duo's next Broadway venture together, Aida. Her portrayal of the Nubian princess Aida won her the 2000 Tony Award for Best Actress in a Musical as well as the Drama Desk Award for Outstanding Actress in a Musical. Heather continued her musical success on the pop charts with her 2002 debut album. The opening title single became Heather's first #1 hit, topping the dance and R&B charts and earning her a Grammy nomination for Best New Artist. In addition to her independent release of Only One In The World, in 2009 Heather released Audience of One, for which she won a Grammy Award for the Best Contemporary R&B Gospel Album. In 2012, she made her London stage debut in the West End production of The Bodyguard, for which she was nominated for an Olivier Award.

THE COLOR PURPLE opened to ecstatic reviews on December 10th at the Bernard B. Jacobs Theatre (242 West 45th street).
"A MIRACLE ON BROADWAY. A GLORY TO BEHOLD."
- Ben Brantley, The New York Times

"ONE OF THE GREATEST REVIVALS EVER,"
- Jesse Green, New York Magazine

"TRANSCENDENT AND TRANSFORMATIVE…MY SPIRIT WAS PROFOUNDLY MOVED."
- Charles McNulty, Los Angeles Times

"WOW! A DIRECT HIT TO THE MIND AND GUT – IT FLOORS YOU,
LEAVING YOU BOTH DRAINED AND EXHILARATED." - David Rooney, Hollywood Reporter

"THE COLOR PURPLE IS REBORN, RADIANT.
YOU'LL EMERGE UPLIFTED, WIPING TEARS FROM YOUR EYES."
- Elysa Gardner, USA Today

Directed by Tony Award winner JOHN DOYLE, the production stars the "incandescent new star" (Ben Brantley, The New York Times) CYNTHIA ERIVO in "a performance big enough to play in the Grand Canyon" (Terry Teachout, Wall Street Journal), and the "powerhouse" (Linda Winer, Newsday) DANIELLE BROOKS, who "shakes the house in a thrilling Broadway debut" (Marilyn Stasio, Variety). Ms. Erivo and Ms. Brooks made their Broadway debuts with this production.

The company of THE COLOR PURPLE also includes Isaiah Johnson, Joaquina Kalukango, Kyle Scatliffe, Phoenix Best, Dwayne Clark, Lawrence Clayton, Carrie Compere, Patrice Covington, J. Daughtry, Adrianna Hicks, Bre Jackson, Grasan Kingsberry, Kevyn Morrow, Ken Robinson, Antoine L. Smith, Carle R. Stewart, Akron Watson, and Rema Webb.

THE COLOR PURPLE has scenic design by John Doyle, costume design by Ann Hould-Ward, lighting design by Jane Cox, sound design by Gregory Clarke, and hair and wig design by Charles G. LaPointe. THE COLOR PURPLE features music supervision by Catherine Jayes and Music Direction by Jason Michael Webb. Casting by Telsey + Company/Justin Huff, CSA.

The new Broadway cast recording released by Broadway Records is now available on Amazon.com and www.BroadwayRecords.com. The album is produced by six-time Grammy Award winner Frank Filipetti.

CYNTHIA ERIVO is appearing with the support of Actors' Equity Association. The Producers gratefully acknowledge Actors' Equity Association for its assistance of this production.

ABOUT THE COLOR PURPLE
Based on Alice Walker's Pulitzer Prize winning novel and the Warner Bros. / Amblin Entertainment motion picture, THE COLOR PURPLE is adapted for the stage by Pulitzer Prize and Tony award winner Marsha Norman, with music and lyrics by Grammy award winners Brenda Russell, Allee Willis and Stephen Bray.

THE COLOR PURPLE is an unforgettable story of enduring love and triumph over adversity. With a fresh, joyous score of jazz, ragtime, gospel and blues, this stirring family chronicle follows the inspirational Celie, as she journeys from childhood through joy and despair, anguish and hope to discover the power of love and life.

THE COLOR PURPLE is produced by Scott Sanders Productions, Roy Furman, Oprah Winfrey, David Babani, Tom Siracusa, Caiola Productions James Fantaci, Ted Leibowitz, Stephanie P. McClelland, James L. Nederlander, Darren Bagert, Candy Spelling, Adam Zotovich, Eric Falkenstein/Morris Berchard, Just for Laughs Theatricals/Tanya Link Productions, Adam S. Gordon, Jam Theatricals, Kelsey Grammer, Independent Presenters Network, Carol Fineman, Sandy Block.

# # #