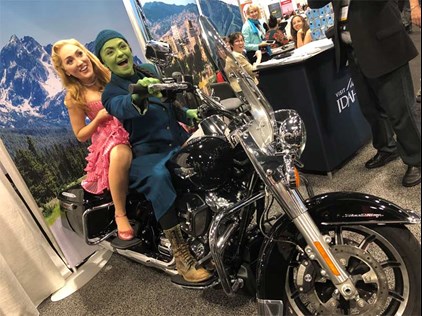 Face-to-Face With the Travel Industry at IPW 2018:
Last week in Denver, Broadway Inbound attended IPW 2018, its biggest event of the year. As many of you have read in this space before, IPW is the most important Visit USA tradeshow of the year and the place where Broadway has its largest wholesale travel marketing presence.

Broadway Inbound uses IPW to make a big splash each year, and for good reason. With about 6,500 attendees from around the world, IPW is the place to promote Broadway as NYC's must-see attraction to the entire travel industry, particularly the buyers, travel agents, and tour operators who comprise Broadway Inbound's core business. 

In 250 face-to-face meetings and dozens of press appointments over three days, Broadway Inbound impresses the importance of seeing a Broadway show when visiting NYC. The goals of these meetings are to increase overall market exposure, incremental impressions, and bookings through multiple channels.

In addition to all of these meetings, Broadway Inbound and NYC & Company present "NYC Center Stage," a massive luncheon and show for all 6,500 attendees, showcasing some of the best Broadway has to offer. This year's extravaganza was hosted by Christopher Sieber, soon to be starring in The Prom, and featured live performances from the companies of Come From Away, Wicked, Dear Evan Hansen, Escape to Margaritaville, and The Phantom of the Opera.

It's a huge undertaking that requires nearly a year to plan and put together. Flying actors to Denver to rehearse and perform is a big commitment on behalf of the producers, as is sending their shows' marketing reps to sit in on meetings and pitch their shows to travel buyers.

But why expend all this time, money, and energy to meet face-to-face? Wouldn't phone calls and emails accomplish the same thing? 

The short answer is that in the travel industry, things like relationships, visibility, and exposure matter. These aren't one-time buyers, but rather the people who feed a constant stream of (often first-time) theatregoers to Broadway. It's important they know us, know the shows, and feel a part of the community in some way.

Engaging wholesale distributors with global reach is still very much a one-on-one personal effort. Since many of them can't come to New York to see Broadway for themselves, it's invaluable to bring Broadway to them.

Time to start planning for IPW 2019 in Anaheim!


Broadway Briefing brings you a daily, curated roundup of top news headlines, box office reports, opening and closing announcements, and much more at a glance. There's even a daily planner so that you know which readings, concerts, and productions are playing around town. Get Broadway Briefing in the morning...and set the stage for a successful day.