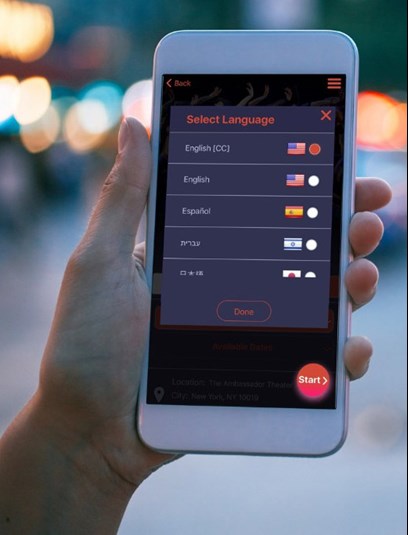 Ticket Tip: Willkommen, Bienvenue, Welcome
Broadway Briefing
April 19, 2018

Just a few weeks ago, Broadway Inbound brought its international marketing and press representatives to New York for a seven-day Broadway boot camp of sorts. During their time here, they attended meetings, trained with various show reps, attended NYC & Company's Annual Meeting, and of course, saw as many shows as they possibly could.

As most of the international reps are not native English speakers, a huge source of excitement for them was the new language translation technology—announced at the 2017 Shubert Summit—coming to Broadway this year. 

Shows in Shubert houses can now provide subtitles in virtually any language, via the same GalaPro app that powers closed captioning for audience members with hearing loss. Once a show opts in and chooses the languages they wish to provide, the service is available to theatregoers at every performance, from every seat. Voice recognition technology allows translations to scroll across one's personal device in real time, as performers speak or sing.

After a presentation about the upcoming translations, the Broadway Inbound reps were thrilled to be able to go back home and start promoting the new accessibility of Broadway. One team member noted that not understanding English was the most common reason that people from her country didn't see a Broadway show.

Another international rep said that on-demand translations would open up the gates for specific shows that traditionally have not been able to connect with non-English speaking audiences.

There is obviously tremendous potential for growth in this market. Even though NYC's 13.1M international visitors represent 21% of the tourism market, they comprise only 15% of Broadway's audience.

A number of shows have already begun the translation process, and it's up to each show to decide which languages would be the most beneficial for them. Shubert and Broadway Inbound are recommending that every show start with at least Spanish, Japanese, and Simplified Chinese.

Much like our international reps, we're excited to see how this new technology enhances the in-theatre experience for non-native English speakers and increases Broadway's potential audience.


Broadway Briefing brings you a daily, curated roundup of top news headlines, box office reports, opening and closing announcements, and much more at a glance. There's even a daily planner so that you know which readings, concerts, and productions are playing around town. Get Broadway Briefing in the morning...and set the stage for a successful day.