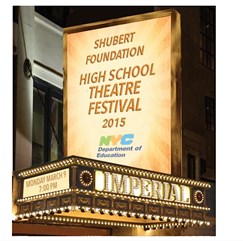 A Night on Broadway for New York City High School Students
By Patrick Healy


More than 100 students from five New York City high schools will perform on Broadway on Monday night as part of the first Shubert Foundation High School Theater Festival, which will feature excerpted scenes and musical numbers from recent student productions.


# # #
As announced by the New York Times, The Shubert Foundation's First Annual High School Theatre Festival for New York City Public Schools took place at the Imperial Theatre on Monday, March 9, 2015. 
The event was a resounding success, featuring more than 100 talented high school students making their Broadway debuts.NYC Schools Chancellor Carmen Fariña and Shubert Foundation welcomed a capacity crowd before introducing the host for the evening, Alex Sharp, star of the Broadway hit 'The Curious Incident of the Dog' in the Night-Time.
The Festival presented highlights from five outstanding high school student theater productions. The shows were chosen by a panel of theater professionals and arts educators. Students performed excerpted scenes and musical numbers from:
GODSPELL             
Talent Unlimited High School (Manhattan)
STAND AND DELIVER
Maspeth High School (Queens)
LITTLE WOMEN
Susan Wagner High School (Staten Island)
THE TROJAN WOMEN
Frank Sinatra High School for the Arts (Queens)
IN THE HEIGHTS
LaGuardia High School (Manhattan)
The Festival was sponsored by The Shubert Foundation in partnership with the New York City Department of Education (NYCDOE). Funding for the Festival and for a range of existing Shubert Foundation programs in New York City public schools, comes from this year's grant of $525,000. Since 2005, The Shubert Foundation has provided more than $3.2 million to the New York City Department of Education for Arts/Theatre programs.
The Shubert Foundation, Inc. is the largest institutional funder of theatre education programs throughout NYC public schools and the nation's largest private foundation dedicated to unrestricted funding of not-for-profit theaters, with a secondary focus on dance. The Shubert Foundation, Inc. was established in 1945 by the legendary team of the brothers Lee and J.J. Shubert who produced more than 520 plays, musicals and revues, as well as owned and operated a nationwide network of legitimate theaters. For more information, visit www.shubertfoundation.org
The New York City Department of Education is the largest system of public schools in the United States, serving about 1.1 million students in more than 1,750 schools. The Department of Education supports universal access to arts education through the ArtsCount initiative, which tracks and reports student participation in arts education and holds schools accountable for meeting New York State Instructional Requirements for the Arts. For more information, visit www.nyc.gov/schools