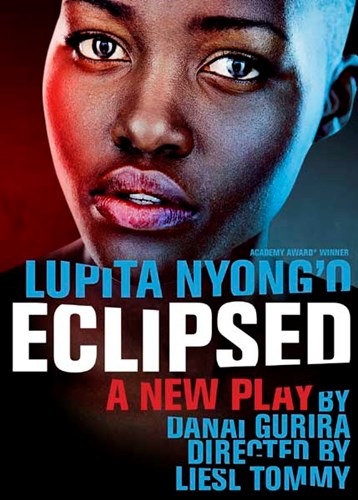 Broadway Producers
Stephen Byrd, Alia Jones-Harvey,
Paula Marie Black, Willette Klausner
And Carole Shorenstein Hays
To Transfer
The Public Theater's Production Of
Eclipsed
To The Golden Theatre On Broadway In February
Acclaimed New American Play By Danai Gurira
Directed by Liesl Tommy

Academy Award Winner Lupita Nyong'o To Reprise Role
October 21, 2015 – The Public Theater (Artistic Director, Oskar Eustis; Executive Director, Patrick Willingham) is pleased to announce that producers Stephen Byrd and Alia Jones-Harvey will transfer the acclaimed new American play ECLIPSED by Danai Gurira and directed by Liesl Tommy to Broadway in the spring following a sold-out run at The Public Theater, which extended twice and will end its run on Sunday, November 29. Academy Award winner Lupita Nyong'o will reprise her role on Broadway for this strictly limited engagement.
Previews are set to begin on Broadway on Tuesday, February 23 prior to an official opening night on Sunday, March 6 at the Golden Theatre (252 W. 45th Street). Tickets for the Broadway engagement will go on sale at 10:00 a.m. on Tuesday, October 20 for a Citibank presale through 11:59 p.m. on Tuesday, October 27. Tickets go on sale to the general public on Monday, November 2 at 10:00 a.m. at Telecharge 212-239-6200.
"I am thrilled beyond words that we are able to bring this magnificent and powerful play to Broadway after its sold-out performance at The Public Theater and to provide another opportunity for everyone to experience and witness these incredible performances," said Producer Stephen Byrd.
ECLIPSED is produced on Broadway by Stephen Byrd, Alia Jones-Harvey, Paula Marie Black, Willette Klausner, Carole Shorenstein Hays and The Public Theater.
"Eclipsed is a powerful, brilliant play and I am thrilled there is such a tremendous appetite for it from the world," said Artistic Director Oskar Eustis. "Liberia was founded by Americans, and is a living example of how America continues to impact the world, both by our attention and by our distraction. Bravo to Danai Gurira, Liesl Tommy, Lupita Nyong'o, and all the astounding artists of Eclipsed."
This stunning, deeply moving new American play by award-winning Zimbabwean-American Playwright/Actress, Danai Gurira (co-author of In the Continuum and Michonne on AMC's hit series "The Walking Dead") features Academy Award winner Lupita Nyong'o (12 Years a Slave) returning to the stage. Amid the chaos of the Liberian Civil War, the captive wives of a rebel officer band together to form a fragile community – until the balance of their lives is upset by the arrival of a new girl. Drawing on reserves of wit and compassion, ECLIPSED reveals distinct women who must discover their own means of survival in this deeply felt portrait of women finding and testing their own strength in a hostile world of horrors not of their own making. South African born Liesl Tommy (Appropriate and The Public's The Good Negro) directs this magnificent story of survival and resilience.
"Shattering. A riveting, superbly acted production with terrific roles for five women. Lupita Nyong'o's tremendously accomplished performance cuts to the bone. The superlative performances from all five actors, under Liesl Tommy's sensitive direction, draws us deeply into the lives of the women. Danai Gurira's Eclipsed flickers with glimmers of light, humanity and hope."—Charles Isherwood, New York Times
"Mesmerizing and unmissable."—Jesse Green, New York Magazine
"A searing drama superbly directed by Liesl Tommy and powerfully acted by a strong ensemble led by Oscar-winning Lupita Nyong'o."—Marilyn Stasio, Variety
"Eclipsed pulls us into and holds us captive in a vivid world rendered with unflinching honesty, delicate poignancy and surprising humor."—David Rooney, Hollywood Reporter
DANAI GURIRA (Playwright)is an award-winning playwright and actress. As a playwright, her works include In the Continuum (Obie Award, Outer Critics Award, Helen Hayes Award), Eclipsed (NAACP Award; Helen Hayes Award: Best New Play; Connecticut Critics Circle Award: Outstanding Production of a Play), and The Convert (six Ovation Awards, Los Angeles Outer Critics Award). Gurira's newest play Familiar received its world premiere at Yale Rep in 2015 and will premiere in New York at Playwrights Horizons in February 2016. She is a recipient of the Whiting Award, a Hodder Fellow, and has been commissioned by Yale Rep, Center Theatre Group, Playwrights Horizons, and the Royal Court. She is currently developing a pilot for HBO. As an actor, she has appeared in the films The Visitor, Mother of George, she also played Isabella in The Public's Measure for Measure (Actor's Equity Callaway Award). She currently plays "Michonne" on AMC's The Walking Dead. She holds an MFA from Tisch, NYU. She is the co-founder of Almasi Arts, which works to give access and opportunity to the African Dramatic Artist. 
LIESL TOMMY (Director) is an award winning international theater director whose work for The Public includes The Good Negro and The Urban Retreat (Public Studio). Her world premieres include A Melancholy Play by Sarah Ruhl and Todd Almond; Kid Victory by John Kander and Greg Pierce; Appropriate by Branden Jacobs-Jenkins; Party People by Universes, The White Man – A Complex Declaration of Love by Joan Rang; Peggy Picket Sees the Face of God by Roland Schimmelpfennig; Eclipsed by Danai Gurira; A History of Light by Eisa Davis; Angela's Mixtape by Eisa Davis; Bus and Family Ties. Tommy's additional credits include award-winning re-interpretations of Les Miserables, Hamlet, A Raisin in the Sun, Piano Lesson, and Ma Raney's Black Bottom as well as a four-city tour of Ruined. She has worked at DTC, California Shakespeare Theater, Centerstage, Sundance East Africa, Berkeley Rep., Oregon Shakespeare Festival, La Jolla Playhouse, and Huntington Theatre Company, among others. Tommy is Associate Director at Berkeley Rep, serves as a Program Associate at Sundance Institute Theatre Program and as an Artist Trustee with the Sundance Institute's Board of Trustees. Tommy facilitated the inaugural Sundance East Africa Theater Director's Lab in In Addis Ababa, Ethiopia. She's earned an Obie award, Pioneer of the Arts Award, Lillian Hellman award, Alan Schneider award, the inaugural Susan Stroman Award, an NEA/TCG Directors Grant, and NYTW Casting/Directing Fellowship. She has taught or guest directed at Yale Rep, Juilliard, NYU, and Brown University. Tommy is an alum of Trinity Rep Conservatory and a native of Cape Town, South Africa.
LUPITA NYONG'O (The Girl)will next be seen in J.J. Abrams' highly anticipated Star Wars: The Force Awakens, as the motion capture character "Maz Kanata." The film will be released by Disney on December 18, 2015. She additionally just wrapped production in Uganda on Mira Nair's The Queen of Katwe opposite David Oyelowo, and lends her voice to Jon Favreau's upcoming Jungle Book as "Raksha," set for release next April. Nyong'o made her feature debut in Steve McQueen's 12 Years a Slave, which earned her the Academy Award and SAG Award for "Best Supporting Actress". A graduate of the Yale School of Drama's acting program, Nyongo's stage credits include playing Perdita in The Winter's Tale (Yale Repertory Theater), Sonya in Uncle Vanya, Katherine in The Taming of the Shrew, as well as part of the cast in the original production of Michael Mitnick's Elijah.