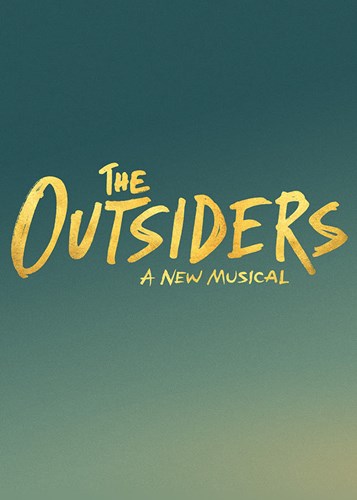 Initial Casting Announced &
Track Released for the Song "Great Expectations" from
THE OUTSIDERS
Based on the Novel by S.E. Hinton & Francis Ford Coppola 's Motion Picture
Original Broadway Cast Recording
To Be Released on Sony Masterworks Broadway in 2024
New York, NY (November 1, 2023) – Initial casting has been announced for the Broadway premiere of The Outsiders, the new musical based on the seminal novel by S.E. Hinton & Francis Ford Coppola's landmark motion picture. Brody Grant makes his Broadway debut in the role of Ponyboy, Sky Lakota-Lynch returns to Broadway in the role of Johnny, Brent Comer makes his Broadway debut in the role of Darrel and Jason Schmidt makes his Broadway debut in the role of Sodapop. Previews begin Saturday, March 16, 2024, ahead of a Thursday, April 11, 2024, opening night at the Bernard B. Jacobs Theatre (242 West 45th Street).
The Original Broadway Cast Recording of The Outsiders is forthcoming from Sony Masterworks Broadway in 2024. The first track, "Great Expectations," written and produced by Jonathan Clay, Zach Chance, and Justin Levine and featuring Brody Grant, is available now at all digital service providers – LISTEN HERE.
Additional casting announced soon.
The Outsiders features a book by Adam Rapp with Justin Levine, music and lyrics by Jamestown Revival (Jonathan Clay & Zach Chance) and Justin Levine, music supervision, arrangements & orchestrations by Justin Levine, choreography by Rick Kuperman & Jeff Kuperman and directed by Danya Taymor.
In Tulsa, Oklahoma, 1967, the hardened hearts and aching souls of Ponyboy Curtis, Johnny Cade and their chosen family of 'outsiders' are in a fight for survival and a quest for purpose in a world that may never accept them. A story of the bonds that brothers share and the hopes we all hold on to, this gripping new musical reinvigorates the timeless tale of 'haves and have nots', of protecting what's yours and fighting for what could be.
The Outsiders features Scenography by AMP featuring Tatiana Kahvegian, Costume Design by Sarafina Bush, Lighting Design by Brian MacDevitt, Sound Design by Cody Spencer, and Projection Design by Hana Kim. The Music Director is Matt Hinkley. Casting is by Tara Rubin Casting/Xavier Rubiano, CSA.
The Outsiders is produced by The Araca Group, American Zoetrope, Olympus Theatricals, Sue Gilad & Larry Rogowsky and Angelina Jolie. General management is by 321 Theatrical Management.
Co-producers of the Broadway production include Betsy Dollinger, Jonathan Clay, Cristina Marie Vivenzio, The Shubert Organization, Tima Productions, Debra Martin Chase, Jamestown Revival Theater, Sony Masterworks, Jennifer & Jonathan Allan Soros, Tanninger Entertainment, Tamlyn Brooke Shusterman, Geffen Playhouse/Howard Tenenbaum/Linda B. Rubin Prods, Kevin Ryan, Mistry Theatrical Ventures, Galt & Irvin Productions, Tulsa Clarks, Paul Liljenquist, Bob & Claire Patterson, Voltron Global Media, James L. Nederlander, Warner Bros. Theatre Ventures, The John Gore Organization, Stephen Lindsay & Brett Sirota, Jeffrey Finn Productions, Independent Presenters Network, Playhouse Square, Sue Marks, Indelible InK, Lionheart Productions, The Broadway Investors Club, Starhawk Productions, Green Leaf Partnership, Michael & Elizabeth Venuti, Leslie Kavanaugh, Deborah & Dave Smith, Belle Productions, Chas & Jen Grossman, Miranda & Sahra Esmonde-White, Rungnapa & Jim Teague, Michael & Molly Schroeder, Casey & Chelsea Baugh, James L. Flautt, William Moran Hickey Jr. & William Moran Hickey III, Oddly Specific Productions, Melissa Chamberlain & Michael McCartney, Rachel Weinstein, Wavelength Productions, Rob O'Neill & Shane Snow, Eric Stine, Cornice Productions and La Jolla Playhouse.
The world premiere of The Outsiders was produced by La Jolla Playhouse, Christopher Ashley, Artistic Director & Debby Buchholz, Managing Director, in March 2023. The Los Angeles Times called the production a "hypnotic new musical adaptation of 'The Outsiders' stays gold," and the San Diego Union-Tribune said it "successfully blends the best of the book and the movie in a richly detailed story."
CAST BIOGRAPHIES
BRODY GRANT (Ponyboy) is a New York based multi-hyphenate artist making his Broadway debut in The Outsiders.  Selected work includes Parade (New York City Center) and The Outsiders (La Jolla). Brody is also an independent recording artist.
SKY LAKOTA-LYNCH (Johnny). Broadway: Dear Evan Hansen. Off Broadway/Workshops include works at The Public, Roundabout, New York City Center, and The Eugene O'Neill Center. TV/Film: "Iron Fist" (Disney Plus/Marvel), "Spirit Rangers" (Netflix), The Final Season Of "New Amsterdam" (NBC), "FBI: Most Wanted" (CBS), ABC Discovers: Talent Showcase (Disney/ABC), "Half Life" (Amazon), PARTS, Boyhoarder. Education: The Neighborhood Playhouse.
BRENT COMER (Darrel). Broadway debut. Previously joined The Outsiders (La Jolla Playhouse), Toured with Les Misérables. A graduate of James Madison University and the Link Program.
JASON SCHMIDT (Sodapop) is making his Broadway debut with The Outsiders. TV: "Grease: Rise of the Pink Ladies," "FBI: Most Wanted," "The Chair. Regional Theater: Cinderella (Theater Under the Stars), The Outsiders (La Jolla Playhouse). Jason is a singer/songwriter who releases music on all platforms. He studied at Carnegie Mellon.
#          #          #