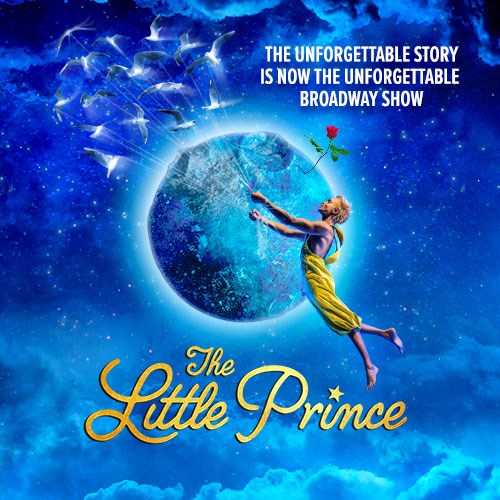 The unforgettable story
is now the unforgettable Broadway show
THE LITTLE PRINCE

Based on Antoine de Saint-Exupéry's Timeless Novella
Previews Begin Friday, March 4, 2022
Opening Thursday, March 17, 2022 at the Broadway Theatre
Following sold-out runs in Paris, Sydney, and Dubai, The Little Prince, one of the best-selling and most translated books ever published, will come home to New York in a new stage production filled with theatrical spectacle, dance, aerial acrobatics, and ground-breaking video mapping technology that bring the classic adventure story loved by generations to life.
Arriving in New York City on the cusp of World War II, the exiled French author and aviator Antoine de Saint-Exupéry wrote and illustrated The Little Prince in 1942 while residing between a Manhattan townhouse and the historic Delamater-Bevin Mansion on the north shore of Long Island. The now- classic was first published in the United States in 1943.
Produced by Broadway Entertainment Group, The Little Prince will begin performances Friday, March 4, 2022 at the Broadway Theatre (1681 Broadway), with opening night set for Thursday, March 17, 2022.
The award-winning creative team for The Little Prince is led by director and choreographer Anne Tournié, with libretto adaptation and co-direction by Chris Mouron; original music by Terry Truck; video design by Marie Jumelin; costume design by Peggy Housset; lighting design by Stéphane Fritsch; sound design by Tristan Viscogliosi; hair and makeup by Carmen Arbues Miro; and props by Aurélie Gandilhon.
Director Anne Tournié said, "We are thrilled for our company to continue The Little Prince's world journey to the bright lights of Broadway and New York. On his journey, the Little Prince shares a message of humanity with the many different people and cultures he encounters. We are humbled to bring his story of friendship, loneliness, love, and caring for others and our planet back to the melting pot where Antoine de Saint-Exupéry first created this beloved tale."
Producer Liz Koops of Broadway Entertainment Group said, "In the words of the Little Prince, one sees clearly only with the heart. This dynamic production will open the hearts and tug at the emotions of Broadway theatergoers at a time when all of us are searching for human connection."
The show's international company includes Lionel Zalachas as The Little Prince, Aurélien Bednarek as The Aviator, Chris Mouron as The Narrator, Laurisse Sulty as The Rose, Adrien Picaut as The Businessman, Antony Cesar as The Vain Man, Andrzej Aleksander Kamienski as The Drunkard, Marcin Janiak as The Lamplighter, Srilata Ray as The Serpent, and Dylan Barone as The Fox. Marie Meuge and Joan Bertrand are the company swings.
The Little Prince is presented on Broadway by Special Arrangement with Rick Cummins and the Estate of John Scoullar.
Generations around the world love The Little Prince. The international book phenomenon has sold a stunning 200 million copies, becoming the second most translated book in modern history in 250 languages. Now The Little Prince comes to life in a magical first-class theatre spectacular live on stage. Experience a constellation of compelling characters and colorful costumes. Leap into a vivid universe of dance, music, projections, and acrobatics. Immerse yourself in a uniquely innovative international stage production that will capture your heart and challenge your imagination.
BIOGRAPHIES
ANNE TOURNIÉ (Choreography and Direction)'s contemporary dance is based on energy and emotion. Always seeking to discover new horizons, she began working with aerial acrobats to explore new dimensions in contemporary dance. This led her to work alongside Franco Dragone: Le Rêve in Las Vegas, The House of Dancing Water in Macau, Story of a Fort, Legacy of a Nation in Abu Dhabi and The Han Show in China. She has created contemporary shows with the singer and author Chris Mouron: Doubles d'Ames in France, Les chansons du Paradis in Germany, Mélodies d'Exil at the Avignon Festival, and Le Cabaret des Années Folles in Hong Kong. In 2016, she staged the first Bollywood stunt show Dabangg at Dubai Park Resort. In 2017, she directed and choreographed Magic Romance in China.
CHRIS MOURON (Libretto Adaptation and Co-Direction, The Narrator) began writing songs at the age of 12 and began her career with Michel Fugain and Le Big Bazar when she was only 17 years old. Her solo career began in the 1980s with her first 33 RPM that was awarded the Charles Cros Academy Grand Prize. She has since recorded seven albums. She has been touring the world for 20 years, primarily in Asia. In addition to her piano concerts, Mouron has also created and directed several contemporary musical and acrobatic shows with Anne Tournié: Doubles d'Ames in France, Les chansons du Paradis in Germany, Mélodies d'Exil (Avignon Festival), and Le Cabaret des Années Folles in Hong Kong. In 2016, she worked with Tournié on the first Bollywood stunt show Dabangg in Dubai Park. In 2017, she again worked with Tournié on the staging and choreography of the show Magic Romance for Sokol Entertainment, and also assisted Tournié on Leila, the Land of Imagination for Balich Worldwide Shows in Riyadh (Saudi Arabia).
TERRY TRUCK (Original Music) was born in England. He began studying piano at the age of seven, continuing his studies at Hull University. After meeting Georgette Dee in London, they begin a career together that has lasted for over thirty years. They become one of the most famous cabaret duos in Germany and created the Viellieb Rekords CD label, dedicated to promoting Chanson and Cabaret songs. To date, Viellieb Rekords has produced more than 33 CDs. He met Chris Mouron in Paris twenty years ago and began a collaboration with her that has resulted in two studio CDs, four live CDs, and numerous shows across Germany, France, Asia, and the rest of the world. He has been the musical director of contemporary musical and acrobatic shows created by Anne Tournié and Chris Mouron: Doubles d'Ames in France, Les chansons du Paradis in Germany, Mélodies d'Exil (Avignon Festival), Le Cabaret des Années Folles in Hong Kong. As a soloist, he has recorded and produced two CDs: Nocturnes as a solo pianist and Alone not Alone, a recording of original songs.
MARIE JUMELIN (Video Design). A graduate of the l'Ecole supérieure d'art appliquée in Lyon, Marie Jumelin is now a video creator and designer for live performances. The diversity of projects on which she works (operas, plays, dance, musicals, concerts, and cabarets) have allowed her to develop a rich and varied visual universe. In France and abroad, she has created videos projected on stage for numerous artistic productions among which: the musical comedy Romeo e Guilletta in Rome, Les Victoires de la Musique at the Zénith in Paris, the The Nutcracker ballet in Rome, and most recently the Karl Lagerfeld collection videos for Milan's Fashion Week.
PEGGY HOUSSET (Costume Design)'s costume creation occurs at the conjuncture of two great passions: dance and design. After studies at l'Institut d'Arts Visuels d'Orléans, ESDI in Barcelona, the Arts Décoratifs de Paris and a Master's degree at the London College of Fashion, she joined the Alberta Ferretti design office as a stylist. Interested in new textile technologies, she has developed experimental and innovative projects in partnership with Futuro Textile and the Shanghai World Expo. In parallel with her work in fashion, including the 2009 launch of her own line Peggy H, and the artistic direction of fashion shows, Le Printemps Lille, Salon du Chocolat Lille Grand Palais (...), she has collaborated with Philippe Decouflé's company DCA for more than 10 years on costume design for dance and theater: Nouvelles pièces courtes, Iris, Panorama, Sombrero, Désirs at Crazy Horse, Octopus, Panorama, but also for 5 Ryoanji by Olivia Granville, Promesse by Guy Freixe and more recently The Han Show by Franco Dragone along with Tim Yip, and La Perle in Dubai.
ETIENNE BEAUSSART (Video Projection). An engineer of audio-video systems, specialist of large format video projections and multimedia servers, Etienne began his career as training manager at a research center where he worked on show projects for: Jean Michel Jarre, Mylène Farmer, Johnny Halliday and for professional fairs for Renault, Citroën, Pfizer, Natixis, SNCF. He then worked as a Technical Director, Research and Development Manager and Manager of Large Surface Projection Projects for Opel, FranceTV, Lotus, Fêtes des Lumières, Nuits Blanches. Since 2007 he has participated in many events and live shows: Airbus Fairs, Constantine (Algeria) Capital of the Arabic Culture 2015, the opening and closing ceremonies of the football championship in Yaoundé (Cameroun) 2016, Sokol Entertainment's Magic Romance show in China in 2017 (Coolux Pandora's Box), and video mapping shows on many buildings: Sharjah Light Festival (2018), Notre Dame de Paris Centennial commemorations 14-18, Chateau Comtal de Carcassonne 2018, Medina de Sfax 80m Tunisie 2016, Grand Palais Paris Artfair 2016, Fête des Lumières Lyon 2012-2017, Fête des Lumières Montpellier - Arc de Triomphe 2015.
STÉPHANE FRITSCH (Lighting Design). Passionate since his childhood about the show world and after training as Light Manager at the CFPTS in 1995, Stéphane began his career as lighting technician and then console operator on many shows and tours such as Romeo and Juliet (musical), Michel LEEB (one man show), events at Disneyland Paris, David Gilmour (concert), Le Roi Soleil, fashion shows and events. In 2010, after years of light management, he shifted his focus to light design. He has since collaborated on various lighting designs like "Train fantôme" by Eric Metayer, with TF1 for tours of Priests, with Ki M'aime Me Suive for le fils du comique and Le père Noel est une ordure, the Michel Legrand tour Jules Vernes, the musical in Mogador, Sheila on tour, and shooting TV shows.
TRISTAN VISCOGLIOSI (Sound Design). Passionate about music since his earliest days and after a classical guitar course at the conservatory, Tristan Viscogliosi joined the School of Audio Engineering (SAE) in Paris to study the field of sound for live shows and the performing arts. After three years working internationally, he spent four years in Montreal, working for major festivals (including the Montreal International Jazz Festival, the Francofolies, Just for Laughs), for prestigious theaters (including Place des Arts and Metropolis) and for sound equipment and service providers recognized worldwide (as SoloTech). Since then, he has collaborated with renowned Parisian theaters such as the Moulin Rouge, Théâtre des Abbesses, Théâtre Rive Gauche and others.
CARMEN ARBUES MIRO (Hair and Makeup). Born in Spain, Carmen started to work at age eighteen during the Post-Franco MOVIDA Spanish Cultural Revolution in the 80's for shows, fashion shows, photo and theatre as a make-up artist and hairdresser. She moved to Paris in 1990 where she met cinema people such as Jean-Pierre Mocky, Yves Boisset, Manuel Poirier as well as the young cinema generation. Since then she has worked on international co-productions for films and most notably in the department of special effects. Her meeting with Muriel Hermine, who was making her first aquatic show in 1991, Sirella, performed in France and Japan and soon to be followed by Crescend'o, introduced Carmen to the world of water and encouraged her to look for new aquatic makeup products. This earned her a place in fashion photos of an aquatic nature for Vogue, Jardin des Modes, Votre Beauté, Elle, as well as for advertisements and videos. She has worked for dance and musical shows with Jérôme Savary and Andy de Groot. Her latest creations include the shows of Sokol Entertainment - Magic Romance (China), Franco Dragone's Le Rêve (Las Vegas), The Han Show , Dai Show (China), La Perle (Dubai), The House of Dancing Water (Macao) as well as the musicals La légende du roi Arthur, 1789, les amants de la Bastille and Priscilla folle du desert.

AURÉLIE GANDILHON (Props) has participated in major projects in France and abroad, notably at the Opéra Garnier in Paris, the Théâtre Royal de la Monnaie in Brussels, the Opéra de Marseille and the Festival de d'Art Lyrique in Aix-en-Provence. With HK Theater Association, she designed the theater scenery for the shows Le père Noël est une ordure, Les pas perdus, Musée haut musée bas and Je danse Toujours. Along with director and choreographer Anne Tournié, singer and songwriter Chris Mouron, and musical director Terry Truck, she has created the scenery and props for the show Le Cabaret des Années Folles during The French May 2013 festival in Hong Kong. In 2013, she joined the creative team Luxe Uniplan Events in Hong Kong and Shanghai as an artistic and production expert. She brought her experience to event productions for Louis Vuitton, Maserati, and Moet et Chandon. From 2009 to 2016, she travelled throughout Asia, in collaboration with Franco Dragone shows such as The House of Dancing Water, Taboo in Macau, The Han Show in Wuhan, le Lido in Paris, Le Dai Show à Xishuangbanna and other creations in Dubai, Turkey, and Moscow. In 2017, she oversaw the props in Sokol Entertainment's show Magic Romance.
LIONEL ZALACHAS (The Little Prince) has performed the title role in The Little Prince since 2018. Other credits include: La Perle (2017 Dubai, show created by Franco Dragone); Le Rêve (April 2014 – 2016 Las Vegas, show created by Franco Dragone); and The House of Dancing Water (January 2009 -2013 Macao, aquatic show created by Franco Dragone – straps, Russian swing and high diving performances). Lionel began working with Anne Tournié during The House of Dancing Water's creation).
AURELIEN BEDNAREK (The Aviator) has performed with The Little Prince since 2018. Other credits include: Leila, the Land of Imagination (Balich Worldwide in 2020, directed by Anne Tournié); Young European Ballet (2015-2016 / 2016-2017 seasons); and as a dancer in Claude Brumachon's company Sous la peau, Benjamin Lamarche, play: La Forêt traversée. Grand Prix of Paris in duo (Les Indomptés – Claude Brumachon), Salon de la Danse 2016. CED Europe: silver medal, category: choreography.
LAURISSE SULTY (The Rose). Born in Paris, France, Laurisse started dancing at age five. Growing up she competed in many dance competitions and received first place on several occasions at the France Jazz Championship. These experiences eventually led her to join the International Dance Academy of Paris following high school. In parallel with her schooling, Laurisse made her television debut by performing with Major Lazer at the NRJ Music Awards and as a backup dancer for the production of France Got Talent for three consecutive years. In 2016 she performed in the musical The Three Musketeers, choreographed by Yaman (Madonna) with a pole dance and straps dance act. The same year she was a recurrent dancer for the Just Dance video game edited by Ubisoft. In 2017, she moved to Las Vegas after signing a contract with the renowned Cirque Du Soleil and performed full time at Mystere. After a year and a half she decide to move back to France to take part in the creation of Le Petit Prince, directed and choreographed by Anne Tournié where she played the lead female dancer role of the Rose. In 2019 she was selected to be part of the Asian tour of the musical Notre Dame de Paris and performed in China, Russia and Taiwan. Most recently she was part of Apéro Show directed by Wolfpack production in Las Vegas where she performed a solo pole dance act.
ADRIEN PICAUT (The Businessman) started dancing at the age of 6 at the Takadanser dance school in Lamorlaye, then continued his training after high school at the Rick Odums Professional Institute in Paris. Adrien is also a two-time France champion of Jazz dance awarded by the French Dance Federation. Adrien then moved to New York to study at The Ailey School, with a scholarship earned on merit. He has worked with choreographers such as Kyle Abraham, Jae Man Joo, Emily Molnar, Matthew Rushing and Clifton Brown. In 2017, he joined the dance company: Ailey II, junior company of the Alvin Ailey American Dance Theater. More recently, Adrien has also performed at cultural events televised on France 2 Patrick Bruel, Eurovision and TF1 NRJ Music Awards and short films American Express Stories: L'Or. He has also danced for the EMKA company directed by Mehdi Kerkouche. In June 2019, he joined the company Chicos Mambo directed by Philippe Lafeuille for his new CAR/MEN show on tour throughout France.
ANTONY CESAR (The Vain Man) is a fifth generation circus variety artist performer. Traveling with his parents, Antony absorbed the world he lived in. Always grateful for the knowledge handed down to him from his roots, he was determined to develop his own style and make his own mark. From a young age Antony trained in and had a huge passion for modern jazz and contemporary dance. Always wanting to learn more and push his limits, he also trained in six elements of gymnastics. He was awarded a grant for the École Nationale de Cirque in Montréal, Canada where he discovered his strength and began his journey training in aerial straps. Returning to his passion for dance in his early teens, Antony found himself as a dance soloist winning first prize gold in many national dance competitions such as European 123 dance Paris and International de dance Cannes Prestige 2020, where he was spotted and asked to appear on a TV show for M6 La France Incroyable Talent. He is very proud to have won the Golden Buzzer from Helen Segara which lead to a place directly in the final. Since then, Antony has continued to create his specialty act combining dance with aerial strap skills in his own unique original style. He has performed his Act on the prestigious Italian TV show Tu Si Que Vales. Antony is also the gold winner at the Classic Contemporary International Salieri Circus Awards 2021 that were performed at the Salieri Theatre in Legnago, Verona.
ANDRZEJ ALEKSANDER KAMIENSKI (The Drunkard) is a queer, Polish born, London based creative and movement artist. Since graduating from London Studio Centre in 2015 he has had the privilege to work with Akram Khan, Shobana Jeyasingh, Bawren Tavaziva, Edifice Dance Theatre and other UK and international dance ensembles, including the English National and Norwegian Opera. Since 2017 Andre has been working as a choreographer and movement director under the name of KAMIENSKI. In 2019 he was elected into UK's Equity Dance Committee, and is continuing his work campaigning for artists' rights in the industry for a second term.
MARCIN JANIAK (The Lamplighter) has performed with The Little Prince since 2018. Credits include: 2020 : Leila, the Land of Imagination - Balich Worldwide show (Live Show Director/ Anne Tournié); 2016- Everest Production/Poland /Artist ; 2015: Artistic director/artist Inspire Entertainment Group; 2009-2014: Performer - The House of Dancing Water (Belgium, Macau); 2007-2009: Circus Theater - FLYCUBE, Europe; 2000–2006: Circus Theater OCELOT, Europe; 1991–1999: Competitor of the club "Polonia Pafal Świdnica" (Trampolinist).
SRILATA RAY (The Serpent) has performed with The Little Prince since 2018. Credits include: June 2018: Gold medalist of Women's Pole Mallakhamb Championship held at Mumbai; 2017: Gold medalist of Yoga Olympics held in Bangalore; 2016 - 2018: Actor, acrobat, traditional Indian dance dancer in the stunt show Dabbang, directed by Anne Tournié and Chris Mouron in Dubai Parks and Resort; 2014: Yoga instructor in Lavitra Yoga Company Bangalore; 2010: Winner in Odisha Got Talent show.
DYLAN BARONE (The Fox) has performed with The Little Prince since 2018. Credits include: 2020 : Leila, the Land of Imagination - Balich Worldwide show (Show Director/ Anne Tournié); 2016 - 2018: Multidisciplinary training in jazz, classical and contemporary at the International Academy of Dance in Paris; 2014 - 2016: Training at the Angélique Valenti Dance School in Vallauris; Le Monde enchanté of Jean de la Fontaine ; Concert of the singer Mika at Stade de France – dancer; Grand prix de Paris 2018 – first in the category of Modern Jazz; 2016 – 2018: Puzzle by Jeune Ballet Européen company at Théâtre du Gymnase Marybell ; Pure project by Christian Bakalov; Dancer at Areysha Dance Company, choreographer Andrey Rocha.
MARIE MEUGE (Swing) is a French dancer. She was a member of the French national rhythmic gymnastics team from 2010 to 2014. She received her psychomotricity degree in 2019. Since then she has worked as a professional dancer in several companies in France.
JOÄN BERTRAND (Swing) started dancing at age 17 in the south of France, then continued on to the Toulouse Conservatory College. He relocated to study at the Rick Odums Professional Institute in Paris for two years and went on to become a member of the resident company. He then traveled to New York's Ailey School where he had the opportunity to perform in the Thanksgiving Parade and gain valuable experience working with a variety of choreographers before joining The Little Prince tour.
BROADWAY ENTERTAINMENT GROUP (Producer) is the world's first theatrical distribution company to consolidate an international circuit and bring top quality entertainment into the markets of Europe, United Kingdom, Middle East, North America, South and Central Asia. Australian Producer and Chief Executive Officer, Liz Koops, has produced shows internationally for over 25 years, and toured productions in 40 countries. Highlights include The Phantom of the Opera at Dubai Opera as well as international tours throughout Asia, the Middle East and Europe such as Disney's Beauty and The Beast, DreamWorks' Shrek The Musical, The Wizard of Oz, Andrew Lloyd Webber's CATS and Evita, Kinky Boots, Thriller Live, and Annie. Broadway Entertainment Group also produces Dein Perry's Tap Dogs across the globe. Previous productions produced by Liz Koops and company Back Row Productions include: Priscilla Queen of the Desert, Tap Dogs, Matthew Bourne's Swan Lake, Fosse, Chicago the Musical, Miss Saigon, Slava's Snowshow, Circus Oz, Mum's the Word, Rudy Coby, Sister Act, and Jerry Seinfeld World Tour.