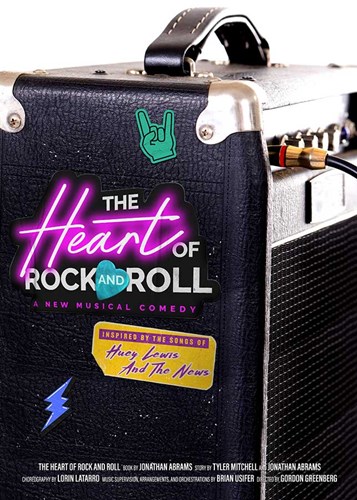 THE HEART OF ROCK AND ROLL

A NEW MUSICAL INSPIRED BY THE ICONIC SONGS OF

HUEY LEWIS AND THE NEWS
TO OPEN ON BROADWAY

 

PERFORMANCES WILL BEGIN FRIDAY, MARCH 29, 2024

OPENING NIGHT SET FOR MONDAY, APRIL 22, 2024
New York, NY (November 1, 2023) – Producers Hunter Arnold, Tyler Mitchell and Kayla Greenspan announced today that The Heart of Rock and Roll, a new musical inspired by the iconic songs of Huey Lewis and The News, will open on Broadway at The James Earl Jones Theatre (138 W 48th St, New York, NY 10036). Previews will begin on Friday, March 29, 2024, and opening night is set for Monday, April 22, 2024.
A raucous rom-com wrapped in pure musical joy, The Heart of Rock and Roll centers on a couple of thirty-somethings who know exactly what they want from life—until they find each other. It's going to take "The Power of Love" — and a little help from their friends — to show them the way. Jam-packed with Huey Lewis megahits like "Workin' For A Livin'," "Stuck With You," and "If This Is It," this is Broadway's newest feel-great musical.
The production will feature a book by Jonathan A. Abrams, and story by Tyler Mitchell and Jonathan A. Abrams. Music supervision, arrangements, and orchestrations by Brian Usifer, choreography is by Lorin Latarro and The Heart of Rock and Roll will be directed by Gordon Greenberg.
"Working on our show has been so gratifying," said Huey Lewis. "I've always been a storyteller, and it's a thrill to see my songs woven together in service of a fantastic, new story.  That it will all take place on the world's most prestigious stage – Broadway – just makes the ride that much sweeter."
Hunter Arnold added, "Huey Lewis's song catalogue is not just music—it's a powerful bridge to an era when our hearts danced freely, love knew no bounds, and every moment was a celebration of life. This show is more than nostalgia; it is remedy for our age of anxiety and a joyful gift to Broadway audiences."
Casting and additional news will be announced at a later date.
Tickets are now on sale at Telecharge.com or by calling Telecharge at 212-239-6200 or 800-447-7400.
The Heart of Rock and Roll premiered in San Diego at The Old Globe, helmed by Erna Finci Viterbi Artistic Director Barry Edelstein and the Audrey S. Geisel Managing Director Timothy J. Shields, in 2018.
B I O G R A P H I E S
Huey Lewis (Music). As the legendary, Grammy Award-winning front man for one of America's great rock & roll bands, Huey Lewis has been a central force in the music industry since the early 1980s, when Huey Lewis and The News first shot to superstardom.  Formed from two rival Bay Area bands in 1979, The News has been thrilling audiences worldwide for more than 40 years, selling more than 20 million albums in the process. Among their most indelible singles are the top ten hits, "Heart of Rock & Roll," "Stuck With You," "I Want A New Drug," "If This Is It," "Hip To Be Square," "Do You Believe In Love," and "Workin' For A Livin". The group also wrote and performed "The Power of Love" and "Back in Time" for the hit film Back To The Future. "The Power of Love" went on to earn an Academy Award nomination and reach #1 on Billboard's singles chart. In 2018, The News released Weather, their first album of original material in more than two decades, shortly after Lewis revealed that debilitating hearing loss, caused by a multi-decade's long battle with Meniere's disease, would likely put an early end to his remarkable singing career. As an actor, he has played 'Billy Flynn' on Broadway in Chicago, co-starred on screen in Duets, opposite Gwyneth Paltrow, and guest starred on the sitcom "Hot in Cleveland" several times.
Jonathan A. Abrams (Book and Story) is a film and television writer/producer and theatrical book writer. His original screenplay, JUROR #2, directed by Clint Eastwood, is finishing production and will be released by Warner Brothers Pictures. He is also the creator/writer/executive producer of the television series "American Hiro" for FX, about the life of Benihana founder Hiroaki Aoki. Raised in San Francisco, he is a graduate of the USC school of Cinema-Television and is represented by Creative Artists Agency, Mosaic Media Group, McKuin Frankel Whitehead as well as Levine Plotkin. He is a married father of two young children and could not have written this musical without the help and support of his wife, Carrie Ainsworth, and the rest of his family.
Tyler Mitchell (Story) is a multifaceted film, television, and theatrical producer, writer, and executive who stands at the forefront of reshaping how global talent is discovered, material is developed, and content is produced. As the Co-Founder and CEO of Impact, Mitchell spearheads a groundbreaking content accelerator and vertical network for the entertainment industry that is democratizing access to the entertainment industry, accelerating the development of original content, and pioneering new technology that is transforming the way studios, producers, directors, writers, and crews collaborate to bring stories to the screen and stage.  In 2021, Impact achieved a significant milestone, earning the distinction of being named the #2 most innovative company in the entertainment industry by Fast Company magazine.  Before embarking on his journey with Impact, Tyler Mitchell served as the Executive Vice President of Motion Pictures at Imagine Entertainment, the iconic film and television production company founded by Academy Award winners Ron Howard and Brian Grazer. At Imagine, Mitchell oversaw a diverse slate of live-action films and orchestrated the launch of Imagine's animation division in partnership with the internationally acclaimed animation studio, Animal Logic. Tyler Mitchell's illustrious career extends beyond his executive roles, as he is a highly accomplished film producer who has shepherded 11 films and two television series into production, attracting some of Hollywood's most revered talent, such as Robin Williams, Jim Carrey, Steve Carell, Ethan Hawke, Sally Hawkins, Bruce Willis, Olivia Wilde, Ben Kingsley, Morgan Freeman, Lucy Liu, Ashton Kutcher, Johnny Depp, Aaron Eckhart, Mila Kunis, James Gandolfini, and Alan Arkin. In 2018, Mitchell embarked on his inaugural theatrical endeavor co-writing the story and producing The Heart of Rock and Roll, an original musical inspired by the music and lyrics of the Grammy Award-winning artists Huey Lewis and The News. The production shattered box office records at San Diego's prestigious regional theatre, The Old Globe.
Brian Usifer (Music Supervision, Arrangements, and Orchestrations) is a music director, orchestrator/arranger, pianist, and music producer. He is an arranger and orchestrator of A Beautiful Noise, The Neil Diamond Musical on Broadway as well as the Associate Music Supervisor of The Book of Mormon. Prior to that, he was the Music Director of Disney's Frozen and Kinky Boots on Broadway. Kinky Boots won 6 Tony Awards including Best Musical, Best Score, and Best Orchestrations and the cast recording won the 2013 Grammy Award for Best Musical Theater Album. The West End production won an Olivier Award for Best Musical. He was also the Associate Music Supervisor for Kinky Boots on Tour, London, and in Toronto. Brian has played in the Broadway and off-Broadway orchestras of …Spelling Bee; Avenue Q; Altar Boyz; Bloodsong of Love:  A Rock & Roll Spaghetti Western; and The Book of Mormon. As an orchestrator and arranger, Brian's projects have also included The Heart of Rock and Roll with music by Huey Lewis at the Old Globe; Swept Away with music by the Avett Brothers at Berkeley Rep; Mr. Chickee's Funny Money with music by Motown legend Lamont Dozier at The Atlantic Theater; May We All featuring the music of Florida Georgia Line and other country stars; Afterwords at the 5th Avenue Theatre; Into the Wild by Niko Tsakalakos and Janet Allard; A View From The River by Will Van Dyke and Jeff Talbott; Fantasy Football: The Musical? by David Ingber; Pool Boy by Niko Tsakalakos and Janet Allard; The UnCivil War by Rick Kunzi; Barnstormer by Douglas Cohen; and The First Snow by Niko Tsakalakos. Additional shows in development include Galileo featuring music by Michael Weiner and Zoe Sarnak with a book by Danny Strong, and Hearts Beat Loud by Ngozi Anyanwu and Niko Tsakalakos. On TV, he wrote additional orchestrations for NBC's "Annie Live!" and "The Wiz Live!"; Clay Aiken's "Tried and True," for PBS; and can be heard as a pianist on "The Marvelous Mrs. Maisel" on Amazon. Other theatre credits also include Chess at the Kennedy Center and more than five years of regional theatre including Follies at Barrington Stage Co. Concerts including Bobby and Kristen Lopez: American Songbook at Lincoln Center, The New York Pops at Carnegie Hall.  As a music producer, his credits include a songwriting collaboration with Colin Donnell called The Nineteen Twenty. Their album, Chaos + Cocktails, is available for sale on iTunes and everywhere music streams. Other albums include The First Snow and Archetype by Jonathan Reid Gealt, Reflect by Tom Kitt, and the upcoming May We All. He holds a Bachelor of Music in Piano Performance from SUNY Fredonia, and a master's degree in Collaborative Piano from NYU, with a Specialist Certificate in Orchestration from Berklee Online. He currently teaches at Berklee NYC. www.brianusifer.com
Lorin Latarro (Choreography) is the choreographer of Broadway's upcoming Tommy, Into The Woods, Waitress, Mrs. Doubtfire, Les Liaisons Dangereuse with Janet McTeer and Liev Schreiber, Waiting For Godot with Sir Ian McKellen and Sir Patrick Stewart, Merrily We Roll Along for Roundabout, and La Traviata at The Met Opera. Lorin recently directed Candace Bushnell's one woman show, Is There Still Sex In The City, at the Daryl Roth Theatre, which became a NYTimes Critic's Pick. Additional Directing credits include #DATEME at The Westside Theatre, A Taste Of Things To Come at Broadway in Chicago's Nederlander Theatre.   Additional Choreography includes Encores Oliver!; Chess at The Kennedy Center; Lin-Manuel Miranda's 21 Chump Street at BAM; Public Theater's Twelfth Night and The Odyssey (Delacorte Theater); Queen Of The Night, which garnered the Drama Desk Award. BFA -The Juilliard School, MA -NYU. She is a Drama Desk, Lortel, and Chita Rivera nominee.
Gordon Greenberg (Director) has directed on Broadway, Off-Broadway, in London's West End, written for television and stage, and developed, directed, and produced new works for arts institutions across America.
Recent work includes the acclaimed revival of Who's Afraid of Virginia Woolf? (L.A. Drama Critics Award) starring Calista Flockhart and Zachary Quinto at the Geffen Playhouse; Dracula, A Comedy of Terrors (director & co-writer with Steve Rosen) at New World Stages; Crime & Punishment, A Comedy (director & co-writer with Steve Rosen) for the Old Globe; The Secret of My Success (director & co-writer, Universal Stage Productions); Piaf/Dietrich for Mirvish in Toronto (Dora Award); the upcoming NBC television series "Most Talkative" (Writer/Co-Executive Producer for NBC, Blumhouse, & Andy Cohen); and "Picasso" starring Antonio Banderas (director & co-writer with Stephen Schwartz and Caridad Svich, Trafalgar Entertainment).
Greenberg co-wrote and directed the Broadway stage adaptation of Irving Berlin's Holiday Inn at Studio 54 for Roundabout Theatre Company, Universal Stage Productions, and PBS Television's Great Performances. His West End revival of Guys and Dolls was nominated for six Olivier Awards at the Savoy Theatre and then transferred to the Phoenix Theatre (starring Rebel Wilson.) Greenberg adapted & directed the Drama Desk Award winning production of Studs Terkel's Working with Lin-Manuel Miranda & Stephen Schwartz (59 E 59, Broadway In Chicago, Old Globe), the acclaimed New York revival of Jacques Brel…, the London revival of Barnum at the Menier Chocolate Factory and Tangled for Disney. Other theatre directing includes Williamstown, Ars Nova, Chichester Festival, Paper Mill Playhouse, Signature, The New Group, Old Globe, Goodspeed, Huntington, Dallas Theater Center, Muny, Capital Rep, Centre Segal Montreal, Broadway Moscow, Vindobona Vienna.  Other writing includes the podcast comedy series "Rolling Calls" starring Richard Kind and Julie Halston (with Steve Rosen), the podcast "Theatre Camp" for Sirius XM (with Jonathan Marc Sherman), Disney's Believe (with Kirsten Childs), Killing Time (with Steve Rosen),  Play At Home commissioned by The Old Globe, the new book of Meet Me In St. Louis for the St. Louis MUNY's 100th Anniversary, and television movies for Disney, WB, and Nickelodeon (with Michael Weiner).  Greenberg attended Stanford University and NYU Film School – and is a Founding Curator at Ars Nova and an Associate Artist at The New Group and The Old Globe. He is also deeply involved in arts education and is Co-Director of Broadway Teachers Workshop and has taught master classes at Yale University, University of Michigan, University of Oklahoma, Belmont University, Hartt School of Music, Broadway Moscow, Broadway Berlin, and Arts Ed in London. He is a member of the Stage Directors & Choreographers Society, The Writers Guild of America, The Dramatists Guild, and the Lincoln Center Theater Directors Lab.
# # # #