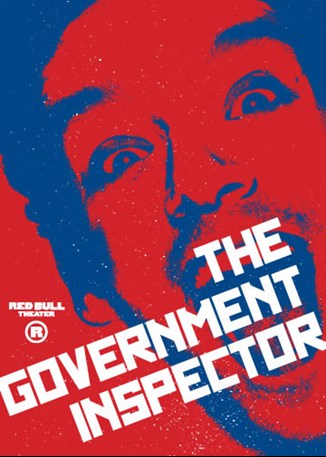 NEW YORK TIMES CRITIC'S PICK!

TIME OUT NY CRITIC'S PICK!


THE MOST ACCLAIMED COMEDY OF THE SEASON IS NOW PLAYING AT
NEW WORLD STAGES
LIMITED ENGAGEMENT ENDS
AUGUST 20th !

Red Bull Theater (Jesse Berger, Artistic Director | Jim Bredeson, Managing Director) is presenting a limited engagement of the acclaimed production of The Government Inspector, directed by Mr. Berger, now playing at New World Stages . This limited Off-Broadway engagement will end on August 20th.

To purchase tickets for performances at New World Stages, visit Telecharge.com, call (212) 239-6200, or visit the New World Stages box office (daily, after 1pm). 

Here's a sampling of what the critics have said:

CRITIC'S PICK! "Generates the kind of collective enthusiasm in its audience that you associate with home-team football games. The pleasures afforded by this breakneck show - directed by Jesse Berger and featuring a virtuosic cast led by a path-clearing cyclone of silliness called Michael Urie - are as old as the days when cave dwellers discovered that human stupidity was really kind of funny...As this play's misleading protagonist, Mr. Urie establishes himself as a bona fide leading man, in the tradition of great physical comedy performers like Kevin Kline." -Ben Brantley, New York Times

FOUR STARS! "A play that depicts a politician as a greedy, vindictive, incompetent boob desperate to ingratiate himself to the leader of Russia? Admittedly, The Government Inspector may no longer sound like comedy. But humor is doled out generously in Red Bull Theater's diverting production of Nikolai Gogol's 1836 satire, zippily adapted by Jeffrey Hatcher." - Adam Feldman, Time Out NY

"Jeffrey Hatcher retains the original framework but gives the jokes a zingy modern spin. Jesse Berger, who directs the raucous Red Bull Theatre production, freely mixes in bits from the Marx Brothers, the Three Stooges, and Woody Allen. Michael Urie is charming as hell as the lucky and manipulative object of mistaken identity (his drunk scene is a comic masterpiece), while Arnie Burton does superlative double duty as a cynical servant and a postmaster who reads all the mail. As the mayor, Michael McGrath bluffs and blusters to the hilt, and Mary Testa, as his wife, earns big laughs just by changing the pitch of her voice." - The New Yorker

"A big, brash and buoyant Off-Broadway revival by Red Bull Theater...As staged by Red Bull artistic director Jesse Berger, this is a high-energy, fast-paced production with gleefully over-the-top performances and door-slamming slapstick comedy." - Matt Windman, AM NY / Newsday

The inimitable Michael Urie (Buyer & Cellar, "Ugly Betty") leads the all-star cast that includes Mary Testa (two Tony Award nominations, five Drama Desk nominations, Drama Desk Special Award for "consistently outstanding work"), Arnie Burton (Peter & the Starcatcher, 39 Steps), Stephen DeRosa ("Boardwalk Empire," Into the Woods), and Michael McGrath (Tony and Drama Desk Awards for Nice Work If You Can Get It and Tony and Drama Desk nominations for Spamalot). They are joined by Ryan Garbayo, Kelly Hutchinson, Ben Mehl, Talene Monahon, Luis Moreno, James Rana, Tom Alan Robbins, Mary Lou Rosato and William Youmans, replacing David Manis.

All politics are local. Gogol's deeply silly satire of small-town corruption offers a riotous portrait of rampaging self-delusion. When the crooked leadership of a provincial village discovers that an undercover inspector is coming to root out their commonplace corruption, the town weaves a web of bribery, lies, and utter madness. This New York Premiere of acclaimed playwright Jeffrey Hatcher's (Stage Beauty) adaptation offers a hilarious reminder of the timelessness of bureaucracy and buffoonery. 

The Government Inspector has set design by Alexis Distler, costume design by Tilly Grimes, lighting design by Peter West and Megan Lang, with sound design and original song composed by Greg Pliska. 

Nikolai Gogol was born on April Fool's Day in 1809 in the Ukraine, then part of Russia. His classmates at school, observing his various physical and social peculiarities, nicknamed him ''the mysterious dwarf.'' In 1828, Gogol arrived in Saint Petersburg and obtained a series of low-level, low-paying posts in the government bureaucracy, which he apparently found unrewarding. Gogol began teaching at a girl's boarding school in 1831. Evenings on a Farm Near Dikanka , Gogol's two-volume collection of stories derived from Ukrainian folklore, was published in 1832 and was instantly well received, gaining Gogol the attention of Aleksandr Pushkin, Russia's leading literary figure, who provided him with the idea for the plot of The Government Inspector. In 1834, Gogol began a position at Saint Petersburg University, where he quickly proved himself a resounding failure, leaving the post after only one year. During that year, Gogol published two books of short stories, a collection of essays, and two plays: Marriage and The Government Inspector. The Government Inspector was brought to the attention of the Tsar, who liked it so much that he requested the first theatrical production in 1836. Gogol, reacting to heavy criticism by the government officials his play lampooned, declared that ''everyone is against me'' and left Russia. He spent the next twelve years in self-imposed exile. After Pushkin died in 1837, Gogol was the leading Russian writer of the day. Gogol's literary masterpiece Dead Souls and the first edition of his collected works were published in 1842. In 1848, he returned to Russia, settling in Moscow. In 1852, Gogol died, age 42, as the result of an extreme religious fast and absurdly bad doctoring.

Jeffrey Hatcher's Broadway credits include Never Gonna Dance (book). Off-Broadway credits include Three Viewings and A Picasso at Manhattan Theatre Club; Scotland Road and The Turn of the Screw at Primary Stages; Tuesdays with Morrie (with Mitch Albom) at the Minetta Lane; Murder by Poe, The Turn of the Screw, and The Spy at The Acting Company; and Neddy at American Place. Other credits include Compleat Female Stage Beauty, Mrs. Mannerly, Murderers, Mercy of a Storm, Smash, Korczak's Children, To Fool the Eye, Confederacy of Dunces, The Critic, Dr. Jekyll and Mr. Hyde, and others at The Guthrie, Old Globe, Yale Rep, The Geffen, Seattle Rep, Cincinnati Playhouse, Cleveland Playhouse, South Coast Rep, Arizona Theater Company, San Jose Rep, The Empty Space, Indiana Rep, Children's Theater Company, History Theater, Madison Rep, Intiman, Illusion, Denver Center, Oregon Shakespeare Festival, Alabama Shakespeare Festival, Milwaukee Rep, Repertory Theater of St. Louis, Actors Theater of Louisville, Philadelphia Theater Company, Huntington, Shakespeare Theatre (D.C.), Asolo, City Theater, Studio Arena and dozens more in the U.S. and abroad. Film and television credits include Stage Beauty, Casanova, The Duchess, Mr. Holmes, and episodes of "Columbo" and "The Mentalist." Grants/awards: NEA, TCG, Lila Wallace Fund, Rosenthal New Play Prize, Frankel Award, Charles MacArthur Fellowship Award, McKnight Foundation, Jerome Foundation, Barrymore Award Best New Play, and IVEY Award Best New Play. He is a member and/or alumnus of The Playwrights Center, the Dramatists Guild, the Writers Guild, and New Dramatists.

Michael Urie originated the role of Alex More in Jonathan Tolins's Buyer & Cellar Off-Broadway, on tour, and in London (Drama Desk Award, Clarence Derwent Award, Lucille Lortel Award, LA Drama Critics Award; Drama League, OCC Award nominations). New York theatre credits include How to Succeed in Business Without Really Trying (Broadway), Shows For Days (LCT), The Cherry Orchard (CSC), Angels in America (Signature), The Temperamentals (Lucille Lortel, Drama Desk, Theatre World awards; Drama League nomination), The Revenger's Tragedy (Red Bull), Another Vermeer (HB Playwrights). Film: He's Way More Famous Than You (also directed), Thank You for Judging (co-director/exec. producer), Beverly Hills Chihuahua, WTC View, Jeremy Fink and the Meaning of Life, The Decoy Bride, Petunia, Such Good People, The Hyperglot (director), Grantham & Rose (exec. producer). TV: "Modern Family," "Younger," "Workaholics," "The Good Wife," "Hot in Cleveland," "Partners," "Ugly Betty" and the host of "Cocktails And Classics." Web series: "What's Your Emergency" (director). Training: Juilliard. Michael recently emceed the 62nd Annual Drama Desk Awards at Town Hall. For his performance in Homos, Or Everyone in America at the LAByrinth, Michael was honored with an OBIE Award this season.

Red Bull Theater, hailed as "the city's gutsiest classical theater" by Time Out New York, is the not-profit Off-Broadway theater company specializing in plays of heightened language. With the Jacobean plays of Shakespeare and his contemporaries as its cornerstone, Red Bull Theater embraces the imagination of theatergoers through intimate, imaginative productions of great classic stories from all eras and cultures. 

Acclaimed as "a dynamic producer of classic plays" by The New York Times, Red Bull Theater has previously staged productions of Pericles, The Revenger's Tragedy, Edward the Second, Women Beware Women, The Duchess of Malfi, The Witch of Edmonton, The Maids, The Dance of Death, Loot, The Mystery of Irma Vep, Volpone, 'Tis Pity She's A Whore, The Changeling, last season's hit revival of The School For Scandal as well as this season's election-timed, hit production of Shakespeare's Coriolanus at Barrow Street Theatre. The company's work has been hailed as "the most exciting classical theater in New York" (Time Out New York), "Dynamite!" (The New York Times), "Triumphant" (Associated Press), and "Proof that classical theater can still be surprising after hundreds of years" (Variety). 

Red Bull Theater's work has been recognized with multiple Drama Desk, Drama League, Lucille Lortel, Callaway and OBIE Award nominations and awards, including the Off-Broadway Alliance Award for Best Revival in the 2015-'16 season (School for Scandal). The company has staged nearly 150 Revelation Readings, named by the Village Voice "Best Play Reading Series," also developing new plays of heightened language and adaptations through workshops and offering training and educational programs. Post-play Bull Session discussions with scholars following select Sunday matinees and Readings are free and open to the public.