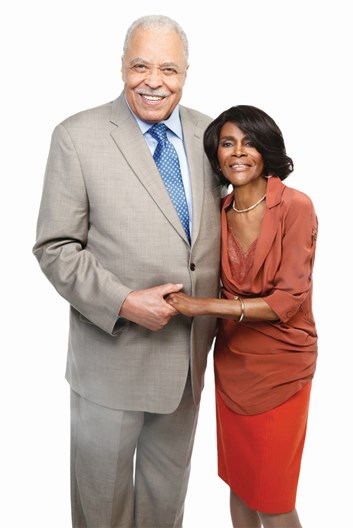 Performances begin for
James Earl Jones Cicely Tyson
in
THE GIN GAME
By D.L. Coburn
Directed by Leonard Foglia

Production Opens October 14 at the Golden Theatre

Mr. Jones and Ms. Tyson are sharing a Broadway stage for the first time since 1966, when they appeared in A Hand Is On The Gate at the Longacre Theatre. They also starred in the long-running Off-Broadway production of Jean Genet's The Blacks. They starred opposite each other in the film The River Niger and the TV movie "Heat Wave". Mr. Jones is a two-time Tony Award winner (Fences, The Great White Hope), three-time Emmy Award winner ("Heat Wave," "Gabriel's Fire," "Summer's End") and the recipient of a Grammy Award and an Honorary Academy Award. Ms. Tyson is a Tony Award winner (The Trip to Bountiful), a three-time Emmy Award winner ("The Autobiography of Miss Jane Pittman," "The Oldest Living Confederate Widow Tells All") and an Academy Award nominee (Sounder).

Winner of the 1978 Pulitzer Prize for Drama, The Gin Game returns to the Golden Theatre where the original production opened in 1977, starring Hume Cronyn and Jessica Tandy. Since its premiere, the play has also been staged across the United States and all over the world. The Gin Game has also been filmed twice for television; in 1981 with original stars Cronyn and Tandy, and in 2003 with Dick van Dyke and Mary Tyler Moore.

Weller Martin (James Earl Jones) and Fonsia Dorsey (Cicely Tyson) meet on the porch of their nursing home and strike up a friendship, with Weller teaching Fonsia how to play gin rummy. As they play, they share stories about the lives they led in the outside world. But when Fonsia wins every hand, Weller becomes increasingly frustrated, until their gin games and conversations become a battleground, with each player exposing the other's failures, disappointments and insecurities.

The production will feature set and costume design by Riccardo Hernandez, lighting design by Jules Fisher and Peggy Eisenhauer and sound design by David Van Tieghem. Hair design is by Paul Huntley. Technical supervisor is Hudson Theatrical Associates. Production Stage Manager is Jill Cordle.

The Gin Game is produced by Ostar, Bob Boyett, Jon Bierman, Jamie DeRoy, Eric Falkenstein, Wendy Federman, Roy Furman, Philip Geier, Ruth Hendel, Marianne Mills, Ira Pittelman, Sanford Robertson, The Shubert Organization, in association with Loraine Boyle, Barbara Freitag, Carl Moellenberg and Roy Simons.

BIOGRAPHIES

James Earl Jones (Weller Martin) made his Broadway debut in 1957 and most recently starred on Broadway in You Can't Take It With You. He won Tony Awards for The Great White Hope and Fences, and received Tony Award nominations for On Golden Pond and The Best Man. He received Drama Desk Awards for Othello, Les Blancs, Hamlet, The Cherry Orchard and Fences, Obie Awards for Clandestine on the Morning Line, The Apple, Moon on a Rainbow Shawl, the LA Critics Circle Award for Fences and an Olivier Award nomination for Cat On A Hot Tin Roof. Other theatre credits include Driving Miss Daisy (Broadway, London, Australia). He is an award-winning film and TV actor and recipient of three Emmy Awards, a Grammy Award and a Lifetime Achievement Oscar.

Cicely Tyson (Fonsia Dorsey) won a 2013 Tony Award for Best Actress in a Play for her performance in The Trip to Bountiful and was also nominated for an Emmy Award for the 2014 television movie version. Best known for her ground-breaking double Emmy Award-winning performance as Jane in "The Autobiography of Miss Jane Pittman," Miss Tyson was also nominated for an Academy Award for Sounder. She then received her third Emmy Award for "The Oldest Living Confederate Widow Tells All" and was also nominated for her performances in "Roots," "King," "Sweet Justice," "The Marva Collins Story" and "A Lesson Before Dying". Her many film credits include the upcoming Showing Roots, The Heart Is A Lonely Hunter, Fried Green Tomatoes, Because of Winn-Dixie, Hoodlum, Diary of a Mad Black Woman, Madea's Family Reunion, Why Did I Get Married Too?, The Help, Alex Cross. Broadway credits include The Corn Is Green, Trumpets of the Lord, A Hand Is On The Gate, Cool World and Jolly's Progress. Off-Broadway, she appeared in the long-running production of Jean Genet's The Blacks. Miss Tyson has a star on the Hollywood Walk of Fame. In 1995, a middle school in East Orange, NJ was named for her. Following Miss Tyson's involvement in 2009, she was able to open a new $143 million state-of-the-art kindergarten through High School renamed the Cicely L. Tyson Community School of Performing and Fine Arts.

D.L. Coburn (Playwright) came to prominence in 1977 with The Gin Game, which was his first play. The Gin Game ran on Broadway for 516 performances and subsequently toured the nation with its original cast of Hume Cronyn and Jessica Tandy to sold-out performances in Los Angeles, Chicago, Boston, Philadelphia and a half-dozen other cities before going on to a triumphant tour of England and the then Soviet Union. It has since had major productions in virtually every country of the western world, including France, Germany, Italy, Greece, Belgium, the Netherlands, Austria, Romania, Israel, Hungary, Australia, Brazil, Chile, Argentina and South Africa, as well as heralded productions in China and Japan. In 1978, the play garnered four Tony nominations and was awarded the Pulitzer Prize for Drama. Plays Mr. Coburn has written since The Gin Game include Blue Water Cottage (1979), Guy (1983), Noble Adjustment (1985), Return to Bluefin (1992), Fear of Darkness (1995) and Firebrand (1997). Additionally, he has written television pilots for CBS and ABC and several screenplays including Flight of Angels (1987), A Virgin Year (1991) and Legal Access (1994).

Leonard Foglia (Director) is a theater and opera director as well as librettist. Original Broadway productions: Master Class, Thurgood (filmed for HBO),The People In The Picture. Revivals: On Golden Pond, Wait Until Dark. Off-Broadway: Let Me Down Easy (filmed for PBS), The Stendhal Syndrome, One Touch of Venus, If Memory Serves, Lonely Planet. Regional: Unusual Acts of Devotion, Distracted, Paper Doll,The Secret Letters of Jackie and Marilyn, The Subject Was Roses, Things Being What They Are, God's Man in Texas. Opera: He has directed the world premieres of Moby Dick (filmed for PBS), Everest, El Pasado Nunca Se Termina/The Past Is Never Finished (librettist and director), Cruzar La Cara De La Luna/To Cross The Face Of The Moon (librettist and director), A Coffin In Egypt (librettist and director), The End of the Affair and Three Decembers. His production of Dead Man Walking has been presented in opera companies across the US. This summer he will direct the premier of the opera Cold Mountain.