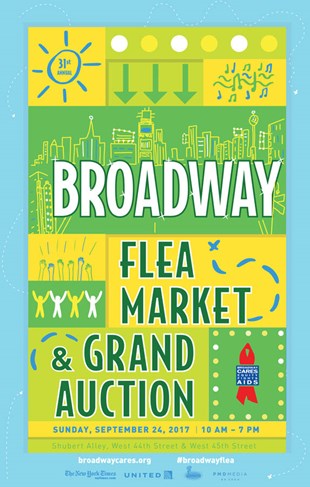 Telecharge Social Team Raises a Record-Breaking $10,000 at the 2017 Broadway Flea Market & Grand Auction
31st Annual
Broadway Flea Market & Grand Auction
Breaks One Million Dollar Mark to Benefit Broadway Cares/Equity Fights AIDS
Watch & Share Video: 11 Surprise Finds at Broadway Flea Market & Grand Auction
The heart of New York City's theatre district pulsed with the energy of thousands of theatre lovers on Sunday, September 24, 2017, as the 31st Annual Broadway Flea Market & Grand Auction blew past previous grand totals and raised $1,023,309 for Broadway Cares/Equity Fights AIDS.

Broadway fans reveled in all things theatre as they searched for rare memorabilia, met their favorite performers and bid on one-of-a-kind experiences. The day-long celebration featured 56 tables, 74 of Broadway's brightest stars and 212 live and silent auction items.

This year's grand total was the first to pass the million-dollar mark, far surpassing last year's then-record of $782,081. The 31 editions of the Broadway Flea Market & Grand Auction have collectively raised $13.6 million.
"I'm absolutely thrilled by this year's jaw-dropping grand total,"Broadway Cares Executive Director Tom Viola said. "To raise more than a million dollars for the most vulnerable among us reminds us once again of how strong the heart and humanity are of everyone in theatre - onstage, backstage and in the audience. Every dollar raised means that men, women and children in our theatre community and across the country will see a tomorrow that includes healthy meals, lifesaving medication or emergency financial assistance. I am particularly glad the extraordinary total will enable Broadway Cares to increase support for our hurricane relief efforts in the name of the Broadway community."

Along West 44th and West 45th Streets and filling Shubert Alley, fans added pieces to ever-growing theatrical collections from tables representing Broadway and Off-Broadway shows, theatre owners and producing  organizations, unions, guilds, marketing groups, ticket agencies, concessionaires and fan clubs.

Unique finds included a Dear Evan Hansen arm cast signed by Tony Award nominee Mike Faist as Connor, earrings made from chandelier crystals from the set of Natasha, Pierre & the Great Comet of 1812, Reynolds Pamphlet props used onstage in Hamilton and a bass guitar signed by the entire cast of School of Rock - The Musical.

The tables at this year's market raised a record $497,962. The top 10 tables were: Natasha, Pierre & the Great Comet of 1812 with $50,612; Dear Evan Hansen with $42,326; Hamilton with $32,751; ATPAM with $24,594; Wicked with $21,261; Hello, Dolly! with $18,398; Creative Goods Merchandise with $18,263; TDF's "Pik-a-Tkt" with $17,559; Anastasia with $16,716; and Waitress with $13,475.

The day concluded in Shubert Alley with the live auction, which also shattered previous records, raising $381,450. Last year's live auction raised $301,400. The most popular lot of the day was a coveted spot as a judge for Broadway Cares' Gypsy of the Year and Easter Bonnet Competition, which went for a staggering $14,000.

The second-most popular auction lot was seats at a taping of the much-anticipated return of TV's Will & Grace, including photos with the iconic cast, at $13,500. A stunning chandelier from the set of Natasha, Pierre & the Great Comet of 1812 went for $13,200, and VIP house seats to Ben Platt's final performance in Dear Evan Hansen sold for an impressive $11,000. Two tickets to the opening night of Frozen on Broadway with invitations to its exclusive after-party raised $9,500. In all, 19 opening night packages, which included passes to the VIP celebrations after each, raised $66,000.

Fans were surprised by star appearances throughout the auction. The live auction audience "said yeah" in unison when Tony Award winner Billy Porter offered two special lots; a walk-on role in Kinky Boots and a backstage meet-and-greet with Porter and co-star Stark Sands, who both return to the Tony-winning Best Musical this week. The two lots sold for $12,200. Beloved SiriusXM host and longtime Broadway Cares friend Seth Rudetsky arrived to share his "Ultimate Seth!" auction package, including a guest appearance on his popular show, which sold for $5,100. A Bronx Tale The Musical's Bobby Conte Thornton and Christiani Pitts introduced a walk-on role in their hit musical, which sold for $2,800.

Effervescent Broadway and television favorite Bryan Batt joined esteemed and charismatic auctioneer Nick Nicholson to host the live auction.

Auction favorites Jen Cody and Michael Goddard returned to co-host the silent auction throughout the day, which raised a record-shattering $127,297. The top-selling lot was a sheet of lyrics to "Will You Still Love Me Tomorrow?," handwritten and signed by the legendary Carole King, for $5,750.
Other popular items included a signed poster and CD from the just-closed Natasha, Pierre & the Great Comet of 1812 for $5,700 and a Dear Evan Hansen "Only Us" musical phrase, sketched and signed by Benj Pasek and Justin Paul, for $4,250.

In addition to exploring the endless gems at the tables and auctions, fans also met their favorite Broadway stars at the Autograph Table and Photo Booth, which raised $36,119.

The Broadway favorites who appeared at the table were Christy Altomare, Kate Baldwin, James Barbour, Bryan Batt, Reed Birney, Richard H. Blake, Stephanie J. Block, John Bolton, Jon Jon Briones, Danny Burstein, Jackie Burns, John Cariani, Carolee Carmello, Michael Cerveris, Amanda Jane Cooper, Nick Cordero, Charlotte d'Amboise, John Dossett, Zachary Downer,
Laura Dreyfuss, Ali Ewoldt, Mark Evans, Jenn Gambatese, Drew Gehling, Kimiko Glenn, Sas Goldberg, Mandy Gonzalez, Ann Harada, Erika Henningsen, Tom Hewitt, Rodney Ingram, Ben Jacoby, Jay Armstrong Johnson, Rachel Bay Jones, Andrew Keenan-Bolger, Chilina Kennedy, Hailey Kilgore, Chad Kimball, Derek Klena, Lexi Lawson, Beth Leavel, Telly Leung, Kara Lindsay, Taylor Louderman, Rebecca Luker, Alex Mandell, Lesli Margherita, Lindsay Mendez, Javier Muñoz, Donna Murphy, Eva Noblezada, Laura Osnes, Hugh Panaro, Mamie Parris, Mary Beth Peil, Bernadette Peters, Eric Petersen, Billy Porter, Courtney Reed, Jelani Remy, Kate
Rockwell, Will Roland, Nic Rouleau, John Rubinstein, Christopher Sieber, L. Steven Taylor, Bobby Conte Thornton, Jennifer Laura Thompson, Evan Todd, Max von Essen, Akron Watson, Barrett Wilbert Weed and Betsy Wolfe.

"The number of people Broadway Cares supports across the country is astonishing," Muñoz, who is starring in the titular role in Hamilton on Broadway, told the autograph table crowd. "I know you're here for bargains and Broadway, but you're also making a difference in someone's life."The most unique item Muñoz signed at this year's Broadway Flea Market & Grand Auction? "Someone's arm!"

The energetic and entertaining Ben Cameron served as host of the Autograph Table and Photo Booth. In addition to chatting with the special guests, he prompted impromptu performances, including a duet between present and past Phantoms James Barbour and Norm Lewis, and a fan's performance of "Journey to the Past" from Anastasia, who was then surprised by show star Christy Altomare.

The 31st Annual Broadway Flea Market & Grand Auction was sponsored by The New York Times and United Airlines.

Broadway Cares/Equity Fights AIDS is one of the nation's leading industry-based, nonprofit AIDS fundraising and grant-making organizations. By drawing upon the talents, resources, and generosity of the American theatre community, since 1988 BC/EFA has raised more than $285 million for essential services for people with AIDS and other critical illnesses across the United States.

Broadway Cares/Equity Fights AIDS is the major supporter of the social service programs at The Actors Fund, including the HIV/AIDS Initiative, the Phyllis Newman Women's Health Initiative and the Samuel J. Friedman Health Center for the Performing Arts. Broadway Cares also awards annual grants to more than 450 AIDS and family service organizations in all 50 states, Puerto Rico and Washington, DC.

For more information, please visit Broadway Cares online at broadwaycares.org, at facebook.com/BCEFA, at instagram.com/BCEFA, at twitter.com/BCEFA and at youtube.com/BCEFA.