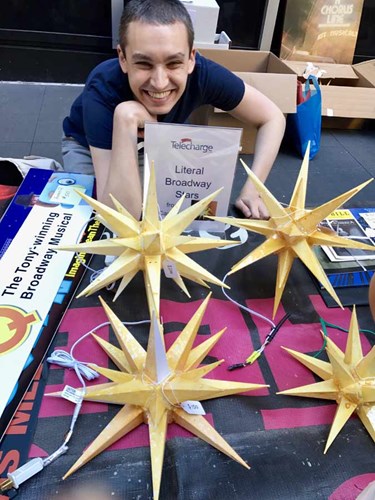 Telecharge Raises $15,000 at the Broadway Flea Market
On Sunday, September 30, 2018, Broadway's most devoted fans and volunteers gathered in New York City's Theater District for the 32nd Annual Broadway Flea Market & Grand Auction to support Broadway Cares/Equity Fights AIDS.
West 44th and 45th Streets were brimming with tables of theatrical treasures representing shows, theatre owners, unions, guilds, marketing groups, concessionaires and fan clubs. Fans met their favorite Broadway stars at the Autograph Table and Photo Booth. In Shubert Alley, the Telecharge table featured Opening Night gifts, Tony Voter packages and more unique finds like the Hello, Dolly! covers that adorned the barricades outside the Shubert Theatre and the stars that illuminated the stage of the Imperial Theatre during the run of Carousel. Together, 58 tables raised $442,316.
Jen Cody and Michael Goddard hosted the silent auction throughout the day, which raised a record $127,809. The live auction capped off the fundraising effort with an additional $336,700.
Telecharge surpassed last year's $10,000 contribution to earn over $15,000 for BC/EFA.
This year's grand total of $906,825 – the second highest in the event's history – will help to provide lifesaving medication, healthy meals, emergency assistance and social service support to those most in need in all 50 states, Puerto Rico and Washington, D.C. The 32 editions of the Broadway Flea Market & Grand Auction have collectively raised $14.5 million.