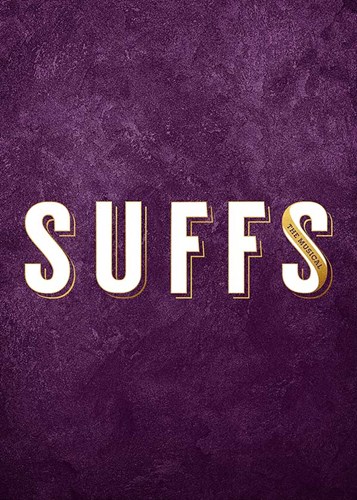 SUFFS TO OPEN ON
BROADWAY THIS SPRING
Hillary Rodham Clinton and Malala Yousafzai
Join Producing Team
October 18, 2023 – Following a sold-out, extended run at The Public Theater, lead producers Jill Furman and Rachel Sussman are pleased to announce that Shaina Taub's new musical Suffs will come to Broadway this spring with former Secretary of State Hillary Rodham Clinton and Nobel Peace Prize Laureate Malala Yousafzai joining the producing team. Suffs will open at the Music Box Theatre on Thursday, April 18.
"We are elated to welcome Secretary Clinton and Malala to our Suffs producing team," said Jill Furman and Rachel Sussman. "As powerful role models, they each inspire millions around the globe in their rigorous fight for equality, and we are honored to have two such profoundly dedicated and courageous advocates supporting us on Broadway."
"I am thrilled to join with the team behind Suffs in bringing Shaina Taub's remarkable musical about the unsung heroes of the American women's suffrage movement to the Broadway stage – where it rightly belongs," said Hillary Rodham Clinton. "And I can't wait for audiences to experience this soul-stirring slice of long-overlooked American history; both entertaining and enlightening, Suffs paints a vivid picture of the necessary battles for democracy and equality that are still being fought today."
"I loved Suffs when I saw it last year at The Public Theater," said Malala Yousafzai. "Many women around the world are still fighting for equality — and we draw inspiration and strength through learning the stories of those who came before us. I am honored to support Shaina and this production, and I hope Suffs echoes beyond Broadway to reach audiences worldwide."
From the singular mind of Shaina Taub, this "remarkable, epic new musical" (Variety) boldly explores the victories and failures of a struggle for equality that's far from over.
It's 1913 and the women's movement is heating up in America, anchored by the suffragists - "Suffs," as they call themselves — and their relentless pursuit of the right to vote. Reaching across and against generational, racial, and class divides, these brilliant, flawed women entertain and inspire us with the story of their hard-won victory in an ongoing fight. So much has changed since the passing of the Nineteenth Amendment over a century ago, and yet we're reminded sometimes we need to look back, in order to march fearlessly into the future.
Suffs will feature book, music and lyrics by Kleban Prize, Fred Ebb Award, and Jonathan Larson Grant recipient Shaina Taub, direction by Tony Award nominee Leigh Silverman (Violet), choreography by Mayte Natalio (How to Dance in Ohio), scenic design by Tony Award nominee Riccardo Hernández (Jagged Little Pill), costume design by Tony Award winner Paul Tazewell (Hamilton), lighting design by Tony Award nominee Lap Chi Chu (Camelot), sound design by Jason Crystal (Sweeney Todd) with associate Sun Hee Kil (Choir Boy), orchestrations by Tony Award winner Michael Starobin (Next to Normal), music supervision and music direction by Andrea Grody (The Band's Visit), and casting by Heidi Griffiths and Kate Murray (Soft Power). 101 Productions, Ltd. will serve as General Manager.
Casting and ticketing information will be announced at a later date. To stay up to date on Suffs, sign up at SuffsMusical.com or follow the show on Facebook and Instagram at @SuffsMusical.
Suffs was originally developed and produced at The Public Theater in 2022 (Artistic Director, Oskar Eustis; Executive Director, Patrick Willingham; Director of Public Theater Productions, Mandy Hackett).
++
About Hillary Rodham Clinton
Hillary Rodham Clinton has spent over five decades in public service as an advocate, attorney, First Lady, U.S. Senator, U.S. Secretary of State, and presidential candidate. In 2000, she made history as the first First Lady elected to the United States Senate, and the first woman elected to statewide office in New York. In 2007, she began her first historic campaign for president, winning 18 million votes and becoming the first woman to ever win a presidential primary or caucus state. And in 2016, she made history again by becoming the first woman nominated for president by a major U.S. political party. She won the national popular vote, earning the support of nearly 66 million Americans. Hillary Rodham Clinton is the author of ten best-selling books, host of the podcast You and Me Both, founder of the global production studio HiddenLight Productions, Chancellor of Queen's University Belfast, and a Professor of Practice at the School of International and Public Affairs and Presidential Fellow at Columbia World Projects at Columbia University where she recently launched a new Institute of Global Politics. She and President Clinton reside in New York, have one daughter, Chelsea, and are the proud grandparents of Charlotte, Aidan, and Jasper.
About Malala Yousafzai
Malala Yousafzai began her activism at age 11 when she anonymously blogged about life under the Taliban in Pakistan's Swat Valley, particularly the ban on girls' education. Over the next few years, she advocated publicly, giving speeches and interviews, and attracting media attention and awards. At age 15, she was shot in the head by the Taliban for speaking out. After months of surgery and rehabilitation in the United Kingdom, she founded Malala Fund to continue her campaign to see all girls in school. A year later, Malala received the Nobel Peace Prize in recognition of her work for education and equality. Malala graduated from Oxford University with a degree in Philosophy, Politics, and Economics in 2020. She is the best-selling author of three books and President of Extracurricular Productions.
About Jill Furman
Jill Furman seeks to produce groundbreaking commercial work that surprises audiences. On Broadway, she has produced Freestyle Love Supreme (Special Tony Award), Hamilton (Tony Award), In the Heights (Tony Award), Rodgers + Hammerstein's Cinderella, The Heiress, Seminar, West Side Story, The Drowsy Chaperone, Sly Fox, and Fortune's Fool. On TV and Film, she executive produced Hamilton for Disney+ (Emmy Award) and In the Heights. She also produced Hulu's We Are Freestyle Supreme, which premiered at the Sundance Film Festival in 2020. In 2011, she received the Robert Whitehead Award for Outstanding Achievement in Commercial Theatre Producing. Jill is a native New Yorker. She received a BA from Brown University and an MBA from Columbia. She is on the Brown University Board of Directors, the President's Advisory Council for the Arts at Brown, and the Board of the Lung Cancer Research Foundation.
About Rachel Sussman
Rachel Sussman is a Tony Award-winning creative producer, educator, and entrepreneur. She is a co-founder of The Business of Broadway, an educational venture that democratizes commercial producing knowledge to transform the way artists and producers collaborate. In addition to Suffs, Broadway producing credits include Just for Us, Parade (Tony Award), Prima Facie, and What the Constitution Means to Me (Tony nomination, Pulitzer Prize finalist). A former WP Theater Lab Time Warner Foundation Fellow, Rachel was the recipient of the 2018-2019 Prince Fellowship in Creative Producing founded by Hal Prince in conjunction with Columbia University and named one of Variety's 2023 "10 to Watch on Broadway." She is an Adjunct Assistant Professor at Columbia University's School of the Arts, BerkleeNYC, and New York University's Tisch School of the Arts. Proud NYU alumna. www.rachel-sussman.com.