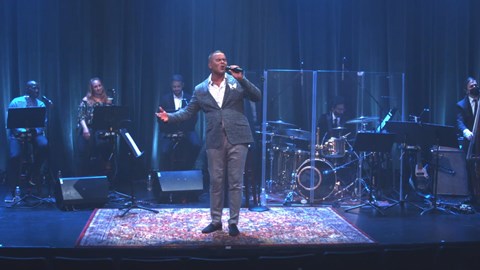 Several weeks ago, we teased our brand-new Shubert Studios. It's our answer to the question, "How do we safely begin to host events again in the current environment?" Now, the Shubert Events team is proud to announce that Shubert Studios officially launched on August 15 with an exclusive one-night-only concert.
In Christopher Jackson: Live From the West Side, the Broadway favorite from Hamilton, In the Heights, and more performed live from our brand new stage-studio. The event, produced by EBG Presents and Dallas Summer Musicals, both celebrated and supported the importance of the arts—raising money for seventeen performing arts centers in desperate need around the country. The concert was live streamed and seen by tens of thousands of viewers in multiple countries.
In making the concert happen live in the studio, participants followed a strict health and safety plan, following the guidelines set forth by the CDC and federal and local governments. According to Erin DePalma, Shubert Events Director, "I felt safer at the theatre on Saturday than I have anywhere else in months. Everyone was so diligent and respectful of the guidelines, I was at ease the moment I walked through the door. There was an incredible sense of teamwork—everyone working together to make sure we did this right. We felt so privileged to be there and all believed so strongly that there was a way to do this safely, that we could sustain this and have opportunities to keep doing it."
Shubert Events is looking forward to safely hosting more events in the Shubert Studios in the coming months and are promoting the initiative as "Live Events--for a Virtual Audience." The Studios are open now and available for booking at https://shubertevents.com/shubertstudios.