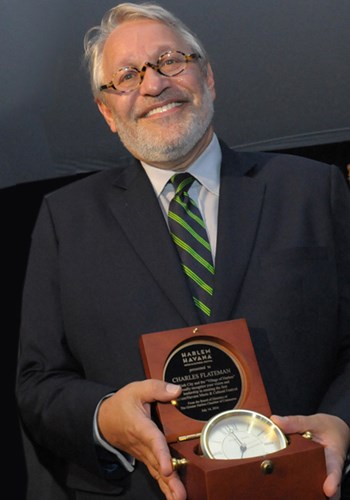 Shubert Senior VP Charles Flateman speaks at Gracie Mansion

On Thursday, July 14, Shubert Senior Vice President Charles Flateman was a featured speaker at Mayor Bill de Blasio's celebration in honor of the first-ever Harlem/Havana Music & Cultural Festival, an international visual and performing arts, fashion, education and culinary exchange celebrating the rich artistic connection between the iconic Harlem, New York and Havana, Cuba.
The Mayor and First Lady Chirlane McCray hosted the gala event at Gracie Mansion. Mr. Flateman spoke on behalf of Shubert and also as Vice Chair of NYC & Co, the official destination marketing organization for the five boroughs of New York City. Other speakers included the singer Dionne Warwick and Earl "the Pearl" Monroe, NBA Hall of Famer.
The celebration featured Havana/Harlem-themed cuisine and cocktails, as well as special performances by cast members of the Tony Award-winning Broadway musical The Color Purple saluting the influence of Harlem, and from the Broadway hit musical On Your Feet! celebrating the collaboration with Havana. Mayor de Blasio has committed to having the City of New York formally adopt the Harlem/Havana Music & Cultural Festival, and will serve as co-chair in partnership with Congressman Charles Rangel.
The Harlem/Havana Music & Cultural Festival – a culmination of over two years of efforts led by Congressman Rangel and The Greater Harlem Chamber of Commerce – will first bring world-renowned Cuban musicians, visual artists, dancers, film, chefs and educators to the U.S. this summer as part of Harlem Week activities from August 15-21. In February 2017, an American delegation of artists and cultural leaders will travel to Havana and take part in a number of curated events.