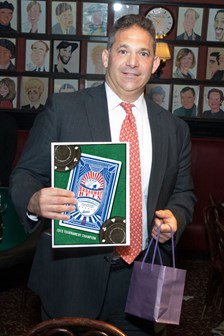 INAUGURAL BROADWAY BETS
RAISES $137,200
FOR
BROADWAY CARES/EQUITY FIGHTS AIDS
BILL PANESS OF THE SHUBERT ORGANIZATION
WINS FIRST-OF-ITS-KIND
BROADWAY POKER TOURNAMENT


Theater fans, celebrities and industry insiders grabbed their seats at poker tables on Monday, May 18, 2015, to raise $137,200 for Broadway Cares/Equity Fights AIDS at the inaugural edition of Broadway Bets.

Hosted by Sardi's restaurant in the heart of New York City's theatre district, Broadway Bets (#broadwaybets), a first-of-its-kind Broadway poker tournament, offered the theatre community a new and unique way to support Broadway Cares/Equity Fights AIDS.

The rollicking evening started with 16 classic Texas Hold 'em poker tables filling the two floors of the iconic restaurant. Using skill, strategy and a bit of luck, 10 players bested more than 120 other competitors to win their way to the championship table.

One by one they dropped until there was only two. The final head-to-head was a classic showdown of management versus union, as Bill Paness, controller for The Shubert Organization, faced off against IATSE Local 311 member Eric Castaldo. Friends, poker fans and busted out players hovered around the table, cheering and cajoling the final players. In this congenial battle, Paness ultimately bested Castaldo to become the first Broadway Bets champion and winner of a VIP weekend at Foxwoods Resort Casino, the official tournament host.

"Broadway Cares presents a number of 'capital B' events each spring and summer with Backwards, Bonnet, Bares and Barks," said BC/EFA Executive Director Tom Viola. "We are thrilled to welcome a
fifth: Bets! Broadway Bets fits like a glove in the midst of them all, bringing a little Texas Hold 'em fervor to that eagerly anticipated annual fundraising mix of fun, excitement and community."

The tournament welcomed an array of fans, industry insiders and celebrities, including Tony Yazbeck, a 2015 Tony Award nominee for best actor in a musical for On the Town, reigning Miss Universe Paulina Vega, actors Hank Azaria, Eric Bogosian, Paige Davis, Richard Kind, Patrick Page, Anthony Rapp and Steve Rosen, writer Brian Koppelman, producer Scott Landis, Michael Rego of The Araca Group, The Broadway League Executive Director Charlotte St. Martin and
professional poker champion Erik Seidel.

In addition to Paness and Castaldo, the final "high stakes" table featured Landis, Rapp, Rego, Lorraine Gale, Gina Green from SpotCo, Eric Gross, Michael Hyde from Sweet Hospitality Group and Emma Kerr from The Araca Group.

For those not ready to go "all in," Broadway Bets guest passes offered an opportunity to observe the poker table action and play for prizes in other casino games, including roulette, blackjack and craps.

The evening's co-chairs were Paul Libin, executive vice president of Jujamcyn Theaters and BC/EFA Board of Trustees president, and Robert E. Wankel, president and co-CEO of The Shubert
Organization and longtime BC/EFA trustee. Micah Hollingworth of Jujamcyn Theaters and Mark Shacket of Foresight Theatrical served as Broadway Bets' tournament directors.

An array of Broadway's behind-the-scenes players secured spots as sponsors. "Full House" sponsors, who purchased full tables for eight players, included Ambassador Theatre Group, The Araca Group, Foxwoods Resort Casino, Jujamcyn Theaters, Key Brand  Entertainment, On the Town, The Nederlander Organization, The Road Company, The Shubert Organization and SpotCo. "Two Pair" sponsors, purchasing spots for four players, included Darren Deverna of Production Resource Group, Serino/Coyne and Sweet Hospitality Group.

Broadway Cares/Equity Fights AIDS is one of the nation's leading industry-based, nonprofit AIDS fundraising and grant-making organizations. By drawing upon the talents, resources and generosity of the American theatre community, since 1988 BC/EFA has raised more than $250 million for essential services for people with AIDS and other critical illnesses across the United States.

Broadway Cares is the major supporter of the social service programs at The Actors Fund, including the HIV/AIDS Initiative, the Phyllis Newman Women's Health Initiative and the Al Hirschfeld Free
Health Clinic, and awards annual grants to more than 450 AIDS and family service organizations nationwide and .

For more information, please visit Broadway Cares online at broadwaycares.org, on Facebook at facebook.com/BCEFA, on Twitter at twitter.com/BCEFA, on YouTube at youtube.com/BCEFAtv and
on Instagram at instagram.com/BCEFA.