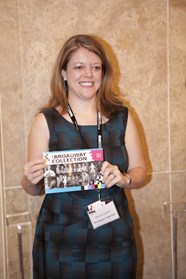 Groups Magazine, a leading trade publication for the Group Sales industry, has honored Shubert's Allison French by naming her one of The Top Ten Leaders of the Next Generation in Group Travel.
Allison French is the Director of Sales for Broadway Inbound, a division of The Shubert Organization. 
Broadway Inbound is the group and wholesale ticketing source for tour operators and travel industry partners around the world. 
Allison manages the Broadway Collection, Broadway Inbound's global sales, marketing and PR program reaching markets in Europe, China, Japan, South Korea, Brazil and beyond. She serves on the International Committee of the Student Youth and Travel Association (SYTA), an organization dedicated to developing young audiences for the theatre.

READ MORE