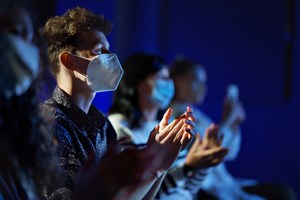 We're all in this together.
Broadway is all about gathering together and sharing in the experience of live theatre. The Shubert Organization is committed to the health and safety of all members of the Broadway community—theatre employees, production staff, cast, and audience members.
Starting May 1, 2022, audiences will no longer be required to show ID, proof of vaccination, or a negative test to enter the theatre. Masks will be required for everyone inside a Shubert Organization theatre, with no exceptions.
Everyone in the theatre must wear acceptable face coverings at all times, including during the show, except while eating or drinking in designated locations. All face coverings must cover the nose and mouth and comply with the CDC guidelines for acceptable face coverings.