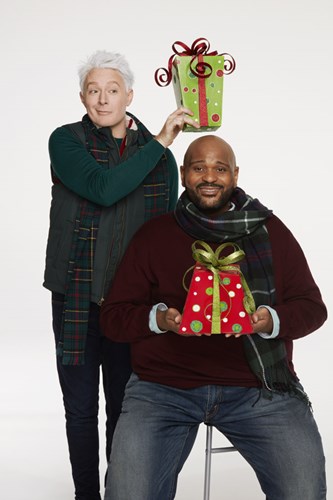 RUBEN STUDDARD & CLAY AIKEN REUNITE TO BRING NEW, LIMITED ENGAGEMENT HOLIDAY SHOW TO BROADWAY
RUBEN & CLAY'S FIRST ANNUAL CHRISTMAS CAROL FAMILY FUN PAGEANT SPECTACULAR REUNION SHOW

MARKS THE FIRST TIME THE "AMERICAN IDOL" FAN FAVORITES WILL TAKE TO THE STAGE TOGETHER SINCE 2003

(October 18, 2018) – RUBEN STUDDARD and CLAY AIKEN join forces for a monumental, one-of-a-kind Holiday spectacular Broadway show.  Meghan McCain took to "The View" today to make the exclusive announcement of the limited run show which had the audience and viewers thrilled and feeling the holiday spirit!  A family affair, the spectacular will see Ruben and Clay journey through a fusion of holiday music and entertainment featuring lighthearted comedy, astounding versatility and, as always, Ruben and Clay's magnetic stage presence. "American Idol's" fan favorite odd couple will give fans the reunion they have been asking for when the duo takes to the stage for this limited engagement holiday event. The extravaganza marks the first time Ruben and Clay have performed together on a national stage since their dramatic finale in 2003.  In true holiday spirit, the duo also aims to give back with tickets benefiting the National Inclusion Project, the leading voice for the inclusion of children with disabilities. Featuring everyone's favorite Christmas songs, performed by two of America's most beloved music icons, sprinkled with hilarious scenes and sketches and a live band, there is something for the entire family.
Ruben & Clay's First Annual Christmas Carol Family Fun Pageant Spectacular Reunion Show (aka "Ruben & Clay's Christmas Show") is produced by Jeffrey Chrzczon, Side Effects Include, and Josh Pultz/Amplified Entertainment. The show begins performances on Broadway Friday, December 7, 2018, with Opening Night set for December 11th, at the prestigious Imperial Theatre (249 West 45th Street) and continues its limited engagement through December 30, 2018.  Tickets are now available online at Telecharge.com and by phone at 212-239-6200. For more information, please visit rubenandclay.com. 
Of the reunion, Ruben exclaims "Christmas is about family, friends and fun. Clay and I can't wait to bring all those things together on Broadway this December!"  Clay adds, "There are really only two things that could get me back in stage after taking a break for over five years: my buddy, Ruben, and Christmas! It's been 15 years since he beat me on Idol, and it's taken an entire decade and a half for me to lick my wounds. But the holidays are about togetherness, so now that he is older and I am wiser, I can think of no better way to celebrate 15 years of friendship than by spending this holiday season together on Broadway."
RUBEN STUDDARD
Ruben Studdard, the second "American Idol" winner, won the contest over runner-up Clay by only 134,000 votes out of the 24 million cast in the 2003 finale. In addition to numerous Grammy, American Music, BET and Soul Train Award nominations, he has won three Billboard Music Awards, the Image Award for Outstanding New Artist, and a Teen Choice Award. As an actor, he has appeared on TV in "8 Simple Rules," "Life on a Stick," "All of Us," and "Eve," as well as in the film Scooby Doo 2: Monsters Unleashed.  Studdard headlined the revival tour of Ain't Misbehavin' and was part of the Grammy Award-nominated cast recording. His latest tour and recording, "Ruben Sings Luther," a tribute to Luther Vandross, adds his own passion on top of Luther's brilliant songs. "It was a thrilling experience selecting the songs from his different albums and putting my own interpretation on them. My heart and soul is in every note I sing as I honor one of the greatest vocalists we've ever had."
CLAY AIKEN
Clay Aiken's first single made him the first artist in history to have his first release debut at #1 on Billboard's Hot 100 chart. He's won the American Music Award and Billboard Music Award; his memoir Learning to Sing: Hearing the Music in Your Life was a New York Times Best Seller; and his run on Broadway in Monty Python's Spamalot was a critical and box office success. In 2003 he started the charitable foundation National Inclusion Project, which is recognized nationwide as the leading voice in the social inclusion of children with disabilities. He served for nine years as UNICEF Ambassador for education and child protection and has worked closely with organizations to curb discrimination against LGBT youth. His 2014 campaign for Congress in North Carolina served to bring attention to policy issues important to him as well as shine a national spotlight on the deleterious effects of money in the political system and the indifference of elected officials to the needs of the underserved.
NATIONAL INCLUSION PROJECT
National Inclusion Project (NIP) operates on three simple core beliefs: Every child can participate, every child can make a friend, and every child can succeed. NIP is the product of a special friendship between a college student, a mother, and her 13-year-old son: Clay Aiken was pursuing a degree in special education from UNC-Charlotte when he met Mike. Mike was 13 years old and had been diagnosed with autism. As part of his education, Clay was working with a variety of people with disabilities; but he and Mike quickly developed a unique bond. The friendship soon extended to include Mike's mother, Diane Bubel, as well. Clay and Diane soon discovered they shared more than just a connection to Mike; they shared a vision. Clay and Diane had often witnessed children with disabilities being turned away or excluded from activities and programs open to other children.  They believed that as a society we could do better. They believed that every program and organization could include all children—and everyone would benefit from that. Clay and Diane made it their mission to bring this to fruition. In July 2003, the National Inclusion Project was born. With their three core beliefs in mind, NIP made it its mission to see that children with and without disabilities can laugh, learn, and play together! Working with community organizations and recreational programs, NIP provides the training, tools, and support they need so that children with disabilities can participate in all of their activities and programs. NIP has established itself as one of the leading voices for the inclusion of children with disabilities by partnering with some of the country's largest youth organizations and most prestigious educational institutions.  NIP has developed cutting-edge inclusion models, trained hundreds of industry leaders, and facilitated inclusive opportunities for thousands of children across the nation. For more information or to learn how you can help, visit inclusionproject.org