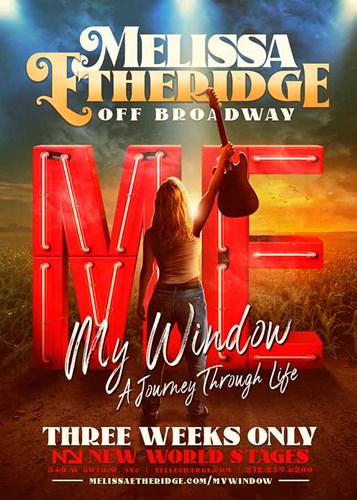 MELISSA ETHERIDGE OFF BROADWAY
NEW SOLO SHOW
BY GRAMMY & ACADEMY AWARD-WINNING MUSIC ICON
MAKES WORLD PREMIERE IN NYC
3 WEEKS ONLY, OCTOBER 13–29 AT NEW WORLD STAGES
(New York, NY – August 15, 2022) Producers Michael Cohl and EMC Presents, in association with Larry Mestel, Deborah Klein, and Steven Greener for Primary Wave Music announce today the world premiere of Grammy & Academy Award winner Melissa Etheridge's new Off Broadway solo show, Melissa Etheridge Off Broadway: My Window – A Journey Through Life. Beginning Thursday, October 13, 2022, the show will play 12 performances only to an audience of less than 500 per night, at the intimate venue New World Stages (340 W. 50th Street).
Known for her confessional lyrics and raspy, smoky vocals, Melissa Etheridge has lit up airwaves and arenas across the world for more than two decades with instant classics like "I'm the Only One," "Come to My Window," "I Want to Come Over", and more. In her world premiere Off Broadway solo show, the Grammy and Academy Award-winning singer/songwriter offers an intimate experience like never before, inviting theatergoers into an exhilarating evening of storytelling and music. From tales of her childhood in Kansas to her groundbreaking career highlights – with all of life's hits and deep cuts between – Etheridge opens her heart & soul on stage to fearlessly dazzle audiences of all generations.
"I am incredibly excited and humbled to debut this deeply personal show in New York this fall," says Melissa Etheridge. "While I've been telling my life stories through my lyrics and concert tours for many years, this is going to be something new for me. I cannot wait to feel the exchange of energy and deep connection that's provided by an intimate theater experience. That's going to rock."
"I'm thrilled to be part of this great event," says producer Michael Cohl. "Melissa Etheridge - a story of courage, struggle, and triumph. This will be a magical, emotionally fulfilling night." 
My Window – A Journey Through Life is written by Melissa Etheridge, with additional material by Linda Wallem-Etheridge ("Nurse Jackie" showrunner, "That '70s Show"), and directed by Amy Tinkham (Aerosmith's "Deuces Are Wild" Las Vegas Residency, Dancing with the Stars Live).  The creative team includes scenic design by Emmy Award nominee Bruce Rodgers (Super Bowl Halftime shows since 2010), lighting design by Abigail Rosen Holmes (Phish, David Byrne's "Contemporary Color"), Projection Design by Olivia Sebesky (James Taylor, Chad Deity), and sound design by Colle Bustin (West Side Story).
Prior to hitting the New York theater stage in October, Etheridge will finish up her "One Way Out" national concert tour and release her first-ever graphic novel Heartstrings with Z2 Comics on August 15. My Window marks her first return to the theatrical stage since playing "St. Jimmy" in Green Day's American Idiot on Broadway in 2010.
Tickets to the 12 performances are available now by exclusive pre-sale through Melissa Etheridge's Fan Club, and will go on sale to the general public on Wednesday, August 17 at 10AM ET at Telecharge.com/212-239-6200. The ticket range is $59 - $129. The performance schedule is Thursday, October 13 – Sunday, October 16 at 8PM; Thursday, October 20 – Sunday, October 23 at 8PM; and Wednesday, October 26 – Saturday, October 29 at 8PM.  The press opening is Sunday, October 16. 
MELISSA ETHERIDGE (Writer/ Performer) stormed onto the American rock scene in 1988 with the release of her critically acclaimed self-titled debut album, which led to an appearance on the 1989 Grammy Awards show. For several years, her popularity grew around such memorable originals as "Bring Me Some Water," "No Souvenirs" and "Ain't It Heavy," for which she won a Grammy® in 1992. Etheridge hit her commercial and artistic stride with her fourth album, Yes I Am (1993). The collection featured the massive hits, "I'm the Only One" and "Come to My Window," a searing song of longing that brought Etheridge her second Grammy® Award for Best Female Rock Performance. In 1995, Etheridge issued her highest charting album, Your Little Secret, which was distinguished by the hit single, "I Want to Come Over." Her astounding success that year led to Etheridge receiving the Songwriter of the Year honor at the ASCAP Pop Awards in 1996.
In February 2007, Melissa Etheridge celebrated a career milestone with a victory in the "Best Song" category at the Academy® Awards for "I Need to Wake Up," written for the Al Gore documentary on global warming, An Inconvenient Truth. As a performer and songwriter, Etheridge has shown herself to be an artist who has never allowed "inconvenient truths" to keep her down. Earlier in her recording career, Etheridge acknowledged her sexual orientation when it was considered less than prudent to do so. In October 2004, Etheridge was diagnosed with breast cancer, a health battle that, with her typical tenacity, she won. Despite losing her hair from chemotherapy, Etheridge appeared on the 2005 Grammy® telecast to sing "Piece of My Heart" in tribute to Janis Joplin. By doing so she gave hope to many women afflicted with the disease.
On October 7, 2016 Melissa Etheridge released Memphis Rock & Soul, her first album since 2014's critically lauded This Is M.E. Recorded at Royal Studios in Memphis, the album received stellar reviews from the likes of Entertainment Weekly, Parade, Rolling Stone, American Songwriter and more. She followed that up with the release of The Medicine Show in April, 2019. For The Medicine Show, Melissa reunited with celebrated producer John Shanks and sounds as rousing as ever, bringing a new level of artistry to her 15th studio recording. The Medicine Show deals with universal themes of renewal, reconciliation, reckoning, compassion and, most profoundly, healing.
In June of 2020, Etheridge launched her own live streaming subscription and single ticket concert platform, Etheridge TV and has done over 200 live streams in 2020.
On September 17, 2021, Melissa released a new album called One Way Out. The 9-track album is a collection of songs Etheridge wrote in the late '80s and early '90s that never made the cut….until now! The time is finally right, and fans will finally get a deeper glimpse to who Melissa was then.
LINDA WALLEM-ETHERIDGE (Additional Material) is a writer, producer, director, and actress.  Wallem is best known as the co-creator and showrunner for the Emmy Award-winning Showtime television series "Nurse Jackie", starring Edie Falco.  Additional credits include writing for "That '70s Show" from 1998 to 2000, serving as executive producer from 2000 to 2001 and then executive producing "That '80s Show" in 2002; and writing for the Cybill Shepherd-led sitcom "Cybill" during its entire run, where she also produced several episodes and occasionally acted on the series as well. As an actress, her notable credits include Sleepless in Seattle, "Seinfeld", several characters in animated series "Rocko's Modern Life" and in the 2019 Netflix special Rocko's Modern Life: Static Cling. Wallem has served as a consulting producer and executive producer on several TV shows including "Whitney" starring Whitney Cummings, "Help Me Help You", "The Comeback" starring Lisa Kudrow and more.
AMY TINKHAM (Director) began her career in the arts and entertainment as a dancer under the guidance of visionaries like Erick Hawkins, and eventually danced professionally in New York City and Los Angeles, in productions at BAM's Next Wave Festival, scores of MTV music videos, and films like The Mask and The Big Lebowski. This led her to work as a choreographer, on projects with Madonna, The Dixie Chicks, Earth Wind and Fire, Aerosmith, and Motley Crew. One of her first projects as a director was a short film called The Acting Thing that premiered at the Sundance Film Festival and also won the Houston World Film Festival Award for "Best Comedy Short." Amy has served as Creative Director for many iconic performers, bands, and entertainment companies including Aerosmith's Las Vegas Residency "Deuces Are Wild", as well as their performance at the Grammy Awards 2020 and the Post Malone/Aerosmith collaboration at the 2018 VMA's; James Taylor's 2020 tour, his Caesars Palace residency in Las Vegas, James Taylor 2017/2018 summer tours, and his Hollywood Bowl performances; Disney Junior Live 2018-2019 as well as the Disney Junior Holiday Party 2019.  She has directed four tours of Dancing with The Stars Live (both winter and summer), and tours for the young singer/ songwriter prodigy Grace Vanderwaal, ventriloquist Darci Lynn Farmer, both winners of America's Got Talent, in their first headlining AGT LIVE shows at the Planet Hollywood in Las Vegas; and the Ringling Brothers Barnum and Bailey 200th Anniversary Show, as well as the 2008 show. Addition TV performances, concerts, & tours she has directed includes Mr. Harry Belafonte's live concert for social justice at the Many Rivers to Cross Festival in Atlanta, produced by Gina Belafonte and Sankofa.Org, with an all-star cast including Common, John Legend, & Maxwell;  Paul McCartney's "Live At The Apollo" performance of Hitch Hiker; the Dixie Chicks "Top Of The World Tour"; an international tour for Paulino Rubio; Martina McBride's "Shine All Night Tour"; "Yanni Voices" World Tour; Cheetah Girls "One World Tour"; promotional tours and performances for Disney stars Bridgitte Mendler and Lucy Hale; Matt Morrison's PBS Special, "Where It All Began"; Disney's "The Sound Of Magic" with music composer Giles Martin of the Beatles Love show, the world tour for AR Rahman (Slumdog Millionaire), Teri Hatcher in The Band from TV; co-direction on segments for Paul McCartney's World Tours; a collaboration as director and writer with Kenny Ortega on American Dance, Clay Aiken's summer and Christmas Tours, as well as his show with Ruben Studdard; video direction for Britney Spears' "Dream Within A Dream Tour"; "Earth, Wind, and Fire/Chicago Summer Tour",  co-direction on Backstreet Boys "Black And Blue Tour"; and Mariah Carey's "Rainbow Tour". She has also conceptualized performances for the Grammy Awards, PBS, and the Country Music Awards.  She is adapting the award-winning film Adam with Olympus Pictures into a modern multidisciplinary musical and has been in development for the Star Wars concert project with Disney and Fivecurrents.  Recently, Amy wrote an original show for Franco Dragone and the Dragone company called Splendor, which opened in Wuxi, China.
# # #