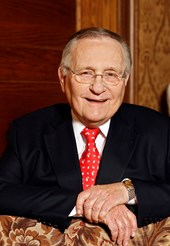 This year's Theater Hall of Fame ceremony, originally scheduled for January 26, was postponed due to blizzard conditions in New York City. The rescheduled ceremony was held on May 4.

Philip J. Smith, Chairman of the Shubert Organization, was one of eight theater luminaries inducted into the Theater Hall of Fame, which is located in the North Rotunda of Broadway's Gershwin Theater.
Each inductee is introduced by a leading member of the theatre community. Tony Award-winner Bernadette Peters was chosen to do the honors for Mr. Smith. Ms. Peters, who was unable to attend on the rescheduled date, sent the following message, read at the ceremony by Robert E. Wankel, President of the Shubert Organization:
I would walk through a major snow storm for Phil Smith. In fact, on January 26th, I was all dressed up and putting on my snow shoes, preparing to hike to the Gershwin Theater.
Phil, I am truly disappointed that I'm not able to be with you tonight because I am on location in Chicago. So, from afar, let me say how pleased and honored I am to sing your praises on this occasion. You have been my trusted friend since I made my Broadway debut at the Booth Theatre in 1967.
I think everyone in our business already knows how much your brilliant work has shaped our industry. You always move us forward. You have a vision for the future.
But tonight, I'd like to talk about your abiding support for creative artists in the theatre. It's no secret you have always been head-over-heels in love with Broadway. You share the excitement we all feel about putting on a show. You have a magic touch that makes all of us feel nurtured and protected.
During your 58 glorious years in the theatre, you have given us so much. We are forever grateful. To put it simply, Phil Smith, you are a wonderful human being. Broadway loves you and I adore you.
So tonight, my dear friend, I'm sending my heartfelt congratulations to you as you take your place in the Theater Hall of Fame.
-Bernadette Peters
For more information about the Theater Hall of Fame, and this year's inductees, read Playbill.com's coverage:

READ MORE