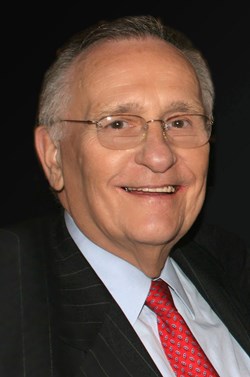 The Board of Directors, Officers, and Staff of The Shubert Organization mourn the passing of our esteemed Chairman Emeritus, Philip J. Smith, a vital force in the American theatre for more than 63 years. A well-loved figure in the Broadway community, Phil Smith made invaluable contributions throughout his career in all aspects of theatre production, operations, management, and creative development. 
His rise through the ranks of The Shubert Organization began in 1957 as box office treasurer at the Imperial Theatre. He went on to work in every department of the company. In 1970, he was named General Manager of all Shubert Theatres. In 1971, Mr. Smith introduced the use of credit cards as a method of purchasing theatre tickets. He was instrumental in the establishment of the Times Square TKTS discount ticket booth in 1973.
As Shubert Vice President in the early 1980s, Mr. Smith was the architect of Broadway's transition into the age of computerization. With the creation of Telecharge, he revolutionized the way tickets are purchased, greatly expanding accessibility of tickets to theatregoers. After serving more than 15 years as Executive Vice President, Mr. Smith was named President of The Shubert Organization in 1996. He was appointed Chairman and Co-CEO in 2008. He also served as a Director and Chairman of The Shubert Foundation. 
Mr. Smith retired in 2020 and became Chairman Emeritus. Phil Smith was a man of integrity with a big heart. He loved his work, his friends, colleagues, and above all, his family. 
We send our condolences to Phil's devoted daughters and their husbands, Linda and Martin Phillips, Jennifer and John Stein, and to the five grandchildren he adored, Grant, James, Kate, Michael, and Peter.
The Shubert Organization
Robert E. Wankel, Chairman and CEO
Board of Directors
Wyche Fowler, Jr.
Pamela Newkirk
Diana Phillips
Richard J. Poccia
Lee J. Seidler
Stuart Subotnick