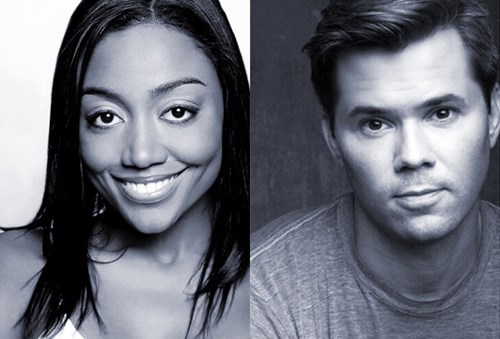 Patina Miller and Andrew Rannells Co-Host the 2016 Tony Awards Nominations Announcement on Tuesday, May 3

THE 2016 TONY AWARDS® NOMINATIONS
SPONSORED BY IBM


PATINA MILLER & ANDREW RANNELLS
CO-HOST THE NOMINATIONS ANNOUNCEMENT ON TUESDAY, MAY 3rd

The Tony Awards Nominations Announcement will be co-hosted by Tony Award winner and star of CBS' "Madam Secretary" Patina Miller and Tony Award nominee and Grammy Award winner Andrew Rannells, who is currently seen on HBO's "Girls." Also in attendance will be William Ivey Long, Chairman of the American Theatre Wing; Heather Hitchens, President of the American Theatre Wing; Robert E. Wankel, Chairman of The Broadway League; Charlotte St. Martin, President of The Broadway League.

The Tony Nominations can be viewed LIVE (8:30am ET) on CBS This Morning and in their entirety at www.TonyAwards.com, and NY1, where available. Follow the Tony Awards on Twitter, Instagram and Snapchat for real-time updates on the nominees as they are announced (@TheTonyAwards). The entire announcement will also be available on TonyAwards.com after the event.

The 2016 American Theatre Wing's Tony Awards are presented by The Broadway League and the American Theatre Wing. At The Broadway League, Robert E. Wankel is Chairman and Charlotte St. Martin is President. At the American Theater Wing, William Ivey Long is Chairman and Heather A. Hitchens is President.

IBM, the official information technology partner of the Tony Awards, develops, designs, and hosts the official Tony Awards digital experience across platforms, including www.TonyAwards.com. The 2016 Tony Awards partners are Carnegie Mellon University as the first-ever, exclusive higher education partner of the Tony Awards; United Airlines as the official airline; the Paramount Hotel as the official hotel partner; City National as the official bank and presenting sponsor of the Creative Arts Awards; Porsche Cars North America, Inc., manufacturer of exclusive sports cars, celebrates dynamic performance as the official sports car; People and Entertainment Weekly as the official magazine partners; and Clear Channel Spectacolor as an official media partner of the Tony Awards and co-producer of the Tony Simulcast in Times Square.