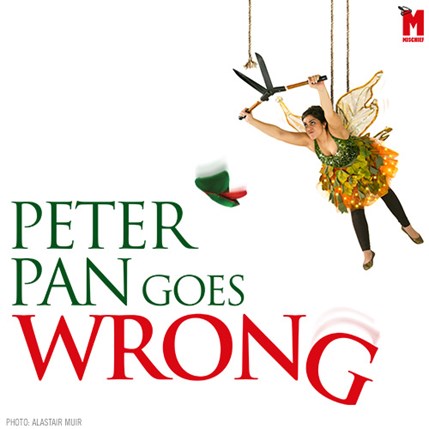 From the creators of the Tony® and Olivier® award-winning
The Play That Goes Wrong
Kevin McCollum, Kenny Wax, Stage Presence, and Catherine Schreiber present
the Mischief Theatre Production
PETER PAN GOES WRONG
By Henry Lewis, Jonathan Sayer, Henry Shields Based on Peter Pan by J.M. Barrie
 Limited 16 ½ week Broadway engagement starring the Original Mischief Company
This spring, brace yourself for an awfully big adventure as you finally get the chance to laugh again on Broadway.
Peter Pan Goes Wrong, the international comedy sensation from Mischief, will premiere on Broadway with a limited engagement starting March 17, 2023 at the Ethel Barrymore Theatre (243 West 47th Street) on Broadway. The official opening is set for April 19, 2023.
Co-written by Mischief company members Henry Lewis, Jonathan Sayer and Henry Shields, Peter Pan Goes Wrong is a highly physical comedy packed with finely-tuned and inspired slapstick, delivered with split-second timing and ambitious daring. The play sees the 'Cornley Drama Society' back on stage battling technical hitches, flying mishaps and cast disputes as they attempt to present J.M Barrie's much-loved tale. But will they ever make it to Neverland?
The cast of Peter Pan Goes Wrong on Broadway includes Chris Leask, Henry Lewis, Ellie Morris, Charlie Russell, Jonathan Sayer, Henry Shields, Greg Tannahill and Nancy Zamit.
Peter Pan Goes Wrong is directed by Adam Meggido, with set designs by Simon Scullion, costumes by Roberto Surace, lighting by Matt Haskins, sound by Ella Wahlström, co-composed by Richard Baker and Rob Falconer.
Peter Pan Goes Wrong is produced on Broadway by Kevin McCollum, Kenny Wax, Stage Presence, and Catherine Schreiber.
Peter Pan Goes Wrong made its premiere at the Pleasance Theatre in London in December 2013. After a UK Tour in 2014, the production transferred to the West End's Apollo Theatre for a Christmas season run in 2015 and returned to the West End the following year for another Christmas season run from October 2016. The play was also adapted into a one-hour television special, which was broadcast on December 31, 2016, on BBC One. The play made its North American premiere in 2022 at the Citadel Theatre in Edmonton, Canada.
Peter Pan Goes Wrong was nominated for Best New Comedy at the Olivier® Awards and has joyfully wowed critics across the UK.
"A joyous masterclass of physical comedy." - London Evening Standard
"A dizzying, dazzling display of meta-theatrical brilliance." -The Stage
"Riotously Funny. An absolute must see." -WhatsOnStage
"Joyfully silly." - Time Out
"Two hours of pure, comic bliss." -Official London Theatre
"Joyful disaster from the comedy masters." -BBC Radio 4

"A smartly staged, heartily performed, cannily conceived comedy." - The Times (London)
"Comedy Gold." - The Telegraph
"Irresistibly funny." - Financial Times
"This show should be Panned."- Hook
Mischief's Tony® Award-winning Broadway hit The Play That Goes Wrong, opened in March 2017 at the Lyceum Theatre running longer than any other play that debuted in the 2017/2018 Season. After 737 performances the production moved to the New World Stages where the show continues to play to packed houses. The North American Tour was one the most successful Broadway play tours of the past twenty years. 

Kevin McCollum (Producer) received the Tony Award for Best Musical for Rent (1996), Avenue Q (2004) and In the Heights (2008). Current: SIX (Broadway, U.S. Tour); Olivier Award-winning The Play That Goes Wrong (Broadway, U.S. Tour, Off-Broadway). Credits: Mrs. Doubtfire (Broadway, West End); Motown: The Musical (Broadway, West End, U.K. and U.S. tours); The Drowsy Chaperone (Broadway, UK); Something Rotten! (Broadway, U.S. tour); Hand to God (Broadway, West End); Baz Luhrmann's La Bohème; [title of show] (Broadway); Irving Berlin's White Christmas (Broadway, tour); and the 2009 revival of West Side Story (Broadway, tour). McCollum also produced the West Side Story film (2021) directed by Steven Spielberg. Upcoming Musicals: The Devil Wears Prada, The Notebook
Kenny Wax (Producer) recently completed a three-year term as president of the Society of London Theatre. He is one of the producers of the Tony Award-winning and Olivier-nominated production of SIX, produced Top Hat (winner of three Olivier Awards, including Best New Musical), Once on This Island (winner of the Olivier Award for Best New Musical), the world premiere of Identical based on Erich Kastners novel The Parent Trap and most recently Tom, Dick and Harry based on the true story of the Great Escape. Productions with Mischief Theatre include The Play That Goes Wrong (winner of the Olivier Award for Best New Comedy, currently playing Off-Broadway), Peter Pan Goes Wrong, The Comedy About a Bank Robbery and Magic Goes Wrong, in collaboration with Las Vegas magicians Penn & Teller. Family productions include Hetty Feather, The Worst Witch (Olivier Award for Best Family Show) and Fantastically Great Women Who Changed the World.
Stage Presence Ltd. (Producer) is delighted to be part of the team presenting Mischief comedies in New York and across the United States.
Peter Pan Goes Wrong is presented in arrangement with Mischief Worldwide Ltd.
Mischief Theatre Ltd. was founded in 2008 by a group of acting graduates of LAMDA and began as an improvised comedy group. Mischief performs across the UK and internationally with original scripted and improvised work and also has a programme of workshops. The company is owned and controlled by its original members and is led by a creative group and its directors Henry Lewis and Jonathan Sayer.
Mischief shows can currently be watched all over the globe with their award-winning smash hit The Play That Goes Wrong currently playing in London and New York. Following its West End premiere Peter Pan Goes Wrong was nominated for Best New Comedy at the Olivier Awards, and in 2022 made its North American premiere in Canada at the Citadel Theatre, Edmonton. Other hit stage comedies include The Comedy About A Bank Robbery (which played in London for four years) and Groan Ups, both currently performed across Europe. Magic Goes Wrong closed in London in March 2022 after a limited engagement and continued to wow critics and audiences across the UK until the UK tour ended in May 2022. Returning to their comedy roots Mischief took three shows to the Edinburgh Festival Fringe in 2022, with Mischief Movie Night and two new shows Mind Mangler: Member of the Tragic Circle and Charlie Russell Aims To Please. Following sold out success in Edinburgh Charlie Russell Aims To Please performed in London for one night only in December 2022. Mind Mangler: Member of the Tragic Circle begins touring the UK from January 2023, which includes dates in the West End. A new production Good Luck, Studio opened October 2022 in the UK at the Mercury Theatre, Colchester before a short tour to Salisbury and Guildford.
In 2017 Mischief Theatre Ltd. and Kenny Wax & Stage Presence, the producers of all the company's West End productions, formed Mischief Worldwide Ltd. to manage the rights to all Mischief projects in all artforms.
Mischief Worldwide Ltd., based in London, licenses copyrights, trademarks and other Mischief properties to producers, distributors, publishers and others around the world.
Mischief was first seen on television in the Royal Variety Performance of 2015 and subsequently in two BBC One Christmas specials, Peter Pan Goes Wrong (2016) and A Christmas Carol Goes Wrong (2017). In 2018 Mischief Worldwide Ltd. and the Anthology Group formed Mischief Screen Ltd., an independent TV production company headed by CEO Hilary Strong. Their Royal Television Society award-winning BBC One series The Goes Wrong Show aired in December 2019 with a Christmas special, further episodes in early 2020, and a hit Nativity Goes Wrong Christmas special in 2020. The second BBC series aired in September 2021 on BBC One and iPlayer where the gang tackled a Downton-esque family saga and a US-style prison break drama, with predictably disastrous results. All shows can be watched on BBC iPlayer in the UK.
All the companies develop, create and perform under the single name of Mischief. Mischief develops new works of comedy for theatre, TV, film and other media.