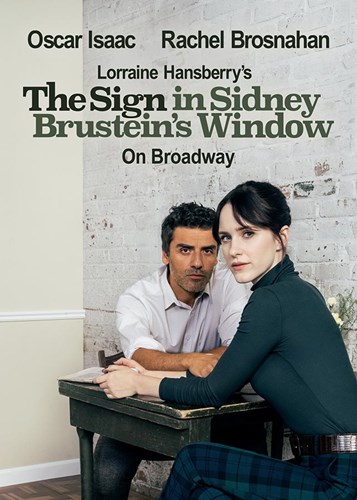 BAM'S SMASH HIT PRODUCTION OF
LORRAINE HANSBERRY'S
THE SIGN IN SIDNEY BRUSTEIN'S WINDOW
WILL TRANSFER TO BROADWAY THIS SEASON
STARRING
OSCAR ISAAC and RACHEL BROSHNHAN
STRICTLY LIMITED ENGAGEMENT BEGINS TUESDAY, APRIL 25
***80 PERFORMANCES ONLY***
OPENING NIGHT SET FOR THURSDAY, APRIL 27
New York, NY – Producers Seaview, Sue Wagner, John Johnson, with Jeremy O. Harris and BAM (Brooklyn Academy of Music), are thrilled to announce that the sold-out and highly acclaimed BAM production of Lorraine Hansberry's The Sign in Sidney Brustein's Window, starring Oscar Isaac (making his Broadway debut) and Rachel Brosnahan, will transfer to Broadway this season. Directed by Anne Kauffman, this strictly limited engagement will begin performances on Tuesday, April 25 for 80 performances only. Opening night – the final opening of this Broadway season – is set for Thursday, April 27, at the James Earl Jones Theatre.
Welcome to 1960s Greenwich Village, where loudly proclaimed progressive dreams wage war with reality. This razor-sharp tragicomical satire of "astonishing force" (The Chicago Tribune) invites us into the apartment of Sidney and Iris Brustein and the diverse and passionate social circle that inhabits it. As a rapidly changing world brings uninvited cynicism to their door, the Brusteins fight to keep their marriage - with all its crackling wit, passion, and casual cruelty – from being the final sacrifice to Sidney's ideals.
The Sign in Sidney Brustein's Window debuted on Broadway in 1964, on the heels of Hansberry's meteoric debut with A Raisin in the Sun (1959) and shortly before her death at the age of 34. This will be its first time on Broadway in more than 50 years. Its run at BAM welcomed new audiences and broke every house record at the Harvey Theater. This is the first BAM-produced production to transfer to Broadway since The Gospel at Colonus, 35 years ago.
"This production, directed by Anne Kauffman and originally produced and nurtured by David Binder and BAM, is a celebration of the radical artistic vision of Lorraine Hansberry at the zenith of her art making." -- Joi Gresham, Literary Trustee, Estate of Lorraine Hansberry
Joining Isaac (Sidney Brustein) and Brosnahan (Iris Brustein) is the complete cast from the BAM production, including Gus Birney (Gloria Parodus), Julian De Niro (Alton Scales), Glenn Fitzgerald (David Ragin), Andy Grotelueschen (Wally O'Hara), Miriam Silverman (Mavis Parodus Bryson), Raphael Nash Thompson (Max). The understudy company features Joey Auzenne, Katya Campbell, Gregory Connors, and Brontë England Nelson.
The creative team includes dots (Scenic Design), Brenda Abbandandolo (Costume Design), John Torres (Lighting Design), Bray Poor (Sound Design), Leah Loukas (Wig Design), Arminda Thomas (Dramaturg), Kate Wilson (Voice Coach), Sonya Tayeh (Movement Director), Ralph Stan Lee (Stage Management). Casting is by Taylor Williams.
PRAISE FOR 'THE SIGN IN SIDNEY BRUSTEIN'S WINDOW'
"Anne Kauffman makes a persuasive case for bringing Sidney Brustein into the canon." - Jackson McHenry, New York Magazine
"This lesser-known work is receiving the vibrant airing it deserves." Peter Marks, The Washington Post

"The new production has returned the play to the spotlight. And a welcome return it is." Charles Isherwood, The Wall Street Journal

"It's a production no serious theatergoer will want to miss." Frank Scheck, New York Stage Review
"One for the ages." David Gordon, TheaterMania