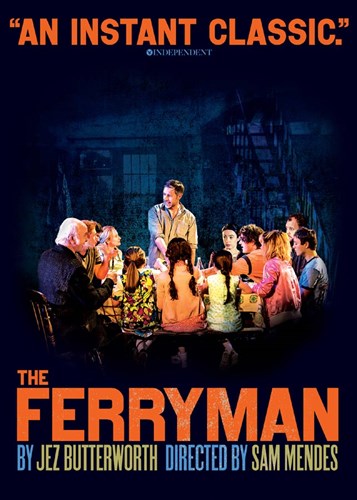 New Cast Announced
For The Ferryman on Broadway
Producers Sonia Friedman Productions and Neal Street Productions are pleased to announce that Jez Butterworth's The Ferryman — the critically-acclaimed new play recently named to an industry-leading 25 Best-Of-The-Year lists — will welcome a number of new cast members to the company on Tuesday, February 19.
Directed by Sam Mendes, The Ferryman will feature three-time Tony Award nominee Brian d'Arcy James (Next to Normal, Time Stands Still, Spotlight) as Quinn Carney; Holley Fain (Harvey, "Gossip Girl," "Grey's Anatomy") as Caitlin Carney; and Emily Bergl (Cat on a Hot Tin Roof, Plenty) as Mary Carney, with Fred Applegate (The Last Ship, The Producers) as Uncle Patrick Carney, Ralph Brown (Gemini Man, Withnail and I, "Turn") as Muldoon, Sean Delaney (Rabbit Hole, Labyrinth, The Ferryman in the West End) as Michael Carney, Jack DiFalco (Torch Song, Marvin's Room) as Shane Corcoran, Ethan Dubin (Bobbie Clearly, Rancho Viejo) as Oisin Carney, Tony Award winner Shuler Hensley (Oklahoma!, The Whale, No Man's Land/Waiting for Godot) as Tom Kettle, Terence Keeley (The Ferryman in the West End, Macbeth at Shakespeare's Globe) as Diarmaid Corcoran, Collin Kelly-Sordelet (The Last Ship, Somebody's Daughter) as James Joseph (JJ) Carney, Ann McDonough (Admissions, Dinner at Eight) as Aunt Patricia Carney, Julia Nightingale (Because of Winn Dixie) as Shena Carney, and Graham Winton (Cyrano de Bergerac, The Tempest) as Frank Magennis, along with returning cast members Charles Dale (Father Horrigan), Fionnula Flanagan (Aunt Maggie Far Away), Matilda Lawler (Honor Carney), Michael Quinton McArthur (Declan Corcoran), Willow McCarthy (Mercy Carney), Brooklyn Shuck (Nunu (Nuala) Carney), Glenn Speers (Lawrence Malone), Glynis Bell, Peter Bradbury, Will Coombs, Gina Costigan, Carly Gold, Holly Gould, Trevor Harrison Braun, Bella May Mordus, Griffin Osborne, and four adorable babies who rotate in the role of Bobby Carney, with further casting to be announced.
Beginning Tuesday, April 16, Tony Award winner Blair Brown ("Orange Is The New Black," The Parisian Woman, Copenhagen) will assume the role of Aunt Maggie Far Away.
Charles Dale, Sean Delaney, Terence Keeley, and Glenn Speers are appearing with the permission of Actors' Equity Association.
As previously, the full company will comprise 35 performers: 17 main adults, 10 covers, 4 children, and 4 babies on rotation.
The season's most acclaimed production on Broadway, Jez Butterworth's The Ferryman, directed by Sam Mendes, is now playing at the Bernard B. Jacobs Theatre (242 W. 45th Street) and was recently extended through July 7, 2019 due to popular demand.
"THE BROADWAY PRODUCTION OF THE YEAR" (NPR) according to Ben Brantley
"THIS ASTONISHING, GLORIOUS, MAGNIFICENT DRAMA TAKES YOUR BREATH AWAY" (The New York Times)
"YOU FEEL LIKE YOU'RE WATCHING HUMAN DESTINY PLAY OUT BEFORE YOUR EYES…THE BEST NEW PLAY OF THE YEAR" (The Chicago Tribune)
"A CRACKLING THRILLER THAT WILL SHAKE UP THE BROADWAY SEASON WITH TORNADO-LIKE FORCE" (The Hollywood Reporter)
Developed by Sonia Friedman Productions and produced with Neal Street Productions and The Royal Court Theatre, The Ferryman opened at The Royal Court in May 2017 and was the fastest-selling play in the theatre's history. The sold-out show transferred to the Gielgud Theatre in London's West End, and ended its thrice-extended, year-long run in May 2018.
The Ferryman won three 2018 Olivier Awards, including Best New Play (marking Jez Butterworth's second Olivier win), Best Actress Laura Donnelly, and Best Director Sam Mendes (marking his fourth Olivier win). The Ferryman also won three 2017 Evening Standard Awards, including Best Play and Best Director, as well as the Emerging Talent Award for Tom Glynn-Carney; three 2018 Whatsonstage Awards, including Best New Play, Best Director, and Best Supporting Actor for Fra Fee; and was named the Best New Play at the 2018 UK Critics' Circle Awards.
The Ferryman is set in rural Northern Ireland in 1981. The Carney farmhouse is a hive of activity with preparations for the annual harvest. A day of hard work on the land and a traditional night of feasting and celebrations lie ahead. But this year they will be interrupted by a visitor.
The Ferryman's current company includes Paddy Considine in his stage debut as Quinn Carney, Laura Donnelly as Caitlin Carney, Catherine McCormack as Mary Carney, Dean Ashton, Glynis Bell, Peter Bradbury, Trevor Harrison Braun, Sean Frank Coffey, Will Coombs, Gina Costigan, Charles Dale, Justin Edwards, Fra Fee, Fionnula Flanagan, Tom Glynn-Carney, Carly Gold, Holly Gould, Stuart Graham, Ryder Koehle, Mark Lambert, Carla Langley, Matilda Lawler, Michael Quinton McArthur, Willow McCarthy, Conor MacNeill, Colin McPhillamy, Rob Malone, Dearbhla Molloy, Bella May Mordus, Griffin Osborne, Annie Scarfuto, Brooklyn Shuck, Glenn Speers, Rafael West Vallés, and Niall Wright.
The Ferryman's creative team is Rob Howell (scenic and costume design), Peter Mumford (lighting design), Nick Powell (sound design and original music), Amy Ball CDG (UK Casting), Jim Carnahan, C.S.A and Jillian Cimini C.S.A. (US Casting), Tim Hoare (new cast director), Scarlett Mackmin (choreography), Benjamin Endsley Klein (resident director), Campbell Young Associates (hair, wigs and makeup design), William Berloni (animal trainer), Terry King (UK fight director), Thomas Schall (US fight director), Majella Hurley (UK dialect coach), and Deborah Hecht (US dialect coach).
The Ferryman is produced on Broadway by Sonia Friedman Productions & Neal Street Productions with Ronald Frankel, Gavin Kalin Productions, Roy Furman/Benjamin Lowy, Scott M. Delman, Stephanie P. McClelland, Tulchin Bartner Productions, Ron Kastner, Starry Night Entertainment, Kallish Weinstein Creative, Scott Landis, Steve Traxler, Richard Winkler, Rona Delves Broughton/Bill Damaschke, 1001 Nights, Burnt Umber Productions, Rupert Gavin, Scott Rudin, Jamie deRoy/Catherine Adler, Sam Levy/Lauren Stevens, and Ramin Sabi/Christopher Ketner.


NEW CAST MEMBER BIOGRAPHIES:
BRIAN D'ARCY JAMES (Quinn Carney). With over a dozen Broadway credits, highlights include Tony nominations for Something Rotten!, Shrek the Musical, Sweet Smell of Success. Additional Broadway: Hamilton (originated role of King George III at Public Theater), Macbeth, Time Stands Still, Lieutenant of Inishmore. Film: Oscar winning Spotlight (SAG, Critics Choice, Gotham and Altman Award Best Ensemble), First Man, Molly's Game, Felt, Rebel in the Rye among others. Upcoming: X Men: Dark Phoenix and The Kitchen. Selected TV: "13 Reasons Why," "Manhunt: Unabomber," "Smash."
HOLLEY FAIN (Caitlin Carney). Broadway: Harvey, Present Laughter (Roundabout Theatre Company). Off-Broadway: This Day Forward (world premiere, Vineyard), Frank's Home (Playwrights Horizons), Measure for Measure (Pearl). Regional: June Moon, She Stoops to Conquer (Williamstown), Present Laughter (Huntington), Frank's Home (world premiere, Goodman). TV: "Grey's Anatomy," "Gossip Girl," "The Astronaut Wives Club," "Falling Water," "The Arrangement," "Monday Mornings," "Memphis Beat," "Children's Hospital," "The Good Wife," Law & Order: CI," among others. BFA University of Illinois, Champaign-Urbana.
EMILY BERGL (Mary Carney). Broadway: Cat on a Hot Tin Roof, A Touch of the Poet, The Rivals, The Lion in Winter. Off-Broadway: Plenty and The Comedy of Errors (Public Theater); Becky Shaw (2ST); Love Loss and What I Wore (Daryl Roth Productions); Fiction (Roundabout); Where Do We Live (Vineyard); Old Money (LCT). Film: Fur: An Imaginary Portrait of Diane Arbus, Happy Campers, The Rage: Carrie 2. TV; "The Marvelous Mrs. Maisel," "Mindhunter," "You," "Gilmore Girls," "Shameless," "American Crime," "Scandal," "The Knick," "Elementary," "Desperate Housewives," "Southland," "Men in Trees."
FRED APPLEGATE (Uncle Patrick Carney). Broadway: Wicked, Tuck Everlasting, The Last Ship, La Cage aux Folles, Sister Act, Young Frankenstein, The Producers (also London), Sound of Music. National tours: Wicked, Anything Goes, The Producers, Beauty and the Beast. Regional: Old Globe, Alliance, Long Wharf, Mark Taper, Geffen, St. Louis Rep, Guthrie (Resident Artist, 13 productions). TV: "Crashing," "Billions," "Mrs. Maisel," "Person of Interest"... over 100 more. Married to Cherie Sprosty, Liturgy Director at Cabrini Shrine. Proud father of Ben, Meredith and Ethan.
BLAIR BROWN (Aunt Maggie Far Away beginning April 16). Broadway: The Parisian Woman, Copenhagen (Tony Award), James Joyce's The Dead, Cabaret, The Secret Rapture, Arcadia, The Threepenny Opera. Off-Broadway/regional: Mary Page Marlowe (Second Stage Theater / Steppenwolf), On The Shore of the Wide World (Atlantic Theater), The Clean House (Lincoln Center Theatre), A Little Night Music (Kennedy Center). Film favorites: Dogville, Space Cowboys, Altered States, Continental Divide, Stealing Home, A Flash of Green. TV includes: "Orange Is The New Black," "Jack Ryan," "Fringe," "The Days and Nights of Molly Dodd" (5 Emmy nominations).
RALPH BROWN (Muldoon). Broadway debut. Film: Gemini Man, Final Score, Withnail & I, Crying Game, Alien 3, Sus, Dominion, Stoker, Impromptu, Wayne's World 2, Up'N'Under, I'll Be There, Undercover Blues, Amistad, Star Wars Phantom Menace, Jack The Giant Slayer, Pirate Radio, Dark Tide, Contractor, I Anna, Tower Block. TV: "Turn," "Genius Einstein," "Legends," "Agent Carter," "Elementary," "Reg," "Babylon," "Death In Paradise," "Him & Her," "Assets," "Life On Mars," "Nighty Night," "Lock Stock," "Meadowlands," "Coronation Street," "Ivanhoe," "Karaoke." Writer: New Year's Day.
SEAN DELANEY (Michael Carney). Trained at Royal Academy of Dramatic Arts. Theatre includes Rabbit Hole (Hampstead Theatre); Labyrinth (Hampstead Theatre), which earned him a longlist nomination for the Evening Standard Theatre Award's Emerging Talent Award; and The Ferryman (West End). TV includes "Midsomer Murders," "Killing Eve" and "Killing Eve 2 (out April 2019 for BBC America). This marks his Broadway debut.
JACK DiFALCO (Shane Corcoran). Broadway: Torch Song, Marvin's Room. Off-Broadway: Torch Song (2nd Stage), Yen (Manhattan Class Co.), Mercury Fur (New Group), Lord of The Flies (Denver Center). Film: The Goldfinch, Paterno, Silo, One Percent More Humid (Tribeca Film Festival 2017), Bully (Dances with Films Festival 2018), I Can, I Will, I Did (Asian Pacific Film Festival 2017). Television: "Daredevil," "Law & Order: SVU," "The OA," "Blue Bloods." 2015 Clive Barnes Foundation nominee for New Emerging Talent in Theatre. Instagram: @jackdifalco.
ETHAN DUBIN (Oisin Carney). Broadway debut. Off-Broadway: Bobbie Clearly (Roundabout); Rancho Viejo (Playwrights Horizons); The World My Mama Raised (Clubbed Thumb). Select regional credits: peerless; His Girl Friday (Barrington Stage Company). TV: "The Marvelous Mrs. Maisel," "Orange Is The New Black." Film: the Coen Brothers' The Ballad of Buster Scruggs; The Kitchen. Member of The Actors Center. For Joel Carlton.
SHULER HENSLEY (Tom Kettle) received the Tony and Olivier Awards for Oklahoma!. Most recent NY theater credits include Twelfth Night (Delacorte) and Sweet Charity with Sutton Foster for The New Group. Also Young Frankenstein, No Man's Land and Waiting For Godot (Patrick Stewart, Ian McKellan). TV: "Law & Order SVU," "The Americans," "Criminal Intent." Film: The Greatest Showman, Van Helsing, The Wilderness. Concerts with NY Philharmonic, San Francisco and New World Symphonies. Shuler awarded "Stage Performance of the Year" in recognition of his work in Playwrights Horizons The Whale.
TERENCE KEELEY (Diarmaid Corcoran). Training: Guildhall School of Music and Drama. Theatre: The Ferryman (West End); Macbeth (Shakespeare's Globe); Beauty Queen of Leenane (Young Vic); This Is My Family (Sheffield Theatres/UK Tour); Philadelphia, Here I Come!; The Nativity What The Donkey Saw (Lyric, Belfast); 25th Annual Putnam County Spelling Bee, Under The Hawthorne Tree (MAC Theatre, Belfast); Titanic Boys (Grand Opera House); Othello (Irish Tour). TV: Titanic Blood and Steel, Frankenstein Chronicles, Derry Girls, Eastenders. Film: 71, Puckoon, The Music Room.
COLLIN KELLY-SORDELET (James Joseph "JJ" Carney). Excited to be joining the cast of The Ferryman, this is his second Broadway credit following Sting's musical The Last Ship, for which he won a Theater World Award and was nominated for a Clive Barnes Award. Off-Broadway: Somebody's Daughter (Second Stage). Film/TV: Radium Girls (Cine Mosaic), Wildling (IFC), "The Path" (Hulu), "Blue Bloods" (CBS).
ANN McDONOUGH (Aunt Patricia Carney). Lincoln Center: Admissions, Dinner at 8, Abe Lincoln in Illinois. Regional: A Doll's House Part 2 (George Street Playhouse); John (ACT in San Francisco); City of Conversation (Arena Stage in Washington, D.C.); eleven productions at The Long Wharf Theater; seven plays by A.R. Gurney, including the premiere of The Dining Room at Playwrights' Horizons. Other premieres: Uncommon Women and Others, Sister Mary Ignatius Explains it All For You. Film: Moonstruck, Six Degrees of Separation. TV: "All My Children," "Law and Order," "The Last O.G."
JULIA NIGHTINGALE (Shena Carney). Broadway debut! Theatre: World Premiere of Because of Winn Dixie, Generation Me (NYMF), Bridges of Madison County. Film: Misty Button. Instagram: @julianightingale
GRAHAM WINTON (Frank Magennis, u/s Quinn Carney). Broadway: Cyrano, A Man For All Seasons, The Tempest, Two Shakespearean Actors. Off-Broadway: NYSF - 10 productions including Twelfth Night, Winter's Tale, Henry VI. TFANA - 10 productions including Lear, Macbeth, Othello. CSC - Hamlet, Richard II, Richard III. Regional: Arena, Guthrie, Yale, Long Wharf, Hartford, Shakespeare D.C., NJSF, Syracuse. TV: "The Americans," "VEEP," "Public Morals," "Black List," "Elementary," "Blue Bloods," "Good Wife," "Louie," all "Law & Order"s, "Bull," "Swift Justice," "NY Undercover." Film: Life Itself, My Sassy Girl, Gettysburg, Blonde Fist.