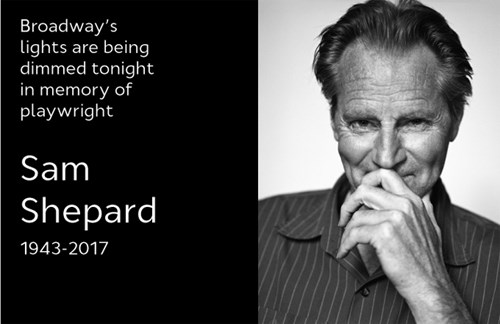 MOURNING AS A COMMUNITY…
WITH DIGITAL SIGNAGE


­­­­­­
BROADWAY BRIEFING PRO
The Shubert Organization
August 3, 2017
Last night, as it's done so many times before, Broadway dimmed its lights to honor and mourn one of its own. This time, it was veteran playwright and actor Sam Shepard, who passed away on Sunday at the age of 73.
It's a special honor, reserved for people who've made an undeniable impact on the American theatre, dating back to at least 1952 (Gertrude Lawrence, by the way). And although the tradition has endured and grown over the years, "dimming" these days has taken on a much brighter meaning.
When Shubert installed its first digital marquee at the Music Box theatre in 2012, everyone thought the sign would be used just as any other marquee, albeit with a lot more capability. But when James Gandolfini passed away in June 2013, we found we had a new way to honor our friend and help us express our grief.
We discovered that the digital tribute not only amplified the impact of the dimming, it also helped to inform people on the street that Broadway was honoring the memory of someone special. Since then, digital signage has become a large part of Broadway's mourning process, helping the community come together and pay tribute to those who've made our industry what it is today.
Now, four years later, Shubert has digital marquees or signs on three theatres, plus billboards on 44th Street and in Shubert Alley. When Broadway dims its lights these days, people gather on 44th and 45th Streets to view the digital tribute, share stories with friends, take photos, and be a part of the Broadway community.
It's something that—like Broadway itself—can only be experienced live.

Broadway Briefing brings you a daily, curated roundup of top news headlines, box office reports, opening and closing announcements, and much more at a glance. There's even a daily planner so that you know which readings, concerts, and productions are playing around town. Get Broadway Briefing in the morning...and set the stage for a successful day.