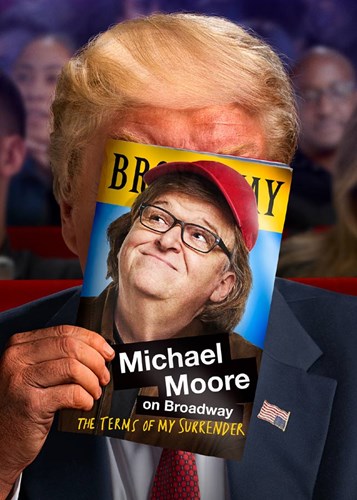 Michael Moore Makes his Broadway Debut
in
THE TERMS OF MY SURRENDER
In a time like no other in American history, and with a sense of urgency like never before, Michael Moore comes to Broadway for the first time in an exhilarating, subversive one-man show guaranteed to take audiences on a ride through the United States of Insanity, explaining once and for all how the f we got here, and where best to dine before crossing over the mountains with the Von Trapp family into Canada.

To unseat a president, it will take an act of Broadway.

Michael Moore, the Academy Award®-winning filmmaker behind Bowling for Columbine and Fahrenheit 9/11, brings his unrivaled powers of provocation and satire to the stage for the first time in The Terms of My Surrender, a world premiere one-man play directed by Tony® winner Michael Mayer (Spring Awakening, Hedwig and the Angry Inch). Featuring a set by Tony winner David Rockwell (Falsettos, She Loves Me), lighting design by four-time Tony winner Kevin Adams (Hedwig and the Angry Inch, American Idiot), sound design by two-time Tony winner Brian Ronan (The Book of Mormon, Beautiful: The Carole King Musical), and costumes by Tony nominee Jeff Mahshie (She Loves Me, Next to Normal), this exhilarating, urgent show is a hysterical theatrical coup d'etat that takes the utter lunacy of our times and turns it into a subversive piece of theater. Don't miss this unprecedented live event from one of America's most incisive and hilarious voices. After all, who better to answer the burning questions of the Trumpian era than the man who saw it all coming and tried to warn us?