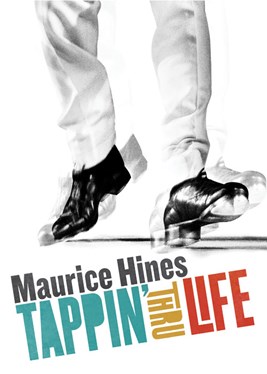 Maurice Hines
TAPPIN' THRU LIFE
A Song and Dance Musical
Directed by Jeff Calhoun

He's going to put a smile on your face and song in your heart.

Maurice Hines Tappin' Thru Life is a swinging, song and dance musical that celebrates the astonishing showmanship of one of the last great tap dancers of a bygone era still working today and whose collaborators were a jaw-dropping, who's who of theatre, music, film and television. Co-starring the fierce tap dancing Manzari brothers and the all female vivacious Diva Jazz Orchestra, the show is directed by Jeff Calhoun (Newsies, Deaf West's Big River, Grease). Performances begin Wednesday, December 23rd at New World Stages (340 W. 50th Street), and opening night is Monday, January 11th.

Maurice began working when he was five years old and his brother Gregory was three. He shares funny and heartbreaking experiences about his life with Ella Fitzgerald, Frank Sinatra, Duke Ellington, Lena Horne, Judy Garland and many others. The show is a tribute to his loving family, both on stage and off. "My interest is in the today and tomorrow of life and popular culture. I love discovering and mentoring new talent as well as performing and telling stories about the greats,"
said Hines.

Maurice Hines Tappin' Thru Life has set design by Tobin Ost (Newsies, Jekyll and Hyde), sound design by Michael Hahn (Two Gentleman of Verona, Hamlet), lighting design by Michael Gilliam (Bonnie and Clyde, Brooklyn), and projection design by
Darrel Maloney (Allegiance, On Your Feet!).

Co-starring in the show are two of Maurice's discoveries, John and Leo Manzari, a pair of tap dancing siblings reminiscent of a young Maurice and his brother Gregory. The Diva Jazz Orchestra is led by drummer Sherrie Maricle.

BIOGRAPHIES:
MAURICE HINES Star of stage, screen, and television, Maurice Hines commenced his acclaimed career at the age of five, studying tap at the Henry LeTang Dance Studio in New York City. Mr. LeTang recognized his extraordinary talents and was soon choreographing numbers specifically for Maurice and his brother Gregory. Soon the brothers were appearing on  Broadway and touring as the opening act for such headliners as Lionel Hampton and Gypsy Rose Lee.Their father then joined the act and shortly thereafter, "Hines, Hines, & Dad" was performing to rave reviews in New York, Las Vegas and Europe. Mr. Hines has made 35 appearances on "The Tonight Show" with Johnny Carson.

Mr. Hines pursued a solo career and success soon followed when he was chosen to star as Nathan Detroit in the National Touring Company of Guys and Dolls. After his thrilling performance, Broadway beckoned, and Mr. Hines created a sensation during the 1978-79 season with his singing and dancing in the hit musical Eubie! He followed this performance with celebrated roles co-starring in Bring Back Birdie with Chita Rivera and Donald O'Connor and starring in Charles Randolph Wright's Sophisticated Ladies.

Next, Mr. Hines made his big screen debut in Francis Ford Coppola's "The Cotton Club." As the film hit theaters across the country, so did Ballet USA, a dance company created by Mr. Hines and Mercedes Ellington. Mr. Hines then conceived, directed, and choreographed the musical Uptown…It's Hot! which played for 17 sold-out weeks in Atlantic City. He joined the cast when the show moved to Broadway and received a 1986 Tony Award nomination as Best Actor in a Musical. He followed this achievement by codirecting and choreographing the National Tour of the musical Satchmo produced by Kenneth Feld. As one of the few stars who truly loves the road, Mr. Hines then directed, choreographed and starred in the National Tour of the musical Harlem Suite with successive leading ladies Jennifer Holliday, Stephanie Mills and Melba Moore.

Mr. Hines turned his attention to direction and choreographing music videos, including "I'll Be Good To You", the first release off of Quincy Jones' "Back On The Block" album. Mr. Hines has directed The Radio City Spectacular (the first African-American director for Radio City Music Hall). In the 1994-1995 season, Mr. Hines starred as Jelly Roll Morton in the forty city first-class National Tour of the musical Jelly's Last Jam.

In 2006, Mr. Hines, collaborating with Maurice White, choreographed and directed the Hip-Hop Broadway musical Hot Feet featuring the music of Earth, Wind, and Fire. Mr. Hines's latest album on Arbor Records, "To Nat 'King' Cole, With Love", was released to critical acclaim. Recently, Mr. Hines choreographed productions of Hairspray in Santo Domingo, Sophisticated Ladies at The Lincoln Theatre, as well as a new show called Dance, Dance, Dance, Snap. Mr. Hines is the recipient of the Helen Hayes Award for Outstanding Choreography for Cool Papa's Party at MetroStage.

JEFF CALHOUN (Director) Working with Maurice is extra special because Jeff began his career as a tap dancer, working with Tommy Tune, Ann Miller, Ken Berry, Arthur Duncan, and the Nicholas brothers. The highlight of Jeff's performing career was tap dancing with the legendary Charles "Honi" Coles on Broadway in My One and Only. Directing credits include: Disney's Newsies (for which he earned a Tony Award nomination for Best Director), Bonnie & Clyde, Jekyll & Hyde, Grey Gardens, Deaf West's Big River, Brooklyn, Annie Get Your Gun, Grease (Tony Award Nomination for Best Choreography), Tommy Tune
Tonite, and The Will Rogers Follies. On tour and internationally, Jeff directed Dolly Parton's 9 to 5 and Disney's High School Musicals 1 & 2. Jeff loves to hear your thoughts on Twitter at @thejeffcalhoun.

DIVA JAZZ ORCHETSRA (music) attracts multi-generational audiences, offering everything from jazz standards, swing and pop music, to classical standards rewritten for modern times. The band's music is fresh and soulful —transporting audiences who  cannot help but "swing" into their unique and vibrant world. DIVA is a powerful blend of musical genius and bold personalities

The band, based in New York City, is led by the extraordinarily talented drummer, Dr. Sherrie Maricle, jazz artist, composer, teacher and music director. Drawing on a broad range of experiences, DIVA's brilliant band members compose and play different genres of music; many play several instruments, and all bring an unbridled, compelling energy to their performances. Arrangements are written exclusively for DIVA by band members or prestigious composers and comprise a library of more than 400 songs.

DIVA has recorded over 12 albums, including the critically-acclaimed Johnny Mandel: The Man and his Music, recorded live at Dizzy's Club Coca-Cola and conducted by Mandel himself. Other DIVA recordings include Live From Jazz at Lincoln Center's Dizzy's Club Coca- Cola, featuring vocalist Carmen Bradford (2008); TNT — Tommy Newsom Tribute, a compilation of charts the late Mr. Newsom arranged exclusively for DIVA (2005); Live in Concert (2002); I Believe in You (1999); Leave It To DIVA (1997); and Something's Coming (1995). Visit the "Sounds" page for track lists and audio samples.

DIVA has enjoyed International appearances at Le Meridien Hotel in Paris, France; Teatro de Sistina in Rome, Italy; the Berlin Jazz Festival in Germany; Salzburg Music Festival in Austria; Bern Jazz Festival in Switzerland; Montreal and Ottawa  International Jazz Festivals in Canada; Bogota International Jazz Festival in Colombia; Jamaica Jazz Festival; Zagreb Jazz Festival in Croatia; and the Pori Jazz Festival in Finland. They've played the National Anthem at Yankee Stadium and have been featured many times on CNN Art's Break and on CBS Sunday Morning with Charles Osgood, and been honored by the Songwriters Hall of Fame with James Brown, James Taylor, and John Denver.