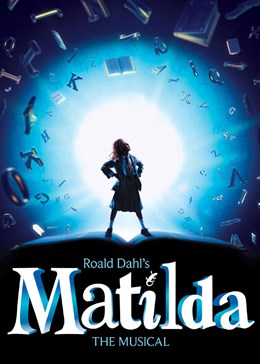 MATILDA THE MUSICAL
TO CLOSE ON JANUARY 1, 2017
IN ITS FOURTH YEAR ON BROADWAY
AFTER OVER 1,500 PERFORMANCES AT THE SHUBERT THEATRE
The Tony Award® winning MATILDA THE MUSICAL will close on January 1, 2017. By then, it will have played 37 previews, 1,555 regular performances, and one Actors Fund performance. The production opened on April 11, 2013 (previews began March 4) at the Shubert Theatre (225 West 44th Street). MATILDA THE MUSICAL has paid back its $16 million investment on Broadway, making the show a rare hit simultaneously on Broadway and in London's West End.
Produced by the Royal Shakespeare Company and The Dodgers, MATILDA THE MUSICAL opened to rapturous reviews. Celebrated on 10 "Top Ten" lists of 2013, the production received four Tony Awards® and a Tony® Honor for Excellence in the Theater for each of the four girls who shared the title role, as well as two Outer Critics Circle Awards, five Drama Desk Awards including Best Musical, and the New York Drama Critics Circle Award for Best Musical.
In a joint statement, the RSC and The Dodgers said, "Everything that is so special about this show has been celebrated by one and a half million audience members at over twelve hundred performances, making its Tony Award-winning run at the Shubert not only a profitable hit but also a critical success. For that invaluable gift, we thank the extraordinarily talented cast, crew, stage management, associate and resident support teams, theatre staff, all the marketing and production teams who run and support the show so well, and our nineteen Matildas who, even though they are little, have done quite a lot."
The ongoing London production of MATILDA THE MUSICAL received seven 2012 Laurence Olivier Awards, including Best New Musical, securing its place in the Guinness Book of World records for Most Olivier Award wins by any musical, ever.
MATILDA THE MUSICAL is currently the 76th longest running musical in Broadway history.
MATILDA THE MUSICAL made its Australian Premiere at Sydney Lyric Theatre on August 20, 2015 and continues in Melbourne. The North American Tour commenced in May 2015, and has included stops in New Haven, Los Angeles, San Francisco, Seattle, Dallas, Chicago and Washington DC, among others in its first season. The current tour schedule can be found here: http://us.matildathemusical.com/tour/.
The original Broadway cast recording is produced by Broadway Records/Yellow Sound Label and is available digitally and at the Shubert Theatre. It can be ordered at www.BroadwayRecords.com.
The four girls sharing the title role are Mattea Conforti, Rileigh McDonald, MiMi Ryder and Alexandra Vlachos. The principal cast also features Natalie Venetia Belcon (Mrs. Phelps), Rick Holmes (Mr. Wormwood), Alison Case (Miss Honey), Amy Spanger (Mrs. Wormwood), and Christopher Sieber (Miss Trunchbull).
MATILDA THE MUSICAL is based on the beloved novel by best-selling author Roald Dahl (Charlie and the Chocolate Factory, Fantastic Mr. Fox). MATILDA THE MUSICAL is the story of an extraordinary girl who, armed with a vivid imagination and a sharp mind, dares to take a stand and change her own destiny.
MATILDA THE MUSICAL is directed by Tony Award® winner Matthew Warchus, with a Tony Award®-winning book by playwright Dennis Kelly and music and lyrics by Australian comedian, musician and composer Tim Minchin.
The production has costumes and Tony Award®-winning sets by Rob Howell, with choreography by Tony Award® winner Peter Darling, orchestrations, additional music and musical supervision by Christopher Nightingale, Tony Award®-winning lighting by Hugh Vanstone, and sound by Simon Baker.
Read what critics have said about MATILDA THE MUSICAL:

"Matilda exists entirely on its own terms, to serve and to celebrate the story, without the hard-sell tactics that are usually a musical's lifeblood. In the first act Matilda sings, "If you're stuck in your story and want to get out/ You don't have to cry and you don't have to shout." You just have to use your imagination and think everything through carefully, so it's all of a piece. That's what the creators of Matilda have done. Such strategy should be obvious. But in the current landscape of Broadway it's applied rarely enough to make this show feel truly revolutionary." – Ben Brantley, New York Times
"You have to go back to The Lion King to find a show with as much invention, spirit and genre-redefining verve. After plugging through years of slick but workmanlike musicals, crowd-pleasing song cycles and formulaic spirit-lifters, Matilda seems to clear away the deadwood and announce a fresh start for the Broadway musical." – Richard Zoglin, TIME Magazine
"The makers of Matilda have done the impossible—triumphantly. They've taken Roald Dahl's popular children's novel and turned it into a big-budget musical that is true enough to the book to satisfy its youthful readers, yet sophisticated enough to delight childless adults who normally wouldn't be caught dead partaking of such kid stuff. It's smart, sweet, zany and stupendous fun." – Terry Teachout, Wall Street Journal
"The capacity for constant surprise, and an almost overwhelming sense of wonder at the magic of storytelling – and by extension, stagecraft – are central to the experience of this dazzlingly inventive musical. Capturing the unique flavor of Roald Dahl's classic 1988 children's novel, this funhouse fairy tale is by turns riotous and poignant, grotesque and menacing, its campy comic exaggeration equaled only by its transporting emotional power." – David Rooney, Hollywood Reporter