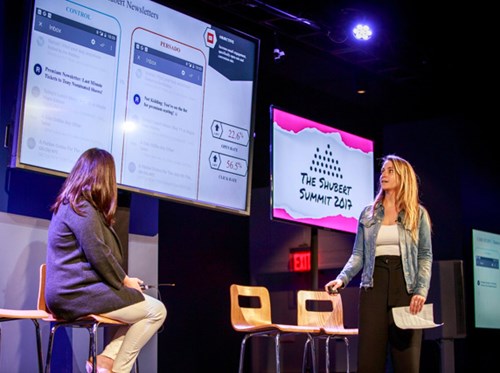 Marketing Innovation From The Shubert Summit 2017
Broadway Briefing Pro
The Shubert Organization
September 21, 2017
This past Monday, members of the Broadway industry joined the Shubert Organization at its annual Summit, held at the not-yet-open National Geographic Encounter: Ocean Odyssey in Times Square.
At the Summit, the Shubert marketing and interactive teams—along with integrated technology partners—discussed new initiatives and products designed to help Broadway shows market themselves more efficiently, use ticket buyer data in smarter ways, and provide a better shopping and theatergoing experience. Afterwards, guests were treated to a cocktail reception and sneak peek at the almost completed Nat Geo experience.
One of the major themes at the Summit was how machine learning and business intelligence can help supercharge marketing, particularly email campaigns. Persado, a product that Shubert has recently incorporated into its own email marketing, learns which subject line content engages with customers the most and can adjust on-the-fly to increase open rates and conversions.
By speed-testing various subject lines that cater to various emotions—anxiety, luck, exclusivity, achievement, etc.—Persado can quickly learn which content generates the most action from potential customers. Persado then retains this learning and continues to improve over time, powering further customer engagement down the road.
Available for show partners to use for free on their email campaigns, optimization on subject lines has already been successful in generating a 9% lift in open rates for Telecharge-branded newsletters and institutional emails.
Find out more about the topics covered at the Shubert Summit 2017 over the next few weeks, including additional machine learning and digital innovations, new in-theatre experiences, and how distribution powers Broadway.
Broadway Briefing brings you a daily, curated roundup of top news headlines, box office reports, opening and closing announcements, and much more at a glance. There's even a daily planner so that you know which readings, concerts, and productions are playing around town. Get Broadway Briefing in the morning...and set the stage for a successful day.

www.broadwaybriefing.com