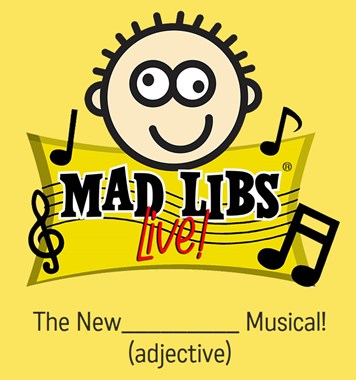 MAD LIBS® LIVE! MAKES ITS WORLD PREMIERE NOVEMBER 1, 2015

CRITICALLY ACCLAIMED PLAYWRIGHT ROBIN ROTHSTEIN & AWARD-WINNING COMPOSER JEFF THOMSON DEBUT INTERACTIVE
FAMILY MUSICAL AT NEW WORLD STAGES FOR LIMITED RUN
Book Writer/Lyricist, Robin Rothstein (Samuel French Short Play Festival Winner) and Composer Jeff Thomson's (Trails) new, interactive family musical, MAD LIBS LIVE! based on the classic fill-in-the-blank word game Mad Libs, comes to New World Stages for a limited engagement beginning November 1, 2015.

With a script and songs full of blanks that are hilariously filled in by audience members and an infectious pop score, MAD LIBS LIVE! fully embraces the anything-can-happen spirit of Mad Libs, and is the perfect musical for audiences 7 and up who want to stop being serious and start getting goofy!

In MAD LIBS LIVE! Virtuosa, Gogo, Geyser, and Merrily, four teenagers from Blankville Central High School with little in common, come together to form a singing group to try and win the title, "Teen Superstars!" MAD LIBS LIVE! is set during the live, televised competition when the teens realize that the songs they are about to sing have words missing. Thank goodness these discombobulated kids have The Audience there to help them fill in the blanks!

But...will this be enough to help them win the competition?

"When I was introduced to Mad Libs co-creator Leonard Stern some years ago, it was like meeting a rock star! While developing MAD LIBS LIVE!, my collaborator, Jeff Thomson and I worked hard to make sure that, while the show is first and foremost entertaining and interactive, it's also educational and inspiring," said Rothstein. "My hope for MAD LIBS LIVE! is that kids feel a sense of joy and empowerment that stays with them after they leave the theater. Or, as one kid said after our workshop – when one of the characters picked her word during the show and said it in front of the audience, it made her feel bigger. If MAD LIBS LIVE! makes lots and lots of kids feel bigger, we've done our job."

"Everyone at Penguin is so excited to see MAD LIBS LIVE! The show is hysterical and really captures the essence of Mad Libs. It's going to make everyone who sees it feel like the funniest person in the room," said Francesco Sedita, President & Publisher of Price Stern Sloan, an imprint of Penguin Young Readers Group.

Mad Libs was created by comedy writers Leonard Stern and Roger Price as an inventive and unpredictable game they played with their friends at parties. In 1958, the legendary talk show host Steve Allen used Mad Libs to hilariously introduce guests. Three days later, stores across the country had completely sold out of Mad Libs, and a star was born. Mad Libs has since become the world's most popular word game, with over 125 million Mad Libs in print and more than 7 million downloads of the mobile app.

The New York production will feature direction by Austin Regan (Drama League Directors Project Fellow), choreography by Robin Levine (The Addams Family, All Shook Up – Cortland Repertory Theatre), scenic and prop design by Julia Noulin-Merat (Rocky Horror Show – Hangar Theatre), musical supervision by Aaron Jodoin (Broadway: Kinky Boots, First Date, Side Show) and costume design by Tony Award nominated, Bobby Pearce (Taboo).

MAD LIBS LIVE! is produced by Ava, Max and Peter Cane with Robin Rothstein. General Manager, Kevin Duda Productions.

Penguin Young Readers is one of the leading children's book publishers in the United States. The company owns a wide range of imprints and trademarks including Dial Books, Dutton, Grosset & Dunlap, Philomel, Puffin, Speak, Firebird, G. P. Putnam's Sons, Viking, Razorbill, and Frederick Warne. These imprints are home to such award-winning, New York Times- bestselling authors as Laurie Halse Anderson, Jay Asher, Judy Blume, Jan Brett, Eric Carle, Ally Condie, Roald Dahl, Tomie dePaola, Sarah Dessen, Anna Dewdney, John Flanagan, Gayle Forman John Green, Oliver Jeffers, Mike Lupica, Richelle Mead, B.J. Novak, Richard Peck, Judy Schachner, Jacqueline Woodson and dozens of other popular authors. Penguin Young Readers Group is also the proud publisher of perennial brand franchises such as The Little Engine That Could, the Nancy Drew and Hardy Boys series, Peter Rabbit, Spot, the Classic Winnie the Pooh, The Very Hungry Caterpillar, Strega Nona, Madeline, Mad Libs, Alex Rider, the Rangers Apprentice, Skippyjon Jones, Flower Fairies, and Pippi Longstocking, among many others. Penguin Young Readers Group is a division of Penguin Group LLC, a Penguin Random House company.
Show Schedule