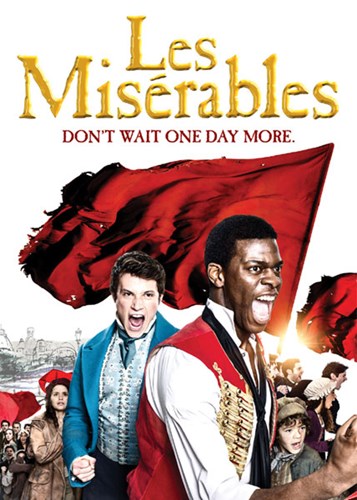 The One & Only Production of
Les Misérables Currently Performing In North America
Ends Its Acclaimed Broadway Return
 September 4 at The Imperial Theater
 
Starring Two of the Greatest Valjeans Of All-Time:
Alfie Boe Through Feb 28
And John Owen-Jones Beginning March 1
Cameron Mackintosh announced today that his current production of Claude-Michel Schönberg & Alain Boublil's legendary musical LES MISÉRABLES will end its acclaimed run on Sunday, September 4, 2016 at the Imperial Theater (239 West 45th Street).  The current Broadway version of LES MISÉRABLES is the only production of the musical currently playing in North America and stars Alfie Boe, the acclaimed star of the London 25th Anniversary Concert, as Jean Valjean through February 28.  John Owen-Jones, who is currently starring as The Phantom in Mackintosh's London production of The Phantom of the Opera, and has played Valjean both on Broadway (in 2007) and in London, will succeed Boe in the role beginning March 1 for the duration of the show's Broadway run.  This new production of the musical will have given 1,026 performances over two-and-a-half years.  In total, since the 1987 opening of the original production, LES MISÉRABLES will have played 8,202 performances on Broadway. 
Said Cameron Mackintosh, "I am delighted that Broadway audiences have so enthusiastically embraced LES MISÉRABLES in its Broadway return.  We made the decision last yearto have a hiatus on all North American licensing of the show until 2017, so that Broadway would be the one and only place to see this magnificent new version of Boublil & Schonberg's classic musical, and for one last holiday season.  And having two of the best Valjeans of all-time – Alfie Boe followed by John Owen-Jones – could not be a better way for the show to finish off its final months on Broadway."
After training at London's Central School of Speech and Drama, John Owen-Jones, at 26, became the youngest actor ever to play the role of Jean Valjean in the West End production of LES MISÉRABLES. He is one of a handful of actors to have played the role of Valjean both in the West End and on Broadway (in 2007).  John was chosen by Cameron Mackintosh to reprise the role for world premiere of the 25th Anniversary new production of LES MISÉRABLES in its UK tour in 2010 (the basis for the current Broadway production).   John was also part of the Valjean quartet featured in the finale of the Les Misérables 25th Anniversary Concert at the O2 Arena, London.   John comes to Les Miz directly from starring in the original London production of The Phantom of the Opera, where he is the longest-running Phantom in The Phantom of the Opera with nearly 2,000 performances in the role.  He was asked to reinterpret the role in the Cameron Mackintosh's new production of the musical for its 25th anniversary UK tour in 2012, making him the only actor to have the opportunity to reinvent Valjean and The Phantom - two of the greatest rolesin musical theatre history.  He has performed as a soloist in concerts around the world from Bangor to Bangkok.  John has released four albums. The independently released 'Hallelujah' (2006) and on the Sain label 'John Owen-Jones' (2009) and 'Unmasked' (2011). His latest album 'Rise' was released on March 2.
The cast of LES MISÉRABLES currently stars Alfie Boe, the internationally-acclaimed tenor (and star of the London LES MIZ 25th Anniversary concert) as Jean Valjean, Will Swenson as Javert (subbing for Earl Carpenter), Tony Award nominee Montego Glover as Fantine, Tony Award and Olivier Award nominee Gavin Lee as Thenardier, Rachel Izen as Madame Thenardier, Brennyn Lark as Eponine, Chris McCarrell as Marius, Alex Finke as Cosette and Wallace Smith as Enjolras.   Hayden Tee from the Australian production assumes the role of Javert January 29.
Now in its second year on Broadway, this newly-reimagined production of LES MISÉRABLES opened on Broadway March 23, 2014 to critical acclaim.  The Associated Press raved, "A glorious LES MISÉRABLES!  This terrific new production is beautifully sung and acted."  NY 1 said, "LES MISÉRABLES is born again.  This is as close to perfection as we'll ever get in the theater." And The Huffington Post proclaimed, "This is a LES MISÉRABLES for the 21st century!  It stirs the audience and rocks the rafters."  
Based on Victor Hugo's classic novel, LES MISÉRABLES is an epic and uplifting story about the survival of the human spirit.  The magnificent score includes the classic songs "I Dreamed a Dream," "On My Own," "Stars," "Bring Him Home," "Do You Hear the People Sing?," "One Day More," "Empty Chairs at Empty Tables," "Master Of The House" and many more.
Cameron Mackintosh's production of LES MISÉRABLES is written by Alain Boublil and Claude-Michel Schönberg and is based on the novel by Victor Hugo. It has music by Claude-Michel Schönberg, lyrics by Herbert Kretzmer and original French text by Alain Boublil and Jean-Marc Natel, original adaption by Trevor Nunn and John Caird and additional material by James Fenton. The original LES MISÉRABLES orchestrations are by John Cameron with new orchestrations by Christopher Jahnke, Stephen Metcalfe and Stephen Brooker. 
The new production is directed by Laurence Connor and James Powell, with set and image design by Matt Kinley inspired by the paintings of Victor Hugo, costumes by Andreane Neofitou and Christine Rowland, lighting by Paule Constable, sound by Mick Potter and projections realized by Fifty-Nine Productions.  Musical staging is by Michael Ashcroft and Geoffrey Garratt.  Musical supervision is by Stephen Brooker and musical direction by James Lowe.
While the original London production of LES MISÉRABLES just celebrated its record-breaking 30th Anniversary on October 8th, the new version of the show is playing in Australia and South Korea and will open early next year in an Asian tour playing in Manila and Singapore.   A new American tour will launch in 2017.
The original New York production of LES MISÉRABLESpremiered first at the Broadway Theatre on March 12, 1987, later moving to the Imperial on October 17, 1990, where it played until May 18, 2003, for a total Broadway run of 6680 performances.   LES MISÉRABLES is the 5th longest-running Broadway production of all time.
Seen by 70 million people worldwide in 43 countries and in 22 languages, LES MISÉRABLES is undisputedly one of the world's most popular musicals ever written, with new productions continually opening around the globe.  The worldwide gross for LES MISÉRABLES is $2.5 billion. The 2012 Universal film version of LES MISÉRABLES co-produced by Cameron Mackintosh and Working Title Films, is one of the most successful musical films ever, grossing more than $450 million.  The film received the Golden Globe Award as Best Picture (Musical/Comedy) and received eight Academy Award nominations, including Best Picture, and won three Academy Awards.  The film's soundtrack debuted at #1 on Billboard's Album chart and has sold over 2 million copies worldwide.  
There have been 47 cast recordings of LES MISÉRABLES, including the multi-platinum London cast recording, the Grammy Award-winning Broadway cast and complete symphonic albums and live recording of the New 25th Anniversary Production.