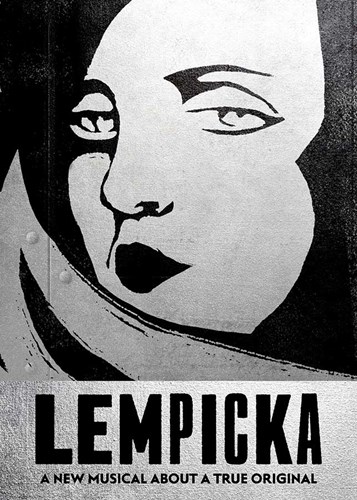 " L E M P I C K A "
THE SWEEPING NEW MUSICAL
ABOUT THE ICONIC PAINTER TAMARA DE LEMPICKA TO OPEN ON BROADWAY THIS SPRING

FEATURING BROADWAY STAR
EDEN ESPINOSA
AS TAMARA DE LEMPICKA
New York, NY (October 30, 2023) – Producers Seaview and Jenny Niederhoffer announced today that Lempicka, the sweeping new musical portrait celebrating the gripping true story of renowned artist Tamara de Lempicka, will open on Broadway this spring at the Longacre Theatre (220 W 48th St). Eden Espinosa, who originated the titular role in critically acclaimed performances at Williamstown Theatre Festival and La Jolla Playhouse, will star in the production. Performances begin on Tuesday, March 19, 2024 ahead of an official opening night on Sunday, April 14, 2024. Tickets are now on sale at Telecharge.com.

Directed by Tony Award winner Rachel Chavkin, Lempicka features book, lyrics, and original concept by Carson Kreitzer, book and music by Matt Gould, and choreography by Raja Feather Kelly.

Spanning decades of political and personal turmoil and told through a thrilling, pop- infused score, Lempicka boldly explores the contradictions of a world in crisis, a woman ahead of her era, and an artist whose time has finally come.

Marisa de Lempicka, President of Tamara de Lempicka Estate, LLC stated, "When I first saw this show inspired by the life and times of Tamara de Lempicka, my great- grandmother, I got goosebumps and tears in my eyes. The music, the story, the choreography, the set, and the incredibly talented cast, directed by Tony Award winner Rachel Chavkin, were truly moving. We feel so happy and proud that Tamara's art and life story keep inspiring new generations, almost one hundred years later, and that her resilience and iconic creativity are being portrayed in this extraordinary production."

"Tamara de Lempicka's life spanned some of the most consequential eras in modern history, and her deep and complex story is an ideal subject for exactly the kind of show I love to both see and create: one that is simultaneously intimate and epic," stated director Rachel Chavkin. "I think Carson and Matt are visionary storytellers — Carson is an under-recognized leader in the new play field, known for exquisite sparseness and thematic density, and Matt is a wild heart whose music fuses contemporary vibes with classical musical theater…and simply makes your heart swell. How lucky for all of us to have this piece brought to life by a performer as dynamic and brilliant as Eden Espinosa."

When it had its world premiere at Williamstown Theatre Festival (Mandy Greenfield, Artistic Director) in 2018, it quickly became the must-see musical of the summer. The New York Times said, "Is Lempicka the new Evita? A politically tumultuous tale of blond ambition with epic sweep has arrived," and Ben Brantley called the show, "Incandescent! An exciting new work which gives musical theater fans who've been wondering why they don't write dominating parts for women anymore have reason to cheer. Matt Gould's stirring, richly polyphonic music with lyrics by Carson Kreitzer layers voices against each other like lovers between the sheets and Rachel Chavkin is a miracle worker."

Following its world premiere at Williamstown Theatre Festival, the production played at La Jolla Playhouse (Christopher Ashley, Artistic Director) in 2022, where the San Diego Union Tribune called it "an eye-popping and visually ravishing study of a 'baroness with a brush,' studded with gorgeous songs," and called Eden Espinosa's performance "fierce and formidable." The Observer stated, "Tamara de Lempicka should be as well-known to the masses as Picasso, Matisse or Warhol. Perhaps, with a little light shining on her from Broadway, this will mark the year that she is."
 
The creative team for Lempicka includes Tony Award nominee Riccardo Hernández (scenic design), Tony Award winner Paloma Young (costume design), two-time Tony Award winner Bradley King (lighting design), Tony Award winner Peter Hylenski and Justin Stasiw (sound design), Tony Award nominee Peter Nigrini (projection design), Academy Award winner Mia Neal (hair and wig design), Remy Kurs (music supervision), Charity Wicks (music direction), Cian McCarthy (orchestrations), Peter Duchan (creative consultant), and The Telsey Office (casting). Cody Renard Richard serves as the Production Stage Manager.

Wagner Johnson Productions serves as Executive Producers. Additional casting for Lempicka will be announced in the coming weeks.


BIOGRAPHIES

Eden Espinosa (Tamara de Lempicka) is recognized for her critically acclaimed and iconic portrayals of 'Elphaba' in Wicked (Broadway, Los Angeles, and San Francisco), and 'Maureen Johnson' in the closing Broadway company of Rent. Eden's passions also extend to the development of new works, stemming from her early years originating the title role of the now cult favorite Brooklyn the Musical on Broadway to currently starring in Michael John LaChuisa's The Gardens of Anuncia at Lincoln Center. Eden also led the cast of LaChuisa's Rain at the Old Globe before beginning her rich collaboration with Tony Winner Rachel Chavkin and Lempicka. After developing the musical at both The Williamstown Theatre Festival and La Jolla Playhouse, Eden is thrilled to be returning to Broadway to originate her second titular role, as Tamara de Lempicka. Other favorites include: 'Trina' in Falsettos (National Tour), 'Daniela' in In The Heights (Kennedy Center), 'Emma Borden' in Lizzie (Signature), and 'Mary' in Merrily We Roll Along (Huntington). Eden, an in-demand voice over artist, was nominated for an Emmy Award for her work as 'The Queen of Hearts' in Disney's "Alice's Wonderland Bakery". She is also known for her voice work as Cassandra in "Tangled The Series," "Robot Chicken," "MAD TV," "Elena of Avalor," and "Titan Maximum." Eden's albums "Look Around" and "Revelation," her album of original music, can be found on all streaming platforms and available at www.edenespinosa.com. Instagram @edenespinos

Carson Kreitzer (Book, Lyrics, and Original Concept) is a playwright, lyricist, librettist and a Guggenheim, MacDowell, and McKnight Fellow, as well as a Jonathan Larson Grant Recipient. Her plays include: The Love Song of J. Robert Oppenheimer (Rosenthal New Play Prize, Steinberg New Play Citation, and Stavis Award), The Slow Drag (Off Broadway and West End), Behind the Eye (Cincinnati Playhouse), Flesh and the Desert (Workhaus Collective), and Lasso of Truth (NNPN Rolling World Premiere – Marin Theatre Company, Synchronicity, Unicorn Theatre). Upcoming projects include: the climate-crisis plays TIMEBOMB, (developed with A.R.T., Kitchen Theatre Company and The Playwrights Center), and Svalbard, inspired by her time on a ship in the Arctic, exploring the Svalbard Archipelago as part of The Arctic Circle Artist and Scientist Residency Program, as well as Capital Crime!, a play with songs set in Gilded Age New York. She is an Affiliated Writer with The Playwrights' Center, an alumna of New Dramatists, and was the first Playwrights of New York (PoNY) Fellow at the Lark. She has received support from the NEA, TCG, and the Jerome Foundation. Her plays The Love Song of J. Robert Oppenheimer and Self Defense, or death of some salesmen are published with Smith and Kraus, Dramatic Publishing and Playscripts and the plays Self Defense, Oppenheimer, 1:23, and Slither are available from NoPassport Press. She received her B.A. from Yale University, and MFA from Michener Center for Writers at the University of Texas, Austin.

Matt Gould (Book and Music) composed the music and co-wrote the book for Lempicka, opening on Broadway in Spring 2024 under the direction of Tony Winner Rachel Chavkin. His original musical TV series, "Insignificant," is currently being developed by MGM Studios with Eric Tuchman ("Handmaid's Tale") attached to executive produce. His musical Witness Uganda had its LA premiere at the Wallis, NY premier at Second Stage Theater, and its world premiere at the American Repertory Theater at Harvard. The album of that show was released in February 2022 featuring Grammy winners Cynthia Erivo and Ledisi along with Griffin Matthews. A film adaptation is currently in development. Matt is a two-time recipient of the Richard Rodgers Award from the American Academy of Arts and Letters, The Jonathan Larson Award, and ASCAP's Dean Kay, Harold Adamson, and Richard Rodgers Awards. Other works include The Family Project for LA's Center Theatre Group and Twilight in Manchego (Directed by Billy Porter for the NYMF). Gould has written and arranged music for theaters around the country, and translated, adapted and directed Romeo and Juliet in Pulaar (Mauritania, West Africa.) A graduate of Boston University's College of Fine Arts, Matt is a frequent speaker and guest lecturer at schools and Universities. @FakeMattGould


Raja Feather Kelly (Choreographer) is a choreographer and director, and the Artistic Director of the feath3r theory (TF3T), a Brooklyn-based dance-theatre-media company that he founded in 2009. Over the past decade, he has created 18 evening- length works with the feath3r theory to critical acclaim, most recently Wednesday (New York Live Arts), and the Ugly trilogy (Bushwick Starr, New York Live Arts, and ImPulsTanz/Chelsea Factory). TF3T's forthcoming work, The Absolute Future, will premiere in 2024. His most recent choreography: White Girl in Danger at the Second Stage Kiser Theater (2023), written by Michael R. Jackson and directed by Lileana Blain-Cruz. He choreographed the Tony Award-winning Broadway musical A Strange Loop (Lyceum Theatre, premiered off-Broadway at Playwrights Horizon) and Fairview (Soho Rep, Berkeley Rep, TFANA), both winners of the Pulitzer Prize for Drama. He was hailed by The New York Times as the choreographer who "can make your play move" for his extensive work Off-Broadway. Recent credits include Bunny Bunny (UC San Diego–the first production outside of TF3T for which he was the writer, director, and choreographer), We're Gonna Die (Second Stage Theater–his directorial debut), SUFFS (The Public Theater), and Lempicka (La Jolla Playhouse). Frequent collaborators include Lileana Blain- Cruz, Branden Jacobs-Jenkins, Sarah Benson, and Michael R. Jackson. Other theatre credits include choreography for, The Good Swimmer (BAM), and The Listeners (Oslo Opera), Macbeth In Stride (ACT, STC, PTC), and upcoming
is Teeth at Playwrights Horizons, and The FIres written and directed by Raja at Soho Rep. He has received dozens of awards, fellowships and honors including a Princeton Arts Fellowship (2023-2025), a Mellon Foundation grant (2021), an Obie Award and Outer Critics Circle Award honor for choreography for A Strange Loop (2020), an inaugural Jerome Hill Artist Fellowship (2019-2021), a Randjelović/Stryker Resident Commissioned Artist at New York Live Arts (2019– 2020), a National Dance Project Production Grant (2019–2021), a New York Dance Performance Bessie Award (2009), a Creative Capital Award (2019), three Princess Grace Awards (2017-2019), a National Dance Project Production Grant (2019), a Breakout Award from the Stage Directors and Choreographers Foundation (2018), Dance Magazine's inaugural Harkness Promise Award (2018), a Creator-in- Residence at Kickstarter (2018), and a Choreography Fellowship at the Center for Ballet and the Arts at NYU (2017), a Bessie Schonberg Fellowship at The Yard (2017), the Solange MacArthur Award for New Choreography (2016), an ImPulsTanz Festival DanceWEB Scholarship, and a New York Foundation for the Arts Choreography Fellowship (2016). He was featured on the cover of the February 2020 issue of Dance Magazine.

Rachel Chavkin (Director) is a director, sometimes writer (and sometimes funny) artistic director of Brooklyn-based experimental collective, the TEAM (www.theteamplays.org) whose work has been seen all over New York, the U.S., and internationally (including festivals across Europe, Australia and the Hong Kong Arts Festival), and whose consensus-driven writing process was the subject of a feature length documentary by Emmy Winner Paulette Douglas. She's so damned excited about Carson Kreitzer's and Matt Gould's Lempicka making its Broadway debut (following previous productions at Williamstown Theatre Festival, La Jolla Playhouse). She won the Tony Award for her work on Anaïs Mitchell's Hadestown (Broadway, NYTW, National Theatre, London). She is a three-time Obie Winner, and received Tony and Lortel nominations, and a Drama Desk Award for Dave Malloy's Natasha, Pierre & The Great Comet of 1812 (Broadway, Ars Nova, A.R.T.). London: the TEAM's Mission Drift (National Theatre), Arthur Miller's American Clock (Old Vic), the TEAM's RoosevElvis (Royal Court, the Vineyard/COIL Festival). Select New York and regional: John Caswell Jr.'s Scene Partners with Dianne Wiest (Vineyard Theatre), Larissa Fasthorse's The Thanksgiving Play (2ST, 1st play by a known Native American woman on Broadway), Lilianna Padilla's How to Defend Yourself — co- directed w/ Padilla and Steph Paul (NYTW), Marco Ramirez's The Royale (LCT; Obie Award, Drama Desk and Lortel noms.), Bess Wohl's Small Mouth Sounds (Ars Nova and national tour), Edna Ferber and George Kaufman's The Royal Family (Guthrie Theatre) and multiple collaborations with composer Taylor Mac, with indie folk-punk duo The Bengsons, British political performance artist Chris Thorpe, and with composer Heather Christian. Her first short film, Remind Me, was an official selection of the Venice and Beverly Hills Film Festivals. 2017 Smithsonian Award for Ingenuity. Proud NYTW Usual Suspect and Board Member; and Member SDC. Upcoming: Gatsby at A.R.T. with Florence Welch, Thomas Bartlett, and Martyna Majok.

Photo © 2023 Tamara de Lempicka Estate, LLC / ADAGP, Paris / ARS, NY
Special thanks for the loan of the Limited Edition serigraph of Adam and Eve published by DK Art Publishing.