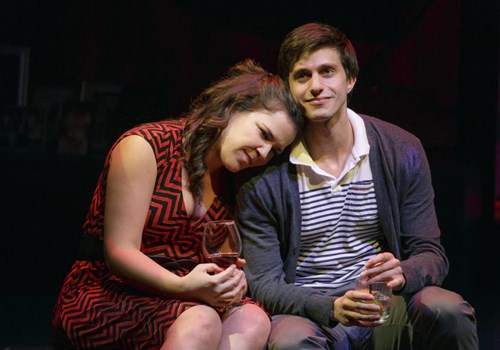 JOSHUA HARMON'S 
SIGNIFICANT OTHER
COMING TO BROADWAY
STAGED BY TRIP CULLMAN

A NEW AMERICAN PLAY COMING TO BROADWAY NEXT FEBRUARY

FOLLOWING A CRITICALLY ACCLAIMED PREMIERE AT ROUNDABOUT THEATRE COMPANY

Meet Jordan Berman.  He's single.  And he has a date with a co-worker to see a documentary about the Franco-Prussian war.  At least, he thinks it's a date.  Significant Other, a new play by Joshua Harmon (Bad Jews), follows Jordan and his three closest friends as they navigate love, friendship and New York in the twenty-something years.
 
Significant Other was a NY Times Critic's Pick when it premiered last summer at Roundabout Theatre Company.   Charles Isherwood, writing in the New York Times, called it "an entirely delightful new play, as richly funny as it is ultimately heart-stirring."  Time Out (Adam Feldman) agreed, noting "as funny as Harmon's breakthrough play Bad Jews, Significant Other is a timely, well-observed, sharp but bittersweet New York comedy; the play's main assets are the keenness of the writing, studded with wry one-liners, and the humanity of the performances."  The New York Observer (Rex Reed) declared:  "Significant Other is for everyone looking for a timeshare in the space we all occupy when life moves faster than we do.  A wonderful play about unrequited love, offered with warmth and without sentimentality.  I doubt if there is anyone who is unable to relate profoundly to the characters in this play and what they go through." The Hollywood Reporter (David Rooney) summed it up as follows:  "A funny-sad, vibrantly contemporary lonely-heart portrait."
 
The Broadway debut of author Joshua Harmon will be complemented by the Broadway debut of rising young director Trip Cullman, who guided the play to its successful off-Broadway engagement.  It is the intention of the producers to assemble the original cast, headed by Gideon Glick, Barbara Barrie, and Lindsay Mendez, as well as the choreographer Sam Pinkleton and design team (Mark Wendland-sets, Kaye Voyce-costumes, Japhy Weideman-lighting, and Daniel Kluger-sound) of the original production.  Performances are slated to begin in mid-February at a Shubert Theatre to be announced, with an opening date scheduled for early March.   
 
Significant Other began at Roundabout Theatre Company following the professional debut and world premiere of Joshua Harmon's play Bad Jews at Roundabout Underground's Black Box in fall 2012.  Bad Jews was the first play to transfer to the Roundabout's Laura Pels Theatre and became the third most produced licensed play last season.  Significant Other becomes Roundabout's second new play to transfer to Broadway following the success of Stephen Karam's Tony Award-winning play, The Humans.