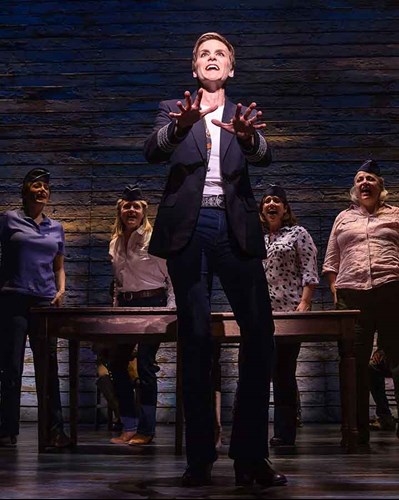 TONY AWARD NOMINEE JENN COLELLA
RETURNS TO THE ROCK
FOR A STRICTLY LIMITED SUMMER ENGAGEMENT
"ALL THEATER IS TIME-BOUND. THERE ARE SHOWS YOU SHOULD SEE AND THIS IS ONE. AND THERE ARE SHOWS YOU SHOULD SEE RIGHT NOW, FOR THE BENEFIT OF YOUR OWN SPIRIT, AND THIS IS ONE OF THOSE, TOO." – Chris Jones, Chicago Tribune – February 24, 2022


"COME FROM AWAY IS A GORGEOUS LIFE-AFFIRMING CELEBRATION OF LOVE AND HUMANITY. WITH EVERYTHING HAPPENING IN THE WORLD RIGHT NOW, IT'S WHAT WE ALL NEED. COME FROM NEAR, COME FROM FAR, JUST MAKE SURE YOU COME AND SEE THIS GLORIOUS SHOW." – Stefan Kyriazis, Daily Express (UK) – March 2, 2022
THE TONY & OLIVIER AWARD-WINNING MUSICAL COME FROM AWAY IS NOW IN ITS 5TH YEAR AT BROADWAY'S GERALD SCHOENFELD THEATRE
(New York, NY) The Tony and Olivier Award-winning musical COME FROM AWAY will welcome original Broadway cast member Jenn Colella back to "The Rock" as 'Beverley/Annette & others,' a performance that earned her a 2017 Tony Award nomination and Outer Critics Circle, Drama Desk, Craig Noel, Helen Hayes and Dora Awards, for a strictly limited engagement from Tuesday, June 21 through Sunday, August 7, 2022 at Broadway's Gerald Schoenfeld Theatre (236 West 45th Street). Sharone Sayegh (The Band's Visit) will also join the Broadway company direct from the North American Tour on Tuesday, June 21 as 'Bonnie & others.'

Olivier Award nominee Rachel Tucker will return to the role of 'Beverley/Annette & others' on Tuesday, August 9, 2022 and original Broadway cast member Petrina Bromley will return to the role of 'Bonnie & others' on Tuesday, September 27, 2022.

COME FROM AWAY currently features Petrina Bromley, De'Lon Grant, Becky Gulsvig, Caesar Samayoa, James Seol, Q. Smith, Astrid Van Wieren, Emily Walton, Jim Walton, Gene Weygandt, Sharon Wheatley, Paul Whitty, Josh Breckenridge, John Jellison, Tony LePage, Monette McKay, Happy McPartlin and Julie Reiber.
COME FROM AWAY features a book, music and lyrics by Olivier, Drama Desk and Outer Critics Circle Award winners and Grammy and two-time Tony Award nominees Irene Sankoff & David Hein, direction by Tony Award winner and Outer Critics Circle Award winner Christopher Ashley, musical staging by Olivier Award winner and two-time Tony Award nominee Kelly Devine, and music supervision by Olivier Award winner and Grammy Award nominee Ian Eisendrath.

COME FROM AWAY features scenic design by Tony Award winner Beowulf Boritt, costume design by Tony Award nominee Toni-Leslie James, lighting design by two-time Tony Award winner Howell Binkley, sound design by Olivier & Outer Critics Circle Award winner and Tony Award nominee Gareth Owen, orchestrations by Olivier Award winner and Grammy & Tony Award nominee August Eriksmoen, and music arrangements by Olivier Award winner and Grammy Award nominee Ian Eisendrath. 
COME FROM AWAY began performances on February 18, 2017, and officially opened to critical acclaim on March 12, 2017, at Broadway's Gerald Schoenfeld Theatre, where the show continued to play to standing-room-only audiences until it was forced to shut down due to the COVID-19 pandemic on March 12, 2020, the evening of its third anniversary on Broadway. COME FROM AWAY reopened on Broadway on September 21, 2021.

The smash hit Australian production of COME FROM AWAY will relaunch its Australian National Tour at Gold Coast's HOTA, Home of the Arts beginning July 7, 2022 and play engagements in Canberra, Auckland and Wellington, New Zealand, with other cities to be announced soon. The Olivier Award-winning production of COME FROM AWAY reopened on London's West End on Thursday, July 22, 2021, where it is still running. The Tour reopened Tuesday, October 5, 2021, and is currently playing across North America. The Toronto production ran for over two years before playing its final performance on December 22, 2021, and a new production of COME FROM AWAY will return to Toronto following a run at Ottawa's National Arts Centre in July 2024.
A "Best Musical" winner all across North America, the smash hit musical has won the Tony Award for "Best Direction of a Musical" (Christopher Ashley), 4 Olivier Awards (London) including "Best New Musical," 5 Outer Critics Circle Awards (NYC) including "Outstanding New Broadway Musical," 3 Drama Desk Awards (NYC) including "Outstanding Musical," 4 Los Angeles Drama Critics Circle Awards (North American Tour) including "Best Production," 4 Helen Hayes Awards (D.C.) including "Outstanding Production of a Musical," 4 Gypsy Rose Lee Awards (Seattle) including "Excellence in Production of a Musical," 6 San Diego Critics Circle Awards including "Outstanding New Musical," 3 Toronto Theatre Critics Awards including "Best New Musical," 3 Dora Awards (Toronto) including "Outstanding New Musical/Opera" and "Outstanding Production," and the 2017 Jon Kaplan Audience Choice Award (Toronto).

COME FROM AWAY tells the remarkable true story of 7,000 stranded passengers and the small town in Newfoundland that welcomed them. Cultures clashed and nerves ran high, but uneasiness turned into trust, music soared into the night, and gratitude grew into enduring friendships.

On September 11, 2001, the world stopped. On September 12, their stories moved us all.
The Grammy Award-nominated original Broadway cast recording of COME FROM AWAY is available digitally and in stores everywhere. Grammy Award winner David Lai, and Grammy Award nominees Ian Eisendrath, August Eriksmoen, Irene Sankoff & David Hein served as album producers.

Apple Original Films' filmed version of the Tony & Olivier Award-winning hit musical COME FROM AWAY, produced by eOne, Hasbro's entertainment studio, premiered globally on Apple TV+ on Friday, September 10, and was nominated for the Critics Choice Award for Best Movie made for Television. COME FROM AWAY, marks the first Broadway show to be streamed by Apple TV+, and is directed by Tony Award-winner Christopher Ashley, who directed the original Broadway production, and stars an ensemble cast led by members of the Broadway show.  The live performance of COME FROM AWAY was filmed in New York at the Gerald Schoenfeld Theatre in May 2021, where the Broadway production is staged, for an audience that included 9/11 survivors and front-line workers; and, employed over 200 people including members of the Broadway crew, staff and creative teams. 

Today Craft Recordings and Concord Theatricals released Covers From Away, a new folk album featuring songs from the hit Tony and Olivier Award-winning musical COME FROM AWAY reinterpreted by the Newfoundland and Labrador bands and artists who originally inspired the sound of the musical.  The album was recorded in summer 2021 in various locations throughout Newfoundland, Canada, and was produced by Irene Sankoff and David Hein, along with Ian Eisendrath, Bob Hallett and Sean Patrick Flahaven. Two songs from the album, "Welcome To The Rock" (performed by The Navigators) and "Screech Out" (performed by The Dardanelles), can both be heard in the end credits of the Apple original film COME FROM AWAY, now streaming globally on Apple TV+.

The Shubert Organization is committed to the health and safety of all members of the Broadway community—theatre employees, production staff, cast, and audience members. View Details and Terms & Conditions. Safety guidelines will continue to be updated on the official COME FROM AWAY website.

COME FROM AWAY is produced by Junkyard Dog Productions (Randy Adams, Marleen and Kenny Alhadeff and Sue Frost), Jerry Frankel, Latitude Link, Smith & Brant Theatricals, Steve & Paula Reynolds, David Mirvish, Michael Rubinoff, Alhadeff Productions, Michael Alden & Nancy Nagel Gibbs, Sam Levy, Rodney Rigby, Spencer Ross, Richard Winkler, Yonge Street Theatricals, Sheridan College, Michael & Ellise Coit, Ronald Frankel, Sheri & Les Biller, Richard & Sherry Belkin, Marlene & Gary Cohen, Allan Detsky & Rena Mendelson, Lauren Doll, Barbara H. Freitag, Wendy Gillespie, Laura Little Theatricals, Carl & Jennifer Pasbjerg, Radio Mouse Entertainment, The Shubert Organization, Cynthia Stroum, Tulchin Bartner Productions, Gwen Arment/Molly Morris & Terry McNicholas, Maureen & Joel Benoliel/Marjorie & Ron Danz, Pamela Cooper/Corey Brunish, Demos Bizar/Square 1 Theatrics, Joshua Goodman/Lauren Stevens, Adam Blanshay Productions/Judith Ann Abrams Productions, Bill & Linda Potter/Rosemary & Kenneth Willman, and La Jolla Playhouse and Seattle Repertory Theatre.
COME FROM AWAY was originally co-produced in 2015 by La Jolla Playhouse and Seattle Repertory Theatre, and presented in 2016 by Ford's Theatre in Washington, DC and Mirvish Productions at the Royal Alexandra Theatre in Toronto, CA. COME FROM AWAY (NAMT Festival 2013) was originally developed at the Canadian Music Theatre Project, Michael Rubinoff Producer, Sheridan College in Oakville, Ontario, Canada and was further developed at Goodspeed Musicals' Festival of New Artists, in East Haddam, CT. The Canada Council for the Arts, The Ontario Arts Council, and the Fifth Avenue Theatre in Seattle WA also provided development support.
WHAT THE CRITICS ARE SAYING
"YOU LEAVE THE THEATRE FULL OF HOPE!" – Daily Express

"A HIT AND A MASTERPIECE! JOYOUS, UPLIFTING AND PENTY OF HUMOR!" – Herald Sun

"BEAUTIFULLY GIVES PEOPLE REASON TO COME TO THE THEATER—AND COME TOGETHER." – Chicago Tribune

"A MIGHTY MUSICAL THAT REMINDS US OF THE POWER OF HUMAN GOODNESS!" – Los Angeles Times

"EXUBERANT! THE IMPACT IT'S HAVING ON HEARTS AND MINDS IS REMARKABLE. AN EFFERVESCENT MUSICAL ANTIDOTE FOR WHAT AILS THE AMERICAN SOUL." – The Washington Post

"THIS STORY TOUCHED THE WORLD AND CELEBRATES THE BEST THAT WE CAN ALL BE. WE NEED IT, ESPECIALLY RIGHT NOW." – Tom Brokaw, NBC News

CRITIC'S PICK! "THE CATHARSIS WE NEED IN THIS AMERICAN MOMENT. IMAGINATIVE AND EMOTIONAL. A GALE OF GOOD WILL BLOWS OUT OF THIS SMART, ROBUST SHOW." – The New York Times
"IT DOES WHAT ALL THE BEST MUSICALS DO: IT TAKES YOU TO A PLACE WHERE YOU DIDN'T KNOW YOU WANTED TO GO, AND MAKES YOU NOT WANT TO LEAVE." – Newsweek

"A GLOBAL PHENOMENON!" – The Guardian
"THIS MIRACULOUS MASTERPIECE IS TOTALLY, SOUL-FEEDINGLY WONDERFUL." – Time Out

"A MOVING AND THOROUGHLY ENTERTAINING TRIBUTE TO THE INDOMITABLE HUMAN SPIRIT." – Variety
BIOGRAPHIES
JENN COLELLA (Beverley/Annette & others) just ended a sold-out run in Suffs as Carrie Chapman Catt at The Public Theatre, for which she garnered an Outer Critics Circle Award nomination. Jenn starred in the Tony Award-winning smash hit musical Come From Away as 'Beverley/Annette and others,' in a performance that garnered her 2017 Outer Critics Circle and Drama Desk Awards and a 2017 Tony Award nomination for Best Featured Actress in a Musical, as well as Craig Noel, Helen Hayes and Dora Awards for pre-Broadway productions of Come From Away. Jenn won a Grammy Award for her work on the Dear Evan Hansen cast recording. She has been previously seen on Broadway in If/Then, Chaplin, High Fidelity and Urban Cowboy (Outer Critics Circle Award nomination), Off-Broadway in Beebo Brinker Chronicles, Lucky Guy, Slut and Closer Than Ever. Jenn's select regional credits include Come From Away (La Jolla Playhouse, Ford's Theatre, Toronto), Peter Pan (Sacramento Music Circus & PCLO) and Side Show (Kennedy Center). TV credits include "Feed the Beast," "Elementary," "All My Children," "Rescue Me," "The Good Wife," "The Code," "Madam Secretary," and "Evil."  She has been seen on film in Uncertainty with Joseph Gordon-Levitt, and stars in the live capture film of Come From Away on Apple Plus, streaming now.  Jenn Colella is an MFA Acting graduate of UC Irvine.
SHARONE SAYEGH (Bonnie & others) is thrilled to join the Broadway company of Come From Away after playing the role on the national tour. On Broadway she originated the role of Anna in The Band's Visit, and made her debut in Mamma Mia!. Off-Broadway: Road Show (City Center Encores), The Band's Visit (Atlantic, World Premiere), The Wildness (Ars Nova, World Premiere). Regional: La Jolla Playhouse, Muny, Florida Rep, San Jose Rep. TV: "Instinct" (CBS), "Limitless" (CBS). Love and gratitude to the CFA fam, DGRW, her mishpacha, Joe, and Zev. @sharonesayegh