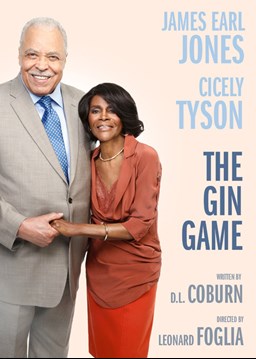 Once in a theater lifetime, the stars collide, as two-time Tony Award® and Academy Award® winner James Earl Jones squares off with three-time Emmy Award® and Tony Award® winner Cicely Tyson in The Gin Game.

This fall marks their first Broadway rematch in nearly 50 years—and the first time D.L. Coburn's Pulitzer Prize-winning stunner returns to the John Golden Theatre, the exact same place where it first astounded audiences in 1977 by raising an ordinary pastime between acquaintances to explosive and shockingly real stakes.

Don't miss your chance to watch this unbeatable pair of Broadway aces expose every last one of their cards on the table under the direction of Leonard Foglia (Master Class) in this brand new Broadway production.

Legendary, heartbreaking and undeniably unforgettable: The Gin Game. Are you in?