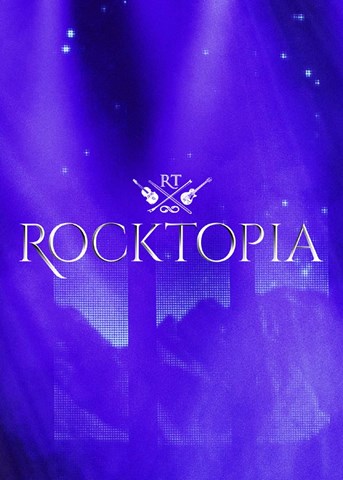 INTERNATIONAL MUSIC SENSATION

ROCKTOPIA

TO PLAY BROADWAY
6 EPIC WEEKS ONLY
AT THE BROADWAY THEATRE

MARCH 20 – APRIL 29, 2018

"Rocktopia creates a world where Mozart and Led Zeppelin coexist"
– Chicago Tribune
This spring, the international music sensation ROCKTOPIA will rock Broadway for six epic weeks, March 20 – April 29, 2018 at The Broadway Theatre (1681 Broadway). ROCKTOPIA is a musical revolution that celebrates the fusion of the best rock songs of the past century with some of the greatest classical music ever written. ROCKTOPIA showcases the works of musical innovators including Mozart, Queen, Beethoven, Journey, Handel, U2, Tchaikovsky, Pink Floyd, Heart, Rachmaninoff, Foreigner, Copland, The Who and more.

Created through the unique vision of vocalist and recording artist Rob Evan and Maestro Randall Craig Fleischer, a pioneer in the fusion of symphonic rock and world music, ROCKTOPIA delivers one-of-a-kind, spine-tingling musical arrangements with insanely talented lead vocalists, a 5-piece rock band, a choir of 40, and an orchestra of 20.

Developed over eight years, ROCKTOPIA is inspired by the idea that if Beethoven or Mozart were alive today, they would be modern-day rock stars. With extensive knowledge of both genres, Evan and Fleisher looked for common themes, potency, and emotional resonance in the songs before fusing them together to create explosive and moving new musical arrangements.

"We love both classical music and classic rock. There are so many parallels between the genres and between the "rock stars" who composed and performed them," says Evan. "With Rocktopia, we want to break down barriers and any preconceived notion of what either genre is about – and electrify and inspire lovers of either musical styles with these completely original new pieces."

The groundbreaking live concert will be performed by a celebrated, diverse array of rock, Broadway, and opera vocalists: Rob Evan (Broadway: Les Miserables, Jekyll & Hyde and more, multi-platinum recording artist); Chloe Lowery (Chris Botti, Yanni's Voices); Tony Vincent (Broadway: American Idiot, RENT, NBC's "The Voice"); Kimberly Nichole (NBC's "The Voice," performs with Janelle Monae, Slash, Joe Walsh, The Heavy); and featuring Alyson Cambridge (The Merry Widow at The Met, Madame Butterfly, La Boheme, Show Boat). The world-class musicians featured in the ROCKTOPIA band include Grammy and Emmy Award nominated violinist Máiréad Nesbitt (Celtic Woman, Lord of the Dance); acclaimed guitarist Tony Bruno (MD & guitar for Enrique Iglesias & Rihanna, "America's Got Talent"); pianist Henry Aronson (MD/Conductor/keys for entire Broadway run of Rock of Ages, The Who's Tommy); bass player Mat Fieldes (Joe Jackson's Grammy winning album Symphony No. 1, the Gorillaz, Book of Mormon); and drummer Alex Alexander (David Bowie, Jimmy Cliff, Ritchie Blackmore). An additional 40-person choir and a 20-person orchestra enhance every performance of ROCKTOPIA.

An inaugural performance of the show, "Rocktopia: Live from Budapest" produced by Two Hands Entertainment/Jeff Rowland, was recorded in front of a live audience in June 2016 at the 19th century Hungarian State Opera House for PBS. It was performed with the Budapest Philharmonic Orchestra with six vocalists, a five-piece rock band, the Hungarian State Opera Chorus, and the Jazz and More Choir. ROCKTOPIA has since toured over twenty cities in the United States, featuring local symphonies and choirs across the country.

ROCKTOPIA is produced by ROCKTOPIA Broadway LLC (William Franzblau, Executive Producer and Maggie Seidel-Laws, Associate Producer) in association with HUGHES WALL LLC. Additional cast, creative team, and the New York orchestra and choirs that will join each performance, will be announced at a later date.

American Express® Card Members can purchase tickets before the general public beginning Monday, October 30 at 10am (EST) through Monday, November 6 at 9:59am. Beginning on Monday, November 6 at 10AM, tickets will be available exclusively to Audience Rewards Members via AudienceRewards.com. Tickets will go on sale to the general public on Monday, November 13 at 10AM via Telecharge.com. Special student pricing, beginning at $39, will be available for the duration of the run.

Performance schedule, complete creative team, and opening night will be announced shortly.

BIOGRAPHIES:

ROB EVAN (Co-Creator, Vocalist) is a highly accomplished actor, singer, and producer with more than 20 years of professional experience in the entertainment industry. He has performed in seven leading roles on New York stages including the original Broadway cast of Jekyll & Hyde, playing the title roles more than 1,000 times over three years. His rendition of "This Is the Moment" was performed at numerous prestigious events, including the 2001 Inaugural Gala for President George W. Bush, the Millennium Independence Day US Naval Revue aboard the USS JFK for President Clinton, the Millennium World Forum Conference with speaker Mikhail Gorbachev, and the New York City Mayor's Inaugural Gala. Rob also appeared on Broadway as Jean Valjean in Les Miserables, Kerchak in Disney's Tarzan, The Dentist in Little Shop of Horrors, and Count von Krolock in Jim Steinman's Dance of the Vampires. Off-Broadway, Rob created the roles of The Dancin' Kid in Johnny Guitar and the hero Miles Hendon in The Prince and the Pauper. Rob is a member of the multi-platinum-selling band, Trans-Siberian Orchestra. He can be heard on TSO's The Lost Christmas Eve and Night Castle, which debuted at #5 on Billboard's Top 100. He was also the lead vocalist for Jim Steinman's The Dream Engine, and recently released the debut album from his progressive rock band, Menrva Realm. Rob has also been a regularly featured soloist for over 40 symphonies around the world, including appearances in San Francisco, San Diego, Atlanta, Chicago, Hong Kong, and the Czech Republic.

RANDALL CRAIG FLEISCHER (Co-Creator) Active as a composer and arranger, Mr. Fleischer is a national leader in the fields of symphonic rock and world music fusion. His works and arrangements have been played by many world-renowned orchestras including the Boston Pops, San Francisco Symphony, Los Angeles Philharmonic, Hong Kong Philharmonic, San Diego Symphony, China Philharmonic, Atlanta Symphony, the National Symphony, and many others. Fleischer has also worked with artists such as John Densmore (The Doors), Natalie Merchant, Blondie, Ani DiFranco, John Cale (Velvet Underground) Garth Hudson (The Band), Kenny Rogers, Chris Baron (Spin Doctors), and Native American artists R. Carlos Nakai, Burning Sky, The Hawk Project, The Benaly Family, and others. Mr. Fleischer's operatic repertoire includes productions of La Boheme, Turandot, Tosca, Madama Butterfly, Don Giovanni, La Traviata, and others. Fleischer received his Bachelor of Music Education from the Oberlin Conservatory of Music and has studied conducting with Leonard Bernstein, Otto Werner Mueller, Seiji Ozawa, Riccardo Muti, Gustav Meier, and others. He first came to international attention when, at the National Symphony Orchestra, he conducted Dvorak's "Cello Concerto" with Mstislav Rostropovich as soloist. In December of 1992, Mr. Fleischer conducted an ensemble of more than 70 cellos, including YoYo Ma, and a 190 voice chorus in a tribute to Rostropovich, broadcast on CBS with then-President and Mrs. Bush in attendance. In 1993, Mr. Fleischer conducted a private concert for Pope John-Paul at the Vatican. The Pontiff awarded Mr. Fleischer a medal for his achievements in music. A passionate educator, Fleischer has co-authored several instructional pieces for children in collaboration with his wife, comedian Heidi Joyce, which were premiered by the National Symphony Orchestra, including three rap pieces for orchestra. Mr. Fleischer lives in Los Angeles with his wife Heidi and daughter Michaela.

CHLOE LOWERY (Vocalist) is an American singer, dancer, actress, and songwriter born in Largo, Florida. At age12 she was signed to RCA Records, and soon after being signed was featured on two movie soundtracks, Boys and Girl and Joe Somebody. She went on to tour with Big Brother and the Holding Company and work with world-renowned producer Ric Wake, which then led to a collaboration with Yanni on the 2009 Yanni Voices Project. After tours of the U.S. and Mexico with Yanni, she signed to Disney/Hollywood Records as a solo artist. Chloe has since been featured on three Yanni records: 2013's Truth of Touch, 2014's Inspirato, and 2016's Sensuous Chill. Chloe joined multi-platinum selling rock band Trans-Siberian Orchestra performing as Theresa on their Beethoven's Last Night Tours and continues to work with the band both in the studio and live on stage. Lowery has also toured with Chris Botti, performed with the New York City Ballet as a featured vocalist, and contributed her talents to collaborations with artists like Everclear. Chloe will independently release a solo project in early 2018.

ALYSON CAMBRIDGE (Vocalist) is one of the most diverse and compelling vocal artists on the scene today. Her rich, warm soprano, combined with her strikingly beautiful stage presence and affecting musical and dramatic interpretation, have brought her over a decade of successes on the world's leading opera and concert stages, including The Metropolitan Opera, Lyric Opera of Chicago, Washington National Opera, Los Angeles Opera, Carnegie Hall, London's Royal Albert Hall, Deutsche Oper Berlin, Vienna Konzerthaus, among others, as well as recent debuts Paris , Warsaw, Beijing, and other musical capitals throughout Europe and Asia. Her repertoire includes the beloved heroines of Puccini, Verdi, and Mozart (Mimi, Madama Butterfly, Donna Elvira, Violetta, and Micaëla among them) as well as successful forays into the crossover, Broadway and jazz repertoire, most notably with award-winning and critically-acclaimed performances of Julie in Show Boat and Vi in Gershwin's rarely performed jazz-opera Blue Monday. Alyson's debut album, "From the Diary of Sally Hemings," a song-cycle by acclaimed American composer William Bolcom, premiered at Carnegie Hall's Weill Recital Hall to rave reviews, and her newest album, Until Now, a mix of jazz, pop, and musical theater standards was released in January 2016 on the Naxos imprint Suite 28 Records, and is available on iTunes, Amazon and Spotify.

TONY VINCENT (Vocalist) Best known for his appearance on NBC's "The Voice", Tony Vincent is a recording artist, actor and producer. In 1993 Vincent started his own record company, Adobe Flats, writing and producing the EP Love Falling Down that led to a recording contract with EMI records. The two solo albums that followed, Tony Vincent & One Deed, produced six #1 Billboard radio singles. Soon after, Vincent took a detour into rock-based theater, starring on Broadway in RENT (Mark, Roger), Jesus Christ Superstar (Judas Iscariot) and Green Day's American Idiot (St. Jimmy). He played Simon Zealotes in Andrew Lloyd Webber's film remake of Jesus Christ Superstar, and is also featured in the film Andrew Lloyd Webber: Masterpiece. Vincent originated the role of Galileo Figaro in the rock band Queen's We Will Rock You in London's West End, and opened the U.S. production. He also fronted the band itself, performing "Bohemian Rhapsody" for Queen Elizabeth II, with a live audience of over 1 million people at Buckingham Palace. Vincent independently released two more albums, A Better Way, produced by Adam Anders ("Glee"), and the self-produced In My Head, following his appearance on NBC's "The Voice". He is currently headlining the North American symphony tour of The Music of David Bowie, and working as a record producer at his New York recording studio, Soundshop 370.

KIMBERLY NICHOLE (Vocalist) exploded onto the national scene on season 8 of "The Voice", earning praise from Pharrell Williams, Christina Aguilera, Lionel Richie, Mark Ronson and Reba McEntire, with her show-stopping performances, stylish presence and vocal power. Her covers ranked on iTunes' Top 20 three weeks in a row and made the Billboard 100 Charts. Over the course of her career, Nichole has share the stage with Slash (Guns N Roses), Living Colour, Alice Smith, Janelle Monae, Nona Hendryx (Labelle), Aloe Blacc, Bilal, Joe Walsh (The Eagles) and Jon Bon Jovi. Her mesmerizing performance style has captured the attention and support of Quincy Jones, songwriting duo Ashford & Simpson and fashion savant Andre Leon Talley, who featured her in an issue of Vogue. Her original music has been featured on MTV, VH1, BET, LOGO, Lifetime and Showtime, and Tony award winning director George C. Wolfe personally selected her to be the featured rock performer in his film You Are Not You, which stars Oscar-winner Hilary Swank. She's been crowned 'Mistress of Ceremonies' at New York City's wildly popular private night club 'The Box', and has received ASCAP Foundation's "Reach Out and Touch" Award, given to promising songwriters. She most recently was featured in the NETFLIX, Ezra Koeing-created (Vampire Weekend) anime series "Neo Yokio" (starring Jaden Smith, Jude Law, Susan Sarandon and more).

TONY BRUNO (Guitar) became the music director and guitarist for Enrique Iglesias in 1999. Since then, he has put together six of Iglesias's tours and done countless TV performances. In 2005, he partnered with choreographer Tina Landon to create the show for artist Anastacia's Live at Last tour. He has also worked with artists such as Rihanna, Enrique Iglesias, K'naan, Karmin, Delta Goodrem, and many others. TV production credits include "America's Got Talent", "X-Factor", "American Music Awards," "Top Of The Pops", "MTV Music Awards", TRL, "Wetten Das", and others. His song "Daylight in Your Eyes" for German artists No Angels was the second best-selling German single of all time. Tony has worked on writing songs with the world's top songwriters including Shelly Peiken, Lindy Robbins, Kara DioGuardi, and Ty Lacy. In the studio, Tony has lent his extraordinary guitar skills to numerous hit records with top producers like Ted Templeman, Bob Rock, and Desmond Child.

MÁIRÉAD NESBITT (Violin) For more than a decade, Máiréad Nesbitt has enchanted millions of fans around the world as the Celtic violinist and founding member of the globetrotting music phenomenon Celtic Woman. Loyal fans of all ages, across geographical and cultural boundaries far beyond the musical heritage of Ireland, have adored her beguiling stage presence and versatile instrumental talents. As the featured violin soloist on all 11 Celtic Woman albums, each title achieved the coveted #1 slot on the Billboard World Music Chart, an Emmy-nomination for one of her companion television specials and her most recent album with the group, "Destiny", received a 2017 Grammy Nomination for Best World Music Album. Máiréad is also an accomplished solo artist who released her newest album Hibernia at the end of 2016. Upon its release, Hibernia charted on four different Billboard charts, including the World Music, Classical Crossover, Heatseekers, and Classical charts. Máiréad also released a special album, reaching back to her family roots called " The Nesbitt Family - Devils Bit Sessions". In 2017 the "Máiréad Nesbitt Celtic Violin Collection" was launched and is available exclusively online and in specialty shops in North America and Ireland. Máiréad has appeared with the City Chamber Orchestra of Hong Kong, Berne Symphony Orchestra, Atlanta Symphony Orchestra and more.

HENRY ARONSON (Piano) is among the most in-demand music directors in the Broadway theatre. He was the music director/conductor/keyboardist for the Broadway run of Rock of Ages. Also on Broadway, he was music director for Grease, The Times They Are A-Changin', In My Life, Little Shop of Horrors, Rent, Rocky Horror Show and Starmites; associate conductor of Cry Baby, Good Vibrations, Parade, Saturday Night Fever, Mail and Prince of Central Park; and conducted The Who's Tommy and On Your Feet; he also conducted and played many seasons of the Radio City Christmas Spectacular. Off-Broadway, he conducted at Cagney, was music director of Once Around the Sun (Zipper), King Lear (Public Theater, starring Kevin Kline), The Wind in the Willows (New Victory), 3 Guys Naked From the Waist Down (Minetta Lane), and numerous productions at Playwrights Horizons and Naked Angels. He studied piano at Mannes College of Music, and received his Music degree from Columbia University. His musical Loveless Texas, which he wrote with his wife Cailín Heffernan, was produced this year by Boomerang Theatre Company at the Sheen Center in New York City.

MAT FIELDES (Bass) is a very active bass player on the New York freelance scene. He has collaborated with artists such as Jay-Z, Gorillaz, Joe Jackson, Ornette Coleman, John Cale, Peter Erskine, Jim Steinman, Sufjan Stevens, Steve Vai, Paquito D'Rivera, Kristjan Jarvi, Joe Williams, Arturo Sandaval, Toni Tennille, Kelli O'Hara, and many others. Mr. Fieldes tours extensively as the solo bassist for Absolute Ensemble, an electro-acoustic crossover chamber orchestra, which performs at major venues worldwide. Broadway credits include: Mamma Mia, The Book of Mormon, Next to Normal, Billy Elliot, South Pacific, Mary Poppins, Kiss Me Kate, The Full Monty, Legally Blonde, and Saturday Night Fever, and Matilda. He has played with the New Zealand Symphony, New Jersey Symphony, Auckland Philharmonia, Brooklyn Philharmonic, Key West Symphony (Principal), Long Island Philharmonic, Westchester Symphony, Moscow Chamber Orchestra, New Zealand String Quartet, New Zealand Trio, Continuum, Bronx Arts Ensemble, and has recently appeared in major festivals in Mexico City, Bremen, El Paso, Adelaide, and Montpellier.

ALEX ALEXANDER (Drums, Percussion) is a "first call" session drummer/percussionist residing in New York. He has performed and recorded with artists such as David Bowie, Dido, Eminem, Ritchie Blackmore, Rickie Lee Jones, Jimmy Cliff, Youssou N'Dour, Joy Askew, Bernie Worrell from P-Funk, Bruce Springsteen, The Association, Toots and the Maytalls, Sophie B. Hawkins, J.C. Chasez from NSYNC, Montell Jordan, Willie Nile, Dougie Fresh, Bebel Gilberto, Julia Fordham, The Barrio Boyzz, Eljuri, Chaka Kahn, Buddy Miles, and more. Alex has also performed on many soundtracks for films, including the cult classic, The Search For One-Eye Jimmy, the multi-award winning HBO film, Liberty Kid, the HBO film, Forged, as well as the soundtrack to the Academy Award winning documentary, Born Into Brothels. Alex has invented an instrument called the Electric Djembe. Using African djembes, ethnic percussion, Shure wireless microphones, and custom Guitar F-X pedals and loop boxes, Alex creates sounds that range from drum machine emulation to ambient keyboard pads and washes. His unique blend of hand percussion and guitar effects pedals can be heard on television and film soundtracks, which he composes through his production company, Perpetual Motion Productions.