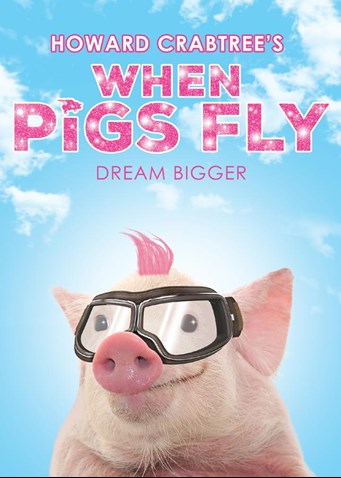 "Keep your humor please
'cause, don't you know it's times like these
That laughing matters
Most of all."

HOWARD CRABTREE'S
WHEN PIGS FLY
RETURNS OFF-BROADWAY

PREVIEWS BEGIN FRIDAY, OCTOBER 6
AND OPENS MONDAY, OCTOBER 30 AT STAGE 42

Producer Joshua Goodman (Come From Away) is tickled pink to announce the return of HOWARD CRABTREE'S WHEN PIGS FLY, conceived by Howard Crabtree and Mark Waldrop, book and lyrics by Mark Waldrop, music by Dick Gallagher, directed by Mark Waldrop, choreographed by Tony Award®-nominee Denis Jones (Holiday Inn) and costumes by legendary nine-time Emmy Award-winner Bob Mackie ("The Carol Burnett Show"). The award-winning musical comedy will fly again Off-Broadway at Stage 42 (422 West 42nd Street, New York, NY 10036) with previews beginning October 6 and opening night set for Monday, October 30.

The cast will feature Jordan Ahnquist (Shear Madness), Taylor Crousure (Forbidden Broadway: Comes Out Swinging!), Jacob Hoffman (I'll Be Damned), Brian Charles Rooney ( Bedbugs!!!) and Frank Viveros (25th Anniversary The Phantom of the Opera National Tour). Cameron Mitchell Bell and Paul Sabala complete the cast and will cover all roles.

Audience Rewards pre-sale will run Wednesday, August 16 at 10:00 AM through Tuesday, August 22 at 9:59 AM (www.audiencerewards.com). Tickets for the general public will go on sale on Tuesday, August 22 at 10:00 AM through Telecharge.com or (212) 239-6200. Purchases of $250 premium tickets for preview performances only (10/6 - 10/29) will include an exclusive, limited edition 8x10 gicleé print featuring costume designs from HOWARD CRABTREE'S WHEN PIGS FLY, signed by Bob Mackie.

HOWARD CRABTREE'S WHEN PIGS FLY, created by Howard Crabtree and Mark Waldrop, with music by the late Dick Gallagher, stars a character named Howard (Jordan Ahnquist), not unlike Mr. Crabtree. In a hastily booked theatre under renovation, Howard struggles to put on a lavish musical revue over numerous obstacles, including the near-mutiny of his cast, and the nagging memory of his high school guidance counselor, who told him he'd succeed "when pigs fly." Just when it seems all is lost, Howard realizes the problem isn't that he's gone too far -- it's that he hasn't gone far enough. The show goes on, and all of Howard's fabulously sequined dreams come true.

A former dancer, Howard Crabtree began creating outlandish and wildly imaginative costumes for friends while working in the wardrobe department at Broadway's original production of La Cage aux Folles. It was there that he met cast member Mark Waldrop, his future collaborator and director for several Off-Broadway musicals showcasing Crabtree's designs. The New York Times described one production as the show Florenz Ziegfeld would have produced "had he been gay and grown up in the age of the Ridiculous Theatrical Company, Charles Busch and RuPaul."

Mr. Crabtree completed his designs and died from AIDS complications several weeks before the opening of the original WHEN PIGS FLY in 1996. The show went on to delight critics and audiences for two years and 840 performances at the Douglas Fairbanks Theatre, a few steps away from where Stage 42 now stands. WHEN PIGS FLY won the Drama Desk Award (Outstanding Revue), the Outer Critics Circle Award (Outstanding Off-Broadway Musical, Outstanding Costume Design), and a special citation for Howard Crabtree and the creative team from the OBIE Awards.

Crabtree idolized designer Bob Mackie, who combined visual humor with glamour so brilliantly on "The Carol Burnett Show." So it's fitting that Mr. Mackie (who was an enthusiastic fan of Howard's work in the original production) is designing this revival.

Additional design and production team includes Adam Koch (scenic design), Julie Duro (lighting design), Ian Werhle (sound design), Joe McFate (associate costume design) Ed Goldschneider (music director) Binder Casting Jay Binder/Jack Bowdan/Justin Bohon (casting), Perry Street Theatricals (general management), and Luke Anderson (production stage manager).

HOWARD CRABTREE'S WHEN PIGS FLY will begin performances October 6 at Stage 42 (422 West 42nd Street) for an open run. Performances are Mondays at 7:30pm, Wednesdays at 7:30pm, Thursdays at 8pm, Fridays at 8pm, Saturdays at 3pm and 8pm, and Sundays at 3pm and 7:30pm. Tickets are $69 - $109; premium seating $129 - $139; preview premium ticket at $250 will be available via Telecharge.com or (212) 239-6200.

For more information please visit: www.WhenPigsFlyMusical.com

Audience Rewards® is the Official Rewards Program of Broadway & the Arts™. It's a standing ovation for ticket buyers across the nation. Earn valuable ShowPoints every time you buy tickets to participating theatrical productions, live entertainment, and more. Save money by redeeming ShowPoints for free tickets to the events you love or, even better, securing unique experiences and merchandise exclusively curated for Audience Rewards® members. It's free and fast to join at www.AudienceRewards.com.