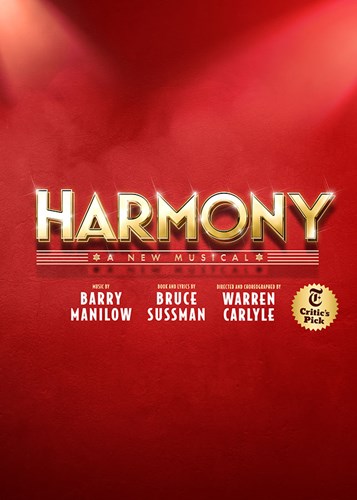 The Extraordinary True Story of The Greatest Entertainers
The World Would Ever Forget

The Sold-Out, Award-Winning Off-Broadway Hit
Is Headed To Broadway

 H A R M O N Y

Barry Manilow And Bruce Sussman Musical
Announces Its Broadway Home
Barrymore Theatre​
New York, NY (April 28, 2023) –– Today, Barry Manilow and Bruce Sussman announced on NBC's "TODAY" that their new musical Harmony, directed and choreographed by Tony Award-winner Warren Carlyle, will have its highly anticipated Broadway premiere this fall, following a sold-out award-winning run last spring at the National Yiddish Theatre Folksbiene (Artistic Director, Zalmen Mlotek and Executive Director, Dominick Balletta). Producing the Broadway production are Ken Davenport, Sandi Moran and Garry Kief.
Collaborators Manilow and Sussman said, "Broadway is where we always dreamed we would be. Dreams really do come true!" Warren Carlyle added, "I'm so thrilled that we are bringing the amazing, true story of Harmony to Broadway. It's a great honor and privilege to both direct and choreograph such an important story."

Harmony features an original new score by legendary Tony, Grammy and Emmy Award® winner Barry Manilow with lyrics and book by Drama Desk Award Winner, Bruce Sussman.

"It's time for Harmony!" (Chris Jones, Chicago Tribune/ NY Daily News)
Based on the unbelievable true story, Harmony tells the tale of the most successful entertainers you've never heard of.............................. until now.
In the 1920s and 30s, The Comedian Harmonists sold millions of records, made dozens of films, and sold-out the biggest theaters around the world. Their heavenly harmonies and musical comedy antics catapulted these six talented young men from singing in the subway tunnels of Berlin to international superstardom.
What happened next is the story of Harmony.
Directed and choreographed by Tony Award winner Warren Carlyle (The Music Man, Hello, Dolly!), this timely and captivating rags-to-riches story lost to history comes to dazzling life with a sensational cast of Broadway favorites.
Harmony is based in part on The Comedian Harmonist Archive as curated by the late Dr. Peter Czada.
A New York Times Critic's Pick, the musical received a 2002 Drama Desk Award nomination for Outstanding Musical and an award for Outstanding Best Book of a Musical and the Off-Broadway Alliance's Best New Musical for 2022. It also received eight 2022-2023 Outer Critics Circle Award nominations including Outstanding New Off-Broadway Musical and two 2022-2023 Lucille Lortel Award nominations including Outstanding Musical.
Joining the producing team (Davenport, Moran and Kief) are Hunter Arnold, Marco Santarelli, Jonathan and Rae Corr, Adam Riemer, Scott Abrams, Amuse, Inc., Patty Baker, Tom and Michael D'Angora, Susan DuBow, Michelle Kaplan, Steve Kyriakis & Matt Donaldson, Harold Matzner, and Neil Gooding Productions. Harmony is produced in association with Wilfried Rimensberger and STILETTO Entertainment.
Casting and other news about Harmony will be announced in the coming weeks.
CREATIVE TEAM BIOGRAPHIES
Barry Manilow (Composer & Arranger) is a songwriter. Known throughout the world, his work has garnered Grammy, Emmy, Tony, Clio, AMA, Songwriters Hall Of Fame and Academy Award recognition. He is most proud, however, of his collaboration with Harmony. A story from years ago that needs to be told today. Mr. Manilow considers Harmony to be the most rewarding creative experience of his career.
Bruce Sussman (Book and Lyrics) is the recipient of the 2022 Drama Desk Award for Outstanding Book of a Musical for Harmony. He is the co-author of well over 200 published and recorded songs written for dozens of artists, films, television programs and stage musicals. The majority of these projects were written with his collaborator of 50 years, Barry Manilow. For the stage, he co-authored with Jack Feldman the scores for Ted Tally's Coming Attractions (Outer Critics Circle Award) and Wendy Wasserstein's first musical, MIAMI, both produced Off-Broadway by Andre Bishop at Playwrights Horizons in New York. With Mr. Manilow and Mr. Feldman he co- authored the score and book for Copacabana – The Musical, (Olivier Award nominee) which ran for two years on London's West End, toured the U.K. and then the U.S., and has since been performed all over the world. His songs have been featured in numerous stage revues including The Madwoman of Central Park West, Tuxedos for Hire, and the long-running Off-Broadway and London productions of Whoop-Dee- Doo! (Drama Desk Award, Obie Award.) For television, he is the author of scripts and scores for several Emmy Award-winning children's series, including "The Unicorn Tales," "Hip Patches," "Cranberry Christmas" and "Nick and Noel." He is particularly proud to have written a song for the televised bicentennial celebration of the United States Constitution. The song, "Let Freedom Ring," was later performed at the televised Inaugural Gala for President Clinton. With Mr. Manilow, he wrote the song scores for the animated feature films, The Pebble and the Penguin, Thumbelina and Disney's Oliver and Co. His songs have been featured in over two dozen feature films and have been recorded by an array of pop, jazz, country and international artists, earning Grammy Awards and multiple Gold and Platinum records from around the world.
Warren Carlyle (Director and Choreographer) is a Tony Award winning Director/ Choreographer and Emmy Award nominee. As the director and choreographer of Harmony off Broadway in 2022, Carlyle received multiple nominations for his work on the show including Outstanding Direction of a musical and outstanding choreography. On Broadway, Carlyle Directed and Choreographed the Tony nominated Best Musical After Midnight, Chaplin, Hugh Jackman: Back On Broadway, the Tony nominated revival of Finian's Rainbow and A Tale of Two Cities. Warren also choreographed the Broadway productions of The Music Man starring Hugh Jackman and Sutton Foster ( Tony Award nomination ) Kiss Me Kate (Tony Award nomination), Hello, Dolly! (Starring Bette Midler), She Loves Me, On The 20th Century, The Mystery Of Edwin Drood, A Christmas Story and Stephen Sondheim's Follies. He directed and choreographed the sold-out Hugh Jackman World Tour, The Man. The Music. The Show; the 2015 New York Spring Spectacular starring the Rockettes at Radio City Music Hall. In 2018 Warren premiered a new ballet for New York City Ballet called Something To Dance About. Other selected New York credits include: City Center Encores!: Me & My Girl; On Your Toes, and Cotton Club Parade (Jazz at Lincoln Center and City Center), Girl Crazy, On The Town, Finian's Rainbow, Juno and Stairway To Paradise. Choreographed Carousel for the New York Philharmonic / Live at Lincoln Center (2013 Emmy nomination). He is represented on film and television by his staging of The 68th & 69th Annual Tony Awards Broadcast; Six seasons of "So You Think You Can Dance"; "Deception" starring Hugh Jackman; She Loves Me (Broadway HD / PBS). "Hope and Faith" (ABC); "An Evening At The Boston Pops," "Rogers & Hammerstein" and "Rogers & Hart" (PBS); Elton John's music video Made In England, Live at Lincoln Center and the upcoming PBS special of Great Performances.